As RTÉ cameraman Joe Mawhinney spotted a UK border patrol vessel on manoeuvres in Belfast port today, across the Irish Sea in London the political manoeuvring over Brexit was gathering pace.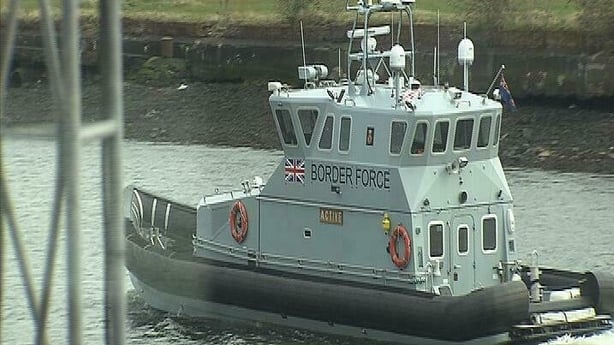 After today's developments, the DUP may have some serious thinking to do. Jacob Rees Mogg has indicated he may be minded to support Theresa May's deal.
As the chairman of the pro-Brexiteer sub-group, the ERG, within the Conservative party, Mr Rees Mogg has cultivated close links with the DUP.
Yesterday morning, during a phone call between Arlene Foster and the British prime minister, the DUP leader made it clear that her party's 10 Westminster MP's had not changed their stance and would not be voting in favour of the prime minister's deal.
In their House of Commons contributions yesterday evening, the DUP's leader in Westminster, Nigel Dodds and the party's Brexit spokesman, Sammy Wilson didn't hold back in expressing their frustration with the Prime Minister's approach.
At 7.20am this morning, on BBC Radio 4's Today programme, one of the less conspicuous of the DUP's Westminster MP's, Jim Shannon, surfaced. He was 'on message', ventilating the DUP's policy.
He told the interviewer, John Humphreys, "The obvious thing for us is nothing has changed….we have only one red line, the backstop and that hasn't changed."
As happened with Nigel Dodds and Sammy Wilson yesterday, Jim Shannon then also turned his attention to the Irish government.
'This process has been very interesting …..Leo Varadkar, STEVE Coveney, the Irish government, the EU all told us that the border would be a hard border…and then at the weekend, on Sunday past actually, Leo Varadkar, the Taoiseach said very clearly there would not be a hard border.. the conflict and the hype over the border seem to have disappeared."
But then came this morning's indication that Jacob Rees Mogg may be changing his mind. Speaking to the Conservative Home website this morning, he said: "The prime minister will not deliver a no-deal Brexit."
This meant, he suggested, the options now appeared to be narrowing to being between her deal and potentially not leaving at all.
"That, I think, becomes the choice, eventually.
"Whether we're there yet is another matter. But I've always thought that no deal is better than Mrs May's deal, but Mrs May's deal is better than not leaving at all. And so there is a sort of hierarchy of choice."
For several weeks, Mr Mogg had stated that his stance on the Theresa May deal would be influenced by the DUP and its Westminster leader, Nigel Dodds. That equation now seems to have changed.
The influential ERG member is heading towards a position that is very obviously different to the current DUP approach.
Sammy Wilson, the DUP's Brexit spokeperson, is on first name terms with most of the ERG group. Today, he was playing down suggestions that he and his nine colleagues might switch to backing Theresa May's deal.
"I don't think that is pivotal because I think the Prime Minister has got such problems within her own party that regardless of what stance we took on this agreement it is still not going through. There will be sufficient people voting against it to ensure that it doesn't go.
"Secondly, is there any chance of us changing our minds on it? Unless there are significant changes to the agreement itself – no."
If Jacob Rees Mogg changes his stance, he may be able to bring some but not all of the ERG group with him. Sammy Wilson's latest comments indicate the DUP 10 are currently not preparing to make that journey.
The East Antrim MP has signalled his preference for a long extension period to consider a range of options, rather than switch to supporting the Theresa May deal.
But that could bind the British government into staging elections to the European Parliament.
Nigel Farage would relish the opportunity to embarrass Conservative party candidates and continue his practice of undermining the EU institutions from within. Mr Farage has chalked up 20 years unbroken service as a MEP for South East England.
Mrs May must soon decide if she is to seek support for her Withdrawal Bill one more time. The recent margin of defeat was 149 votes so she needs the support of at least 75 opponents.
David Davis, the former Brexit Secretary, who resigned after his disagreements with her said this afternoon, "I have some sympathy with the DUP because I want to see Northern Ireland protected inside the United Kingdom but I think she has a decent chance."
The prime minister is no stranger to humiliation. Will the Rees-Mogg factor persuade her to attempt a Third Time Lucky gamble?