British Prime Minister Theresa May has won a confidence ballot of Conservative Party MPs by 200 votes to 117 votes.
The 83-strong majority means that Mrs May will stay on as Prime Minister and continue to fight for her Brexit deal, a vote on which was postponed earlier this week due to low support.
Another challenge to her leadership of the party cannot now be triggered for a year.
Earlier, she had sowed the seeds for her eventual departure by telling Tory MPs that she would not lead the party into the next general election, which is expected in 2022.
Watch the announcement: .@theresa_may wins Tory party confidence vote pic.twitter.com/zwjgubDahD

— RTÉ News (@rtenews) December 12, 2018
Speaking in Downing Street, Mrs May said: "This has been a long and challenging day, but at the end of it I'm pleased to have received the backing of my colleagues in tonight's ballot.
"Whilst I'm grateful for that support, a significant number of colleagues did cast a vote against me, and I have listened to what they said.
"Following this ballot we need to get on with the job of delivering Brexit for the British people and building a better future for this country."
Mrs May said a Brexit that "brings the country back together rather than entrenching division" was needed.
"That must start here in Westminster with politicians on all sides coming together and acting in the national interest," she said.
"For my part I have heard what the House of Commons said about the Northern Ireland backstop.
"I go to the European Council tomorrow. I will be seeking legal and political assurances that will assuage the concerns that Members of Parliament have on that issue."
We need your consent to load this rte-player contentWe use rte-player to manage extra content that can set cookies on your device and collect data about your activity. Please review their details and accept them to load the content.Manage Preferences
---
Read more
---
Pro-Brexit MP Jacob Rees-Mogg said that Mrs May should now resign.
Labour leader Jeremy Corbyn said that tonight's vote "makes no difference" to the lives of British people.
He said that Mrs May must now bring her "dismal" Brexit deal back to the House of Commons next week, instead of January, so parliament "can take back control".
"The prime minister has lost her majority in parliament, her government is in chaos and she is unable to deliver a Brexit deal that works for the country and puts jobs and the economy first.
"That's why she pulled the vote on her botched Brexit deal this week and is trying to avoid bringing it back to parliament. It's clear that she has not been able to negotiate the necessary changes in Europe," he said.
Shadow chancellor John McDonnell tweeted: "Shocking result for Theresa May. Even having offered to go before the next general election she still has a huge 117 Tory MPs, a third of her party, voting against her and not having confidence in her. Wow."
DUP deputy leader Nigel Dodds said that the vote does not change much about the arithmetic for the Brexit deal, adding that Mrs May knows where the DUP stands on the issue.
Mr Dodds said that if there was a confidence vote in the government, the DUP would not support it.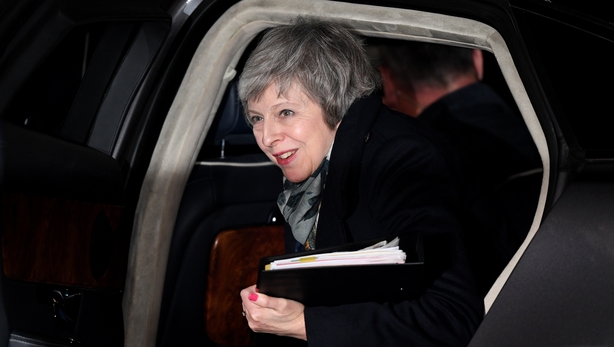 Scotland's First Minister Nicola Sturgeon said the result was "barely even a pyrrhic victory for the prime minister, who has now admitted her time in office is limited".
Former Ukip leader Nigel Farage posted: "Mrs May limps on to her next failure, the deal won't pass and the real crisis is close."
But Transport Secretary Chris Grayling said the result showed the party wanted Mrs May to lead them through Brexit.
"No party leader ever has the support of all the members of their party," he told Sky News.
"This is a clear statement by the parliamentary party they want her to go forward, they want her to lead us through Brexit.
"I think she can be satisfied tonight she has the support of her party."
Before the ballot this evening, Mrs May told her MPs that she will not lead the Conservative Party into the next general election, which is due to take place by 2022 unless a snap election is called before then.
Mrs May addressed Tory MPs at a meeting of the backbench 1922 Committee moments before the crucial vote began at 6pm.
After Mrs May's meeting with her MPs earlier, cabinet minister Amber Rudd told reporters: "She's made the commitment that I think is what people wanted, but she was very clear that she won't be taking the general election in 2022."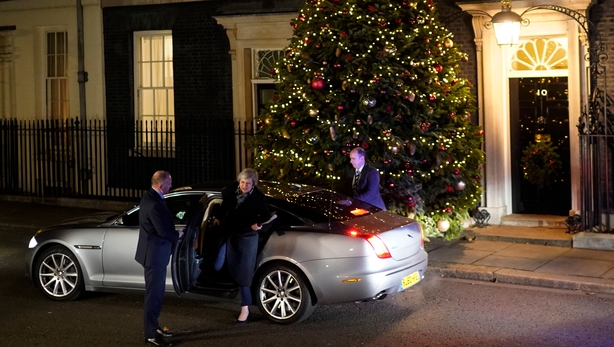 This morning, Graham Brady, chairman of the party's so-called 1922 committee, had confirmed that the threshold for a vote had been exceeded.
Mrs May needed a simple majority - from 158 of 315 Conservative MPs - to remain leader.
Some MPs who who backed Mrs May publicly had reportedly said in private that they would vote against her.
Speaking outside Downing Street this morning, Mrs May said she would contest the vote with "everything I've got".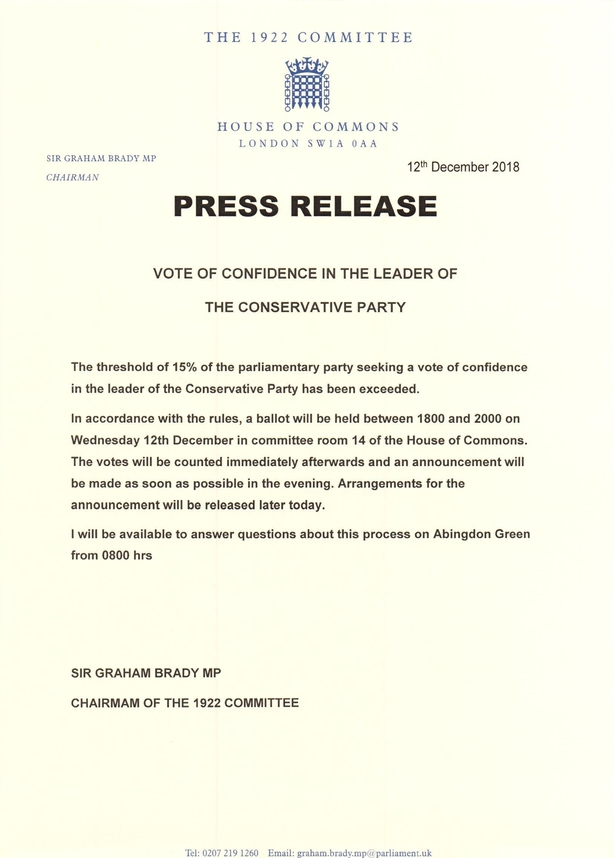 Additional reporting: Reuters, AFP