Taoiseach Leo Varadkar has said that the draft Brexit deal between the EU and UK is the only way to avoid a hard border on the island of Ireland.
Speaking in Dolphin's Barn in Dublin today, Mr Varadkar warned that any attempt to renegotiate or pick apart the agreement could see it unravel.
The deal has received widespread criticism in Westminster since it was published earlier this week, triggering a series of cabinet resignations in the UK, leading to the appointment of a new Brexit secretary.
"We can avoid a hard border by signing up for the agreement that has been negotiated," said Mr Varadkar.
"I think in a no-deal scenario it would be very hard to avoid a hard border."
An open border is one of the main principles of the 1998 Good Friday Agreement that ended three decades of conflict in Northern Ireland.
Mr Varadkar said it does not make sense to say that 'goodwill' alone can keep the border open.
"We would find ourselves after a very chaotic opening period having to agree something, having to agree something around aligning regulations and customs," he said.
Taoiseach says any attempt to renegotiate the draft Brexit agreement could see it unravel | https://t.co/SLl2hXurbV pic.twitter.com/TZuYbrWXZC

— RTÉ News (@rtenews) November 16, 2018
The Taoiseach said the Irish Government was "continuing to make preparations" for a no-deal Brexit.
"We have to be prudent, we have to prepare for the worst case scenario even though I'm much more confident now that the worst case scenario won't arise," he said. "The truth is no country could be prepared for a no-deal Brexit."
"In a no deal scenario it would be very difficult to avoid a hard border because of the obvious fact that, as Ireland remaining part of the European union, we would no doubt be asked to implement European law.
"Also the United Kingdom having left the European Union would seek to join the World Trade Organisation. They would have to implement WTO rules so those hard Brexiteers who say that somehow just through political will you can avoid a hard border that doesn't make sense."
He added: "The only way we can avoid a hard border is by an agreement. An agreement that covers customs and regulations and we have that now."
The Taoiseach said that he does not see much room for renegotiation of the deal for the UK's withdrawal from the EU, no matter who the Brexit Secretary is.
"This is a withdrawal agreement which took the best part of two years to negotiate involving 28 countries all of whom have their own particular concerns and interests," he said.
"If you start trying to amend it or unthink it you might find that the whole thing unravels."
Taoiseach says that any attempt to pick apart the draft EU-UK withdrawal agreement could see it unravel. In the event of a hard Brexit Mr Varadkar warned of a chaotic "opening period." @rtenews pic.twitter.com/LIyrBKHLmX

— Mícheál Lehane (@MichealLehane) November 16, 2018
---
Read more:
May thrown lifeline as Gove says he will stay in UK cabinet
As it happened: British PM defiant on Brexit after resignations
Has Theresa May got the numbers for her Brexit plan?
No-deal contingency plans will continue - Coveney
---
While recognising that British Prime Minister Theresa May has "quite a battle" to get the draft document through the House of Commons, Mr Varadkar said: "She is someone who has shown enormous resilience in the past."
He added: "Certainly in our dealings with her she's been true to her word."
Mr Varadkar said that as the reality of the situation sunk in, more UK MPs might back the deal, and that an extension of the Article 50 process to give Britain more time to leave the European Union was also possible.
"But that would have to be requested by the UK Government and they have been very clear ... that they won't be seeking a delay," he added.
Coveney: 'Reality check' for Brexiteers
Far too many people have been too quick to write off Theresa May and she is now providing a reality check for Brexiteers, Tánaiste Simon Coveney has said.
Speaking to reporters at the start of the Fine Gael Ard-Fheis, Mr Coveney was also adamant that the Government will not prepare for border infrastructure on the island of Ireland.
He said: "We have made it very clear that there is no eventuality where Ireland will prepare for border infrastructure between the two jurisdictions on our island.
"What the Taoiseach said today is that the way to avoid a hard border is to support the deal that is being signed up to and agreed by the British Government as well as the EU side. That deal took nearly two years."
On the British Prime Minister, the Tánaiste said: "Far too many people are far too quick to write off Theresa May. She has shown herself to be a woman of her word."
"I think Theresa May is now providing a reality check in Westminster to Brexiteers who were selling Brexit as a far more simple proposition. The complexity of a country and an economy the size of Britain leaving the European Union that it has been part of for 43 years, while at the same time maintaining a future relationship with that union that is good for Britain, is reflected in the complexity and the detail of nearly 600 pages of a withdrawal treaty."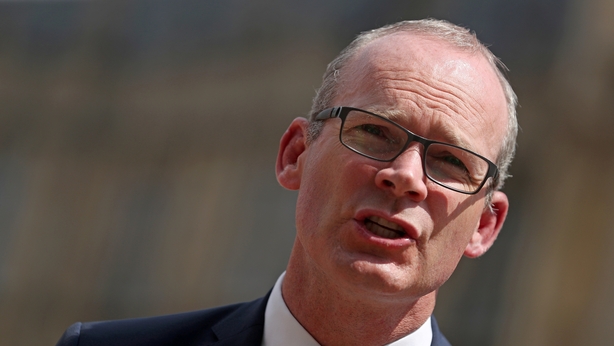 The Foreign Affairs Minister said the draft Brexit deal is the best way to mitigate against the potential dangers posed by the process.
Mr Coveney said that Theresa May "has shown remarkable resilience, particularly in the last 48 hours."
He also said: "I do not believe that there is a better deal on offer and I do not believe that this deal in terms of the withdrawal treaty is going to be reopened."
Speaking on RTÉ's Drivetime earlier, Mr Coveney said that while the Brexit Secretary is important, the British Prime Minister has "really taken charge of signing off on the final deal".
The newly appointed Stephen Barclay and other people in Mrs May's cabinet now need to convince people the current agreement is the right way forward.
"This is the only way forward that avoids a no-deal Brexit, which is a chaotic situation which would be hugely damaging to Britain and cause huge problems for Ireland as well," he said.
Responding to speculation about a vote of no confidence in Mrs May's leadership of the Conservative Party, Mr Coveney joked that he had been on the wrong side of such political moves before and was unsure if a majority existed within the Tories to unseat Mrs May.
"Often leadership challenges strengthen a leader and galvanise people around them," he said.
Additional reporting: Conor McMorrow, PA