Leave-supporting Stephen Barclay has been appointed as UK Brexit Secretary following the resignation of Dominic Rabb yesterday.
Mr Barclay has been promoted to the position from a ministerial role in the Department for Health.
Who is Steve Barclay? Lawyer is new UK Brexit Secretary
Downing Street has also announced the return of Amber Rudd to the cabinet as Work and Pensions Secretary.
The reshuffle came hours after Environment Secretary Michael Gove offered British Prime Minister Theresa May a lifeline by staying on in his job.
He insisted he still has confidence in Mrs May who has suffered a series of setbacks following the publication of the draft Brexit deal with Brussels.
She has suffered the loss of four ministers and faces continued speculation that a vote of no confidence in her leadership could be triggered by Conservative Party MPs within days.
Ms Rudd was a prominent Remain campaigner during the referendum and her return to cabinet, in place of Brexiteer Esther McVey who resigned yesterday, may do little to bridge divides within the Tory ranks.
Ms Rudd quit earlier this year in a row over immigration targets.
Mr Barclay's appointment came after Mr Gove reportedly turned down the position after saying he would only take it if he could renegotiate the withdrawal agreement.
Speaking outside his departmental office, Mr Gove was asked if he had confidence in Mrs May and replied: "I absolutely do."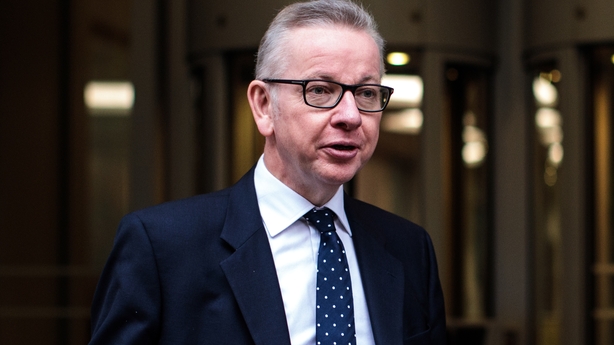 He added: "I am looking forward to continuing to work with all colleagues in government and in parliament to get the best future for Britain."
A Downing Street spokeswoman said Mrs May was "very pleased" that Mr Gove will stay on and "continue doing the important work he is doing".
Mrs May told LBC Radio that she had "a very good conversation" with Mr Gove yesterday.
However, she declined to say what they had discussed, other than the future of the fishing industry after Brexit.
She said that Mr Gove had been doing "a great job".
---
Read more:
Brexit deal is only way to avoid hard border, says Taoiseach
Could Theresa May be shown the door by Tory MPs?
Draft Brexit Withdrawal Agreement
Has Theresa May got the numbers for her Brexit plan?
---
There was also support from Brexiteer Trade Secretary Liam Fox, who said he had "full confidence in the prime minister" and "what we need now is stability".
In a half-hour phone-in on the radio station, Mrs May faced repeated calls to stand down from members of the public.
One caller told the PM that Jacob Rees-Mogg would make a better leader, while another said she had "appeased" the EU like Neville Chamberlain in his negotiations with Hitler.
Meanwhile, former culture secretary John Whittingdale, ex-minister Mark Francois and Bolton West MP Chris Green were among the latest Tories to announce that they have submitted letters of no confidence in Mrs May as Conservative leader.
Sources indicated that the number of letters submitted to Graham Brady, the chair of the backbench 1922 Committee, may be nearing the 48 needed to trigger a vote.
A Brexiteer source said: "I think we'll push enough through today to trigger the threshold ... we have no idea when that means Graham will announce it."
Another senior Brexiteer said the number was "close" to 48, adding: "People are consulting with their associations over the weekend."
Mrs May played down suggestions that she might seek to maintain cabinet unity by offering ministers a free vote when the Brexit deal comes before parliament, as International Development Secretary Penny Mordaunt has requested.
"There is cabinet collective responsibility in this country. Government policy is government policy," she told LBC. "The Government will put its position to the House of Commons."
Mrs May denied that she had had a "testy exchange" over Brexit with DUP leader Arlene Foster, whose party, which props up the PM's minority administration in the commons.
But she left no doubt she was aware she cannot guarantee DUP support when Brexit comes to the Commons, saying: "Every individual MP will decide how they will vote, whether they are DUP, Conservative, Labour.
"My job is to persuade first and foremost my Conservative benches, those who are working with us - the DUP are working with us, obviously, confidence and supply - but I want to be able to say to every MP I believe this is the best deal for the UK."
Mrs May was forced to defend her deal with Brussels to a series of callers, including Conservative-supporting councillor Daniel Turner from Louth who told her to "stand down and allow someone from the Brexit camp to take the lead".
Asked whether she saw herself as a "modern-day Chamberlain", she replied "no I don't", insisting her deal meant taking back control of the UK's money, borders and laws.
"We're out of the customs union, out of the single market. I think that's what people voted for and that's what I'm delivering."
Former Brexit Secretary David Davis denounced the draft deal agreed by cabinet on Wednesday as a "dreadful proposal" and suggested it was still possible to reopen negotiations with Brussels.
His comment on BBC's Today programme earned a stinging rebuke from former British Foreign Office permanent secretary Simon Fraser, who said: "David Davis was a terrible Brexit secretary" who could "hardly be bothered to go to Brussels".
Shadow chancellor John McDonnell claimed Labour could secure a commons majority for a "compromise" Brexit deal.
He said a "unity platform" was emerging at Westminster to avoid the "catastrophic" impact of a no-deal break with the EU.