Taoiseach Leo Varadkar has said he still believes a no-deal scenario in the Brexit talks was "unlikely" because the consequences could be potentially catastrophic for the UK.
Speaking in Dublin, Mr Varadkar said the talks were at a "sensitive phase" and he was "absolutely sure" that the British government "is motivated to ensure" we do not end up in a no-deal situation.
He added that the negotiations could continue into November, or even up to the scheduled EU leaders' summit in early December.
He said the EU was "always open to compromise" but that did not extend to what he called "the fundamentals".
However, EU President Donald Tusk warned tonight that a no-deal scenario in the Brexit negotiations was "more likely than ever before".
Earlier, Tánaiste Simon Coveney said that the UK government made commitments "in writing" both in last December and in March that there would be a backstop in place, "unless and until" another solution appeared to avoid a hard border in Ireland.
Speaking as he arrived to meet fellow EU ministers in Luxembourg after Brexit negotiations stalled yesterday, Mr Coveney said: "Those commitments have been made in writing by the British government, and what we're saying is we want no more and no less than the follow through of those commitments.
"That's what needs to happen."
Meanwhile, British Prime Minister Theresa said that a Brexit deal is still achievable, but she is "clear" that the UK will not be "trapped" in a single customs union.
Amid mounting opposition within the Conservative Party to the idea of a UK-wide customs arrangement that does not have a precise expiry date, the Tánaiste insisted: "A backstop can't be time limited … nobody was suggesting in March that a backstop was time-limited, in terms of picking a date in the future [for] ending the backstop.
"We're not looking for anything new here. We're simply looking for the commitments made last December, and in particular last March, to be followed through on.
"Last December it was agreed that in the absence of agreeing something better there would be a backstop in place, which essentially means that the UK would maintain full alignment with the rules of customs union and single market in areas necessary to protect north-south cooperation, an all-island economy and the peace process.
"Then in March, the commitment was very clear that that backstop would be legally operable in terms of text in the withdrawal agreement. And it would be there unless and until something better was agreed."
---
Read more:
---
The Tánaiste said the Government was "frustrated and disappointed" that no breakthrough had been reached during intensive negotiations over the weekend.
He said he believed Mrs May was "absolutely genuine" in following through on the commitments that she had made.
"I believe she's recognised the complexity of politics in Northern Ireland and the politics of the island of Ireland.
"That is why she has given guarantees that there would not be physical border infrastructure re-emerging on the island of Ireland because she knows the corrosive effect that would have on relationships.
"So to her credit, she is trying to deal with the complexity of Britain's responsibilities - shared with Ireland, on the island of Ireland, and at the same time as delivering a Brexit that British people voted for"
In a statement last night, a British government spokesperson said that a number of unresolved issues around the Irish backstop still remained.
RTÉ News understands that an effort by the UK to put a time limit on the backstop has been resisted by the EU's chief negotiator, Michel Barnier.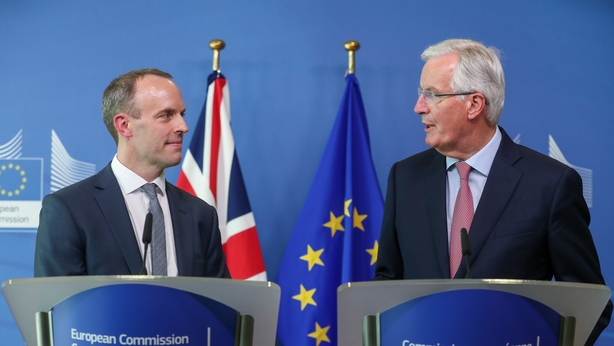 Late yesterday afternoon, a flurry of activity raised expectations that a deal on the Irish backstop was imminent.
Brexit Secretary Dominic Raab made a last-minute, unscheduled trip to Brussels, and a meeting of EU ambassadors was called.
However, the Raab-Barnier meeting lasted just an hour, and it later emerged that EU ambassadors would only meet if there was not a breakthrough.
RTÉ News understands that there are still significant gaps on the Irish backstop.
London does not want Northern Ireland to stay in the customs union as part of a backstop, and it wants to avoid that by the UK as a whole staying in a customs union.
Dublin and the EU is still insisting that the backstop must be available, unless and until another solution is found to avoid a hard border. So therefore it cannot be time limited.
London, however, wants it to be time-limited and Mrs May is now under increasing pressure to secure that concession.
But the EU still has reservations over how a temporary customs arrangement would work, and whether or not it would give the UK a competitive advantage if it were able to sell its goods throughout the customs union, but not be subject to the rules of the single market.
Additional reporting Tony Connelly