Talks between the UK's Brexit Secretary Dominic Raab and EU chief negotiator Michel Barnier have failed to resolve the Irish border question, and negotiations have now been put on hold.
The unscheduled talks in Brussels came amid speculation that officials working on the negotiations had reached a deal.
But following the meeting, Mr Barnier said that "despite intense efforts" there had been a failure to reach agreement on one of the trickiest aspects of the negotiations.
The surprise announcement of the meetings today fuelled rumours that a deal was set to be done ahead of a summit of EU leaders on Wednesday.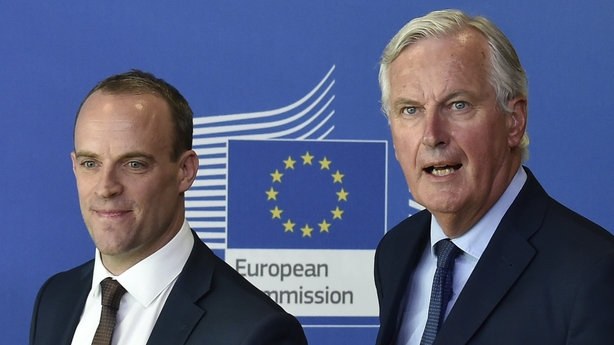 But after talks which lasted a little over an hour, it was clear that obstacles remained. Mr Barnier said "some key issues are still open", including the so-called backstop measure to prevent a hard border.
We met today @DominicRaab and UK negotiating team. Despite intense efforts, some key issues are still open, including the backstop for IE/NI to avoid a hard border. I will debrief the EU27 and @Europarl_EN on the #Brexit negotiations.

— Michel Barnier (@MichelBarnier) October 14, 2018
British and EU negotiators called a pause in their talks on a Brexit deal today, and will wait for the outcome of the summit before they resume negotiations.
Both sides now face the prospect of beginning the crunch summit without a draft divorce deal, increasing the chances of a disorderly and damaging British departure from the bloc.
Mr Barnier said he would debrief the 27 remaining EU states and the European Parliament on the state of the negotiations.
The EU insists that Britain give assurances that, in the event that future negotiations fail to ensure a UK-EU trade deal which can avoid a hard border, Northern Ireland should remain inside the EU's economic rules.
Reacting to today's talks, a spokesperson for No 10 said: "In the last few days UK and EU negotiators have made real progress in a number of key areas. However there remain a number of unresolved issues relating to the backstop.
"The UK is still committed to making progress at the October European Council."