Senior British ministers have rallied round Prime Minister Theresa May as the shock waves triggered by the resignation of Boris Johnson continue to reverberate through the government.
Jeremy Hunt, appointed the new Foreign Secretary as Mrs May carried out a hurried reshuffle of her top team, vowed he would be "four square" behind her in driving through her Brexit plan.
On Sunday night, David Davis announced his resignation as Brexit Secretary. His post has been taken over by Dominic Raab who served in more junior ministerial posts in the housing and justice departments.
Mrs May chaired a meeting of her new cabinet this morning before hosting a summit with German Chancellor Angela Merkel and Balkan leaders in the evening.
Her spokesman said the cabinet discussed the Brexit policy document and stepping up preparations for a no-deal departure from the European Union.
Mrs May tweeted: "Productive Cabinet meeting this morning - looking forward to a busy week."
Productive Cabinet meeting this morning - looking ahead to a busy week. And sending our best wishes to @England for tomorrow! pic.twitter.com/Zs3nV8ft6L

— Theresa May (@theresa_may) July 10, 2018
However, the resignations of Mr Johnson and Mr Davis were followed this afternoon by Conservative party vice-chairs Ben Bradley and Maria Caulfield, who left their posts because of their opposition to Mrs May's policy on Brexit.
Leading Brexiteer Michael Gove left no doubt that he would not follow Mr Johnson and Mr Davis out of the cabinet, declaring that he back the prime minister's plans "100%".
However, among Tory Brexiteers there was deepening anger at the proposals agreed at Friday's meeting of the cabinet at Chequers, which they branded as "Brexit in name only".
However, it was unclear whether they had the numbers to force a leadership challenge.
Under party rules, 48 Tory MPs - 15% of the party's 316-strong representation in the House of Commons - must write to the chairman of the backbench 1922 Committee, Graham Brady, to trigger a no-confidence vote.
Mr Brady has consistently refused to say whether he had received any such letters.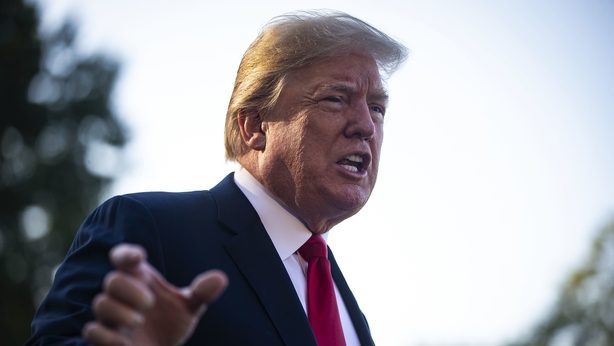 US President Donald Trump has acknowledged the political turmoil facing Mrs May ahead of his visit to the UK later this week.
Mr Trump said it was up to the British people to decide whether the Tory leader remains in power.
"That's up to the people. I get along with her very well, I have a very good relationship," Mr Trump told reporters at the White House as he departed for his week-long trip to Europe.
Mr Trump also said Mr Johnson was a friend of his.
---
Read more: 
May to fight any leadership challenge after resignations
Jeremy Hunt: Japanese speaking multimillionaire, once pro-EU
More Brexit stories
---
Mrs May addressed the 1922 Committee in Westminster yesterday evening, raising the prospect of a Jeremy Corbyn-led government to appeal for Tory unity on Brexit.
Her allies said that just six MPs expressed dissent in the course of the meeting.
Solicitor General Robert Buckland said: "She talked about Corbyn, she talked about the alternative which is delivering the country to the sort of government that I don't think people have voted for and certainly any Conservative voter would be repelled by."
Mr Buckland said there had been a realisation that "we all hang together or we all hang separately".
Nevertheless, many Brexiteers were furious after Downing Street said it would be briefing Labour MPs on the Chequers plan.
Jacob Rees-Mogg, the leader of the influential pro-Brexit European Research Group of Tory MPs, said: "If the government plans to get the Chequers deal through on the back of Labour Party votes that would be the most divisive thing you could do.
"And it would be a split coming from the top, not from the members of the Conservative Party across the country."
He made clear he had not submitted a letter of no confidence and expected Mrs May to remain at least until the official date of Brexit in March 2019.
However, the UK Daily Mail reported Mr Rees-Mogg said Mr Johnson would make a "brilliant" prime minister.
In a scathing resignation letter, Mr Johnson, who led the official Leave campaign in the EU referendum, said the dream of the Brexiteers was "dying, suffocated by needless self-doubt" and that Mrs May's plan would reduce the UK to the "status of a colony".
I am proud to have served as Foreign Secretary. It is with sadness that I step down: here is my letter explaining why. pic.twitter.com/NZXzUZCjdF

— Boris Johnson (@BorisJohnson) July 9, 2018
His replacement by Mr Hunt, a Remainer in the referendum campaign, is likely to further antagonise some Brexiteers.
In other moves, Culture Secretary Matt Hancock takes over from Mr Hunt at Health and Social Care. He in turn is succeeded by Attorney General Jeremy Wright, who is replaced by Geoffrey Cox.
The turmoil comes at the start of a momentous week for Mrs May on the world stage with her attendance at the Nato summit in Brussels tomorrow and Thursday followed by US President Donald Trump's first visit to the UK as US President.