Former Brexit Secretary David Davis has said that the British government is "giving too much away, too easily" in the Brexit talks, and warned that it is a "dangerous strategy."
He was speaking after dramatically quitting as the minister responsible for the UK's departure from the European Union.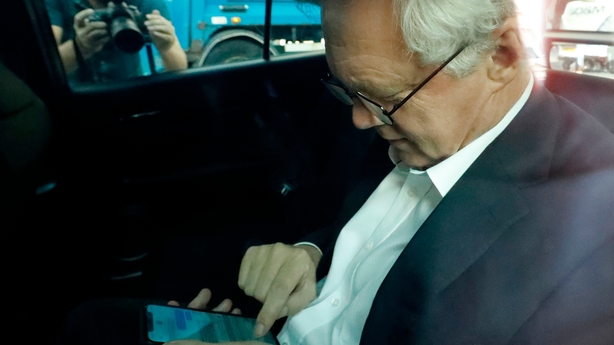 This morning, eurosceptic Dominic Raab was appointed the new Brexit Secretary.
Following Mr Davis' resignation, Foreign Secretary Boris Johnson also announced his resignation from government.
Downing Street said: "The Queen has been pleased to approve the appointment of Dominic Raab MP as Secretary of State for Exiting the European Union."
The 44-year-old Esher & Walton MP enters cabinet for the first time, having previously served in more junior ministerial posts in the housing and justice departments.
Speaking on BBC Radio 4's Today, Mr Davis said when the cabinet debated a plan on Brexit last Friday, he said in his opening remark to Theresa May "Prime Minister, as you know I'm going to be the odd-man-out in this".
He said: "Cabinet collective responsibility applied so I didn't say anything thereafter. That was because I was thinking about the consequences.
"I took the view at the time this was not the best strategy, that there were better strategies available - we have been establishing them.
"I thought it would be a risk at least of delivering a poor outcome. I was very clear on Friday and I took two days to think through some, for me, very important decisions."
Mr Davis's resignation was welcomed by hardline Eurosceptics in the Tory ranks who were already expressing reservations about Mrs May's leadership after her Cabinet agreed a plan that would keep the UK closely tied to Brussels.
---
Read more:
---
However, Mr Davis said he believes that Mrs May is a "good prime minister" and insisted that she can survive as leader.
He said that he would not encourage his colleagues to try and oust Mrs May and did not want to see her replaced.
When asked if he would join some other MPs in calling for Mrs May to stand down, Mr Davis said: "I won't be one of them. I won't be encouraging people to do that, I think it's the wrong thing to do."
He added that he would not run for the leadership of the Conservative Party in the future.
The European Commission said it would continue to negotiate with the British government.

"The time schedule, as everybody knows, is tight, we are available 24/7," a spokesman for the European Commission told a regular press briefing, not commenting on Mr Davis' resignation directly.

The spokesman added European Commission President Jean-Claude Juncker and Mrs May had spoken on the phone yesterday.
Theresa May faces stormy meeting with Tory MPs
Mrs May now faces a stormy meeting with Tory MPs and peers in the British parliament this evening, as she tries to keep her fragile administration together.
She had hoped that the Cabinet agreement secured on Friday at Chequers would help her deliver the "right Brexit" for the UK, with an offer to Brussels to share a "common rulebook" on goods and form a new UK-EU free trade area.
But Mr Davis, whose departure as Brexit Secretary also triggered the resignation of departmental ally Steve Baker, hit out at the proposals just 48 hours after being part of the cabinet that agreed them.
In his resignation letter, he said the "current trend of policy and tactics" was making it look "less and less likely" that Brexit would deliver on the referendum result and the Tory commitments to leave the EU customs union and single market.
Mr Davis said "the general direction of policy will leave us in at best a weak negotiating position, and possibly an inescapable one".
The "common rulebook" plan "hands control of large swathes of our economy to the EU and is certainly not returning control of our laws in any real sense," he wrote to Mrs May.
"I am also unpersuaded that our negotiating approach will not just lead to further demands for concessions," he added.
The responsibility for leading the negotiations should now go to an "enthusiastic believer in your approach, and not merely a reluctant conscript", he said.
In her reply, Mrs May told him: "I do not agree with your characterisation of the policy we agreed on at Cabinet on Friday.
"I am sorry that you have chosen to leave the Government when we have already made so much progress towards delivering a smooth and successful Brexit and when we are only eight months from the date set in law when the United Kingdom will leave the European Union."