Taoiseach Leo Varadkar has said the British government's temporary plan to avoid a hard border between Ireland and the UK represents a "small step forward".
He said it will be examined with the other EU member states and the taskforce on Brexit.
Speaking in Belfast, Mr Varadkar said there are three questions to ask of the paper - "does it achieve what we want it to achieve - that there is no hard border? Is it all-weather, does it work in all circumstances? And thirdly, does it respect the integrity of the single market and the customs union?"
He said: "My initial view is that it is a step in the right direction, it is welcome but it does fall short . . . because it deals with the customary aspect of the border rather than the regulatory aspect.
"In fairness to the government in London, they accept that and they make it clear that this is only about the customs element of the backstop and we do have a difficulty with any sort of deadline.
"The only deadline that should be in the backstop is the all-weather or if and when deadline. So the backstop should apply until such a time as there is an alternative arrangement, a new EU-UK relationship which avoids a hard border.
"So just putting off a hard border for two, three, six or 20 years is not enough. It has to be permanent.
"What we have now is something that we can work and negotiate around. That is something we have not had for the last two years so it is a step in the right direction. It is welcome. Even it does fall short."
BREAKING: Taoiseach @campaignforleo welcomes yesterday's UK govt @GOVUK #brexit document as "a step in the right direction" but adds that it "falls short." pic.twitter.com/3PaAiPXtzn

— RTÉ Politics (@rtepolitics) June 8, 2018
---
Read More:
Irish border concerns 'pure millennium bug stuff' - Johnson
Anti-Brexit group launches roadmap to second referendum

---
Asked if British Foreign Secretary Boris Johnson amused him or exasperated him, he replied: "When I want to know what the view of the British government is, I ask the Prime Minister."
In unguarded comments at a private dinner on Wednesday night, Mr Johnson said concerns over a hard border between Ireland and the UK were "pure millennium bug stuff".
Asked again if Mr Johnson's comments are a cause for a concern, the Taoiseach, said: "I just don't think it is for me to comment on the internal divisions that may exist in the British government. My counterpart is Theresa May, the Prime Minister, my team works with her team."
Pressed further, he said: "I just don't think it is accurate. I know in the past he has described the border that exists that is similar to that between two London boroughs. That it is just not the case. . .
"When it comes to wanting to know and understand what the British government position is, I listen to the Prime Minister Theresa May and she understands it."
"When I come North I see myself as a neighbour, not as an invader and as the head of government in another jurisdiction. I see Northern Ireland as a neighbouring jurisdiction but also one where there are one million people who are Irish citizens and we have to acknowledge that and the fact that it is such a unique place."
Earlier, Tanáiste and Minister for Foreign Affairs Simon Coveney also described the British plan as a "step forward".
Speaking on RTÉ's Morning Ireland, he said the British paper published yesterday gives more clarity about what it is proposing on a shared customs territory until something better can be put in place.
He said the important thing was that this temporary customs arrangement, which he hopes will be built into the Irish "backstop" on the border, will provide guarantees and reassurance to people there will be no customs checks on the island of Ireland.
Mr Coveney said the "upfrontness and honesty" of the paper was welcome but "that it is only half the story" as other issues still need to be addressed.
He said that everyone wanted to agree something more comprehensive that is based on future relationship agreements.
Mr Coveney also said it was the EU's Chief Negotiator Michel Barnier's team that had to be satisfied with the commitments made by the British government.
He said Mr Barnier had set out the tests where proposals need to be robust, legally sound and protect the EU single market.
Brussels will not be intimated by a Brexit blame game - Barnier
Meanwhile, Mr Barnier has said Brussels will not be "intimidated" by Britons who try to blame the EU for their inability to secure the Brexit deal they want.
He was speaking as he said that Mrs May's proposals for a backstop customs arrangement in Northern Ireland raise a series of "difficult" questions.
Speaking in Brussels, Mr Barnier said it was not necessarily "feasible" to extend the EU's offer of continued participation in key elements of the customs union in Northern Ireland to cover the whole of the UK, as the Prime Minister's proposal suggests.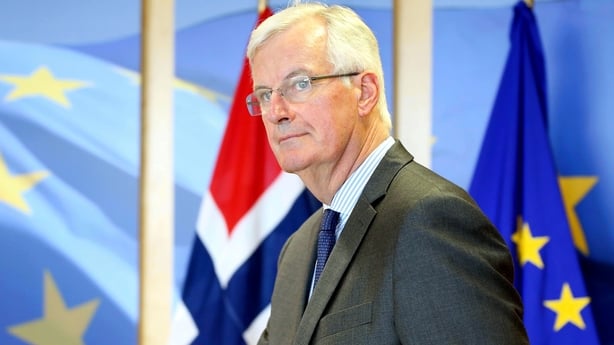 And he said Mrs May's insistence that the arrangement must be time-limited meant that it could not be regarded as a true backstop, providing a fallback option if the UK's preferred permanent solution could not be agreed.
"Backstop means backstop," he said. "The temporary backstop is not in line with what we want or what Ireland and Northern Ireland want and need."
Mr Barnier said it appeared that some Brexit supporters wanted to offload on to Brussels the blame for the fact that the UK cannot continue to enjoy some of the benefits of EU membership after leaving.
But he said: "We are not going to be intimidated by this form of blame game."
To avoid any confusion between the EU backstop & the UK customs paper: I reiterate that our backstop cannot apply to whole UK. 4 freedoms are indivisible. This is not a rejection of the UK customs paper on which discussions continue. #Brexit

— Michel Barnier (@MichelBarnier) June 8, 2018
Mr Barnier said that "much remains to be done" on the withdrawal issues of data protection, geographical indications for food and drink and the resolution of proceedings relating to the UK which are ongoing at the end of the transition period.
Mr Barnier said: "Our backstop can't be extended to the whole UK. Why? Because it has been designed for the specific situation of Northern Ireland."
Under the EU proposal "Northern Ireland would form part of our customs territory", he said, adding: "What is feasible with a territory the size of Northern Ireland is not necessarily feasible with the whole UK."
And he questioned whether Mrs May's proposals would deliver an "all-weather backstop" fit for all circumstances.
"The UK calls this arrangement 'temporary'," said Mr Barnier.
"How does that fit with the need to secure the absence of a hard border in all circumstances?
"Moreover, we had agreed with the UK on the principle that public authorities and businesses would need to adapt only once to the new situation created by Brexit.
"Does the temporary nature of the customs arrangement mean that several adaptations will now be needed?"
He added: "The UK recognises that the proposals in its paper can't qualify as a backstop, since the issue of full regulatory alignment is not addressed. We need regulatory alignment to avoid a hard border."
Responding to Mr Barnier's comments, a UK Government spokesman said: "The Prime Minister has been clear that we will never accept a customs border between Northern Ireland and the rest of the United Kingdom.
"We are also committed to maintaining the integrity of our own internal market. That position will not change.
"The Commission's proposals did not achieve this, which is why we have put forward our own backstop solutions for customs.
"All parties must recall their commitment in the Joint Report to protect the Belfast Agreement in all its parts.