The European Commission's chief Brexit negotiator Michel Barnier has warned the talks are at "risk" because of disagreements over the future of the Irish border after Britain leaves the European Union.
At a press conference ahead of a keynote speech at an event in Dundalk, Co Louth, Mr Barnier called for a "clear and operational solution for Ireland" to be included in the Brexit deal, adding: "Until we reach this agreement, there is a risk."
He urged rapid agreement by June on the scope of any British alignment with the single market.
Mr Barnier said there should be "safety controls" to protect the European trading bloc.
"We need to agree rapidly by June the scope of alignment, what I call the safety controls that are ... to respect the single market," he said.
"We want to succeed with the UK not against the UK. Together with the Irish Government we are looking for practical solutions."
After his press conference, Mr Barnier gave his keynote speech with an assessment of the state of play of the Brexit talks, including the UK's proposals on how to deal with the border question.
Mr Barnier said the scope of all-island customs and regulations needed to be settled between Britain and the EU.
Many of the operational details have yet to be agreed and the vexed question of the UK's only land border with an EU state after Brexit is at the centre of intensive work by officials at present.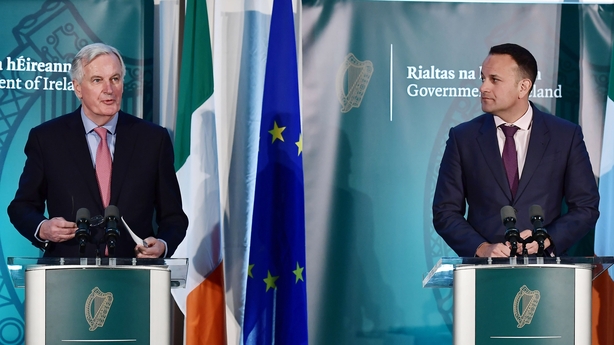 He said the June meeting of European leaders in Brussels would be a "stepping stone" for the final summit in October, which is the deadline for reaching an agreement on withdrawal.
A joint report on the UK's withdrawal agreed in December by UK Prime Minister Theresa May and European Commission President Jean-Claude Juncker included both British proposals, along with a third "backstop" option, which would keep Northern Ireland in the customs union.
But a version published by the EU in February and agreed by the EU27 last month only contained the "backstop", effectively drawing a customs border down the Irish Sea, which a furious Mrs May said "no British Prime Minister could ever agree".
Mr Barnier will also meet business leaders and lobby groups on both sides of the border during his two-day visit.
The European Commission said: "Mr Barnier has already met unionist and nationalist politicians in both Brussels and Strasbourg.
"But the particular focus of this trip will be to meet business stakeholders from across Northern Ireland, including cross-border groups and companies in the border areas of Newry/Dundalk and Derry-Londonderry/Letterkenny and rural representatives in Dungannon."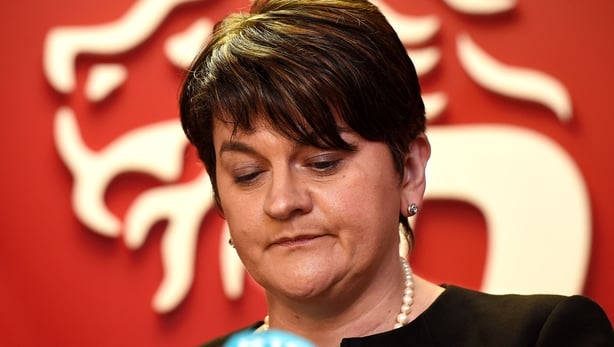 Meanwhile, DUP leader Arlene Foster has claimed that Mr Barnier does not understand unionist culture.
Ms Foster also expressed concern that he will not hear from any "pro-Brexit" voices during his two-day visit.
"He's hearing a very strong message from the Republic of Ireland's Government, he's hearing it from Sinn Féin," she said.
"We have tried to get him to understand the unionist position for the people of Northern Ireland, but he hasn't really responded to that, and I'm disappointed about that.
"I'm also disappointed that he will hear anti-Brexit voices tomorrow, he won't hear any pro-Brexit voices tomorrow because he is being taken around by Sinn Féin MPs."
However, at this morning's press conference Mr Barnier said his "door is always open".
He denied accusations made by Ms Foster that he aggressive and he is "not an honest broker".
Mr Barnier said he is not willing to engage in politics with Ms Foster or anyone else.
He added that he "profoundly regrets" Brexit for many reasons, but that there is no spirit of revenge.
Meanwhile, Mr Varadkar has been accused of "poor manners" by a DUP MP for failing to follow protocol ahead of a visit to Northern Ireland with Mr Barnier.
Following his appearance at the conference, Mr Varadkar travelled to Northern Ireland, in a move described by the DUP as "outside of normal protocol".
MP Jeffrey Donaldson said: "Leo Varadkar's visit is another demonstration of the poor manners and disrespect which appears to be the Irish Government's Brexit strategy.
"Having told unionists just over a month ago that he recognised statements and actions by the Irish government were unhelpful or intrusive, he follows this up with a visit which no local representative is informed about and none of the other normal protocol is followed."
But Mr Varadkar said he has "no hidden agenda", adding that he was resolutely committed to protecting the peace process across Ireland.