The British government has insisted it is sticking by its proposals for keeping the Irish border open after Brexit, amid reports that they have been rejected by Brussels.
A Downing Street spokesman said the UK does not recognise claims that the plans were subjected to a "systematic and forensic annihilation" by EU officials at a meeting this week with Britain's lead negotiator Olly Robbins.
The Daily Telegraph quoted unnamed EU diplomatic sources as saying that the Brussels officials delivered "a detailed and forensic rebuttal", making clear that "none of the UK customs options will work - none of them".
It came as Britain's former ambassador to the EU, Ivan Rogers, said UK hopes of finding a technological solution to the border issue were regarded as "a fantasy island unicorn model" in European capitals.
However, Downing Street has said the UK will continue to negotiate on the basis of the two proposals set out in a position paper last summer, which envisage either a close economic relationship that would make customs checks unnecessary or technological solutions to render them near-frictionless.
The Downing Street spokesman said: "We are confident that in the coming months, if all sides work together productively, we can achieve a solution to the Ireland/Northern Ireland border that works for everyone involved."
He said the prime minister was "not aware" of suggestions that chief EU negotiator Michel Barnier had put trade talks on hold while the Irish issue took centre stage.
Speaking to RTÉ News, Tánaiste Simon Coveney said that the Government's position on the issue has not changed and is "rock solid".
"We are still looking for the same things we were looking for six, eight, 12 months ago, which is to protect the Good Friday Agreement, to ensure North/South co-operation works and no physical border infrastructure," he said.
A joint report on the UK's withdrawal agreed in December by Mrs May and European Commission president Jean-Claude Juncker included both British proposals, along with a third "backstop" option, which would keep Northern Ireland in the customs union.
However, a version published by the EU in February and agreed by the EU27 last month contained only the "backstop", effectively drawing a customs border down the Irish Sea, which a furious Mrs May said "no British prime minister could ever agree".
Mr Barnier said today that substantial parts of the withdrawal deal, including a solution for the Irish border, remain to be agreed by the autumn.
---
Read More:
---
He told France2 TV: "I say as the union's negotiator that there are still difficulties, still a risk of failure.
"On 25% of the text, we don't have agreement. If there is no agreement, there is no orderly withdrawal, there is a disorderly withdrawal and there is no transition."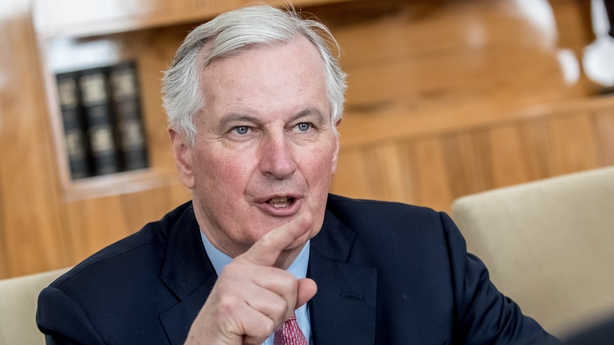 Restating his position that the integrity of the single market and the freedom of movement are "non-negotiable", Mr Barnier switched from French to English when asked if the UK could obtain a "single market a la carte" deal, replying: "No way."
The developments put pressure on Mrs May ahead of a vote in the House of Commons next week on keeping the UK in the customs union, just days after she was defeated on the issue in the Lords.
If the UK position is rejected by Brussels, the British government could be faced with a choice between remaining in the customs union or accepting a hard border in Ireland.
On Wednesday, European Council president Donald Tusk warned that there will be "no withdrawal agreement and no transition" without a solution on Ireland.
According to the Telegraph, Mr Robbins was also warned that Brussels needs "full compliance" with EU rules on goods and agricultural products in the whole of the UK - not just Northern Ireland - if customs barriers are to be avoided.
A British government spokesman said: "We have been clear that we will protect Northern Ireland's place in the UK internal market.
"That commitment was set out in December's Joint Report, which also includes our guarantee of avoiding a hard border between Northern Ireland and Ireland.
"We are continuing an intensive work programme to engage on all the scenarios set out in the joint report."