EU negotiator Michel Barnier has warned that an unlimited post-Brexit transition period was not possible, and that Europe would insist on it finishing at the end of 2020.
"The UK it seems would like to keep an open-ended transition which of course is not possible," Mr Barnier said after debriefing EU ministers on the state of the negotiations with Britain.
Mr Barnier added that a "dynamic application" of EU laws in Britain during the adjustment period after Britain leaves in March, 2019, was also a no-go for the bloc.
"In the light of these disagreements, we have not achieved a transition yet."
Meanwhile, British Foreign Secretary Boris Johnson has dismissed concerns that leaving the customs union after Brexit could lead to a hard border by comparing travel between the Republic and Northern Ireland to crossing London boroughs.
He also indicated once again that there would be no need for "excessive checks" between Northern Ireland and the Republic of Ireland, in an apparent reference to the congestion charge for drivers in London, which does not require checks on the road.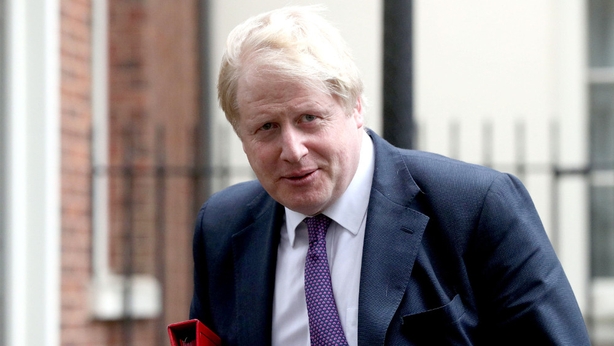 Mr Johnson told BBC Radio 4's Today programme: "We think that we can have very efficient facilitation systems to make sure that there's no need for a hard border, excessive checks at the frontier between Northern Ireland and the Republic.
"There's no border between Islington or Camden and Westminster, there's no border between Camden and Westminster, but when I was mayor of London we anaesthetically and invisibly took hundreds of millions of pounds from the accounts of people travelling between those two boroughs without any need for border checks whatever.
"It's a very relevant comparison because there's all sorts of scope for pre-booking, electronic checks, all sorts of things that you can do to obviate the need for a hard border to allow us to come out of the customs union, take back control of our trade policy and do trade deals." 
---
Draft text: NI may be considered part of EU customs territory post-Brexit
---
"There's no border between Camden and Westminster."

Foreign Secretary Boris Johnson on the Northern Irish border debate #r4today pic.twitter.com/UMDixRaoji

— BBC Radio 4 Today (@BBCr4today) February 27, 2018
Asked about reports that the EU draft text to be published tomorrow will include the phrase "full regulatory alignment" on either side of the border in Ireland, Mr Johnson said the British government does not think it was the right way forward.
"We want to have a different solution to the Irish border problem and we are absolutely confident that we can."
Mr Johnson said the CBI business lobby group and Labour leader Jeremy Corbyn were "wrong" to back a customs union with Brussels, as it would leave Britain a "colony" of the EU in a situation that would be the "worst of all worlds".
"You can't suck and blow at once, as they say, we're going to have to come out of the customs union in order to be able to do free trade deals".
He also rejected reports that the EU is set to demand the European Court of Justice is the ultimate arbiter in treaty-related disputes as it would not amount to "taking back control".
And he suggested he was growing weary of talking about Brexit, despite leading the Vote Leave campaign in 2016's referendum.
"I think there's a very good deal to be done, one day we'll be sitting here not talking about Brexit, it's going to be fantastic, but one day we will be able to do a deal I think that reflects what the Prime Minister set out at Lancaster House and Florence and elsewhere, around which the whole Cabinet united last week." 
In response to Mr Johnson's comments on the border, Fianna Fáil's Brexit spokesperson Stephen Donnelly recalled his years working in London.
"I lived in Camden for several years, and was never stopped crossing the 'border' to Islington," he said.
"I have, however, had military rifles pointed at me when crossing into Northern Ireland in the '90s. Suggesting these borders are the same is extraordinary." 
Taoiseach Leo Varadkar discussed Brexit negotiations with Mrs May in a phone call yesterday evening.
Mrs May spokesperson said the PM reaffirmed her commitment to avoiding a hard border and to "converting all of these commitments into legal text in the coming months".
Meanwhile, International Trade Secretary Liam Fox's call for Britain to leave the European customs union to strike free trade deals with countries outside the EU has been described by a former top civil servant at his department as like "giving up a three-course meal for the promise of a packet of crisps".
Martin Donnelly, who left his role as permanent secretary at the Department of International Trade last year, said 60% of UK trade is either with the EU or the countries it has trade agreements with, and that any divergence from Brussels rules would deal a blow to British services, which would not be compensated for through deals with nations like the US.
He said: "You're giving up a three-course meal, which is the depth and intensity of our trade relationships across the European Union and partners now, for the promise of a packet of crisps in the future if we manage to do trade deals outside the European Union which aren't going to compensate for what we're giving up.
"You just have to look at the arithmetic - it doesn't add up I'm afraid."
Chequers proposals on divergence unacceptable - Verhofstadt
The European Parliament's Brexit co-ordinator, Guy Verhofstadt, said the proposal for "ambitious managed divergence" agreed by senior ministers at Chequers last week was "unacceptable" to the EU.
The proposal envisages dividing different areas of the economy, such as finance or fishing, into three separate "baskets" with varying levels of alignment with EU rules and regulations, Mr Verhofstadt told the European Parliament's Committee on Constitutional Affairs.
"For us and the Union, that is an unacceptable way of trying to establish a new relationship," he told the committee hearing in Brussels.
"That is absolutely not possible and that is the reason why (European Council president) Donald Tusk said it is an illusion to continue on that track."
Mr Verhofstadt said the Parliament "cannot accept" Mrs May's proposal to offer fewer rights to EU nationals arriving during the transition period than those coming before the date of Brexit in March 2019, telling MEPs: "That can't happen."
He mocked suggestions from UK politicians including Boris Johnson that the wrong kind of Brexit would leave Britain a "colony" of Brussels.
Noting that his homeland of Belgium had been successively occupied by Dutch, Spanish, Austrian, French and German rulers, Mr Verhofstadt said: "We are very pleased with the European Union. The best way to be independent and not a colony is to be in the European Union." 
'Scottish parliament won't agree to May's Brexit bill'
Scottish First Minister Nicola Sturgeon has said that the Scottish parliament would not consent to British Prime Minister Theresa May's European Union Withdrawal Bill as outlined so far by ministers.
"I will not sign up to something that effectively undermines the whole foundation on which devolution is built," Ms Sturgeon told BBC radio.
The Scottish and UK governments have been quarrelling over how powers that are currently not reserved to Westminster, but are applied from Brussels, are allocated after the UK leaves the EU.
Ms Sturgeon said she accepted that in some cases there would need to be common systems of regulation, but she insisted that they needed to be agreed between the UK government and the devolved administrations, and cannot be imposed by Westminster.
She said: "We are simply trying to protect the powers that the Scottish Parliament already has - things like agriculture, fishing, environmental policy, food standards, justice, health.
"These are all currently responsibilities of the Scottish Parliament. At the moment we have to exercise those powers within the confines of European law.
"But after Brexit, in terms of the devolution settlement, those powers should return to the Scottish Parliament and it should be up to us how we exercise them."