Britain must deliver "much more progress" on the issues of the Brexit divorce bill and the Irish border by the beginning of December in order to enable a green light for trade talks to start later that month, European Council president Donald Tusk has said.
The EU summit chair told reporters after meeting British Prime Minister Theresa May in Sweden: "While good progress on citizens has been made, we need to see much more progress on Ireland and on the financial settlement.
"In order to avoid any ambiguity about our work calendar, I made it very clear to Prime Minister May that this progress needs to happen at the beginning of December at the latest."
Discussed with PM @theresa_may the calendar of #Brexit talks. Only if UK makes progress by early December, will I be ready to propose new guidelines on transition and future relations at December #EUCO. pic.twitter.com/GxNF8qBQP6

— Donald Tusk (@eucopresident) November 17, 2017
Mr Tusk will chair another EU summit on 14-15 December which could give a green light to launching negotiations on a future trade deal with London.
But EU officials say that they need a couple of weeks to prepare such a summit decision once London meets their conditions.
Taoiseach Leo Varadkar said the UK was trying to secure an "open relationship" after divorcing the EU.
"To me it seems that, after 40 years of marriage - most of them good - Britain now wants a divorce and wants an open relationship the day after," he told Sky News.
"That's a very difficult position to accept but I'm sure we'll work something out."
He added: "I'm not in the business of threatening vetoes, I don't think that would be a constructive way to come to an agreement - and we do want to come to an agreement."
We need your consent to load this rte-player contentWe use rte-player to manage extra content that can set cookies on your device and collect data about your activity. Please review their details and accept them to load the content.Manage Preferences
Taoiseach wants 'firm commitment' from Britain on Irish border
Earlier, Mr Varadkar said he wants written assurances that there will be no hard border on the island of Ireland after Brexit.
He was speaking after a meeting with Mrs May ahead of the Sweden summit. 
It was the first time the two leaders met since a controversial EU paper suggested that Northern Ireland would effectively have to remain in the customs union and single market in order avoid a hard border on the island of Ireland post-Brexit.
Michel Barnier, the EU's chief negotiator, has said that Britain has only a few weeks to come up with solutions to the border and other issues, before a critical summit of EU leaders in December.
Speaking to reporters before the meeting, Mr Varadkar said that Britain had to deliver something much more concrete on how it planned to avoid a border on the island of Ireland. 
He said there had been discussions on the Irish border for 18 months since the referendum, but London was still not spelling to Ireland's satisfaction how a hard border would be avoided.
"It's 18 months since the [Brexit] referendum. It's ten years since people who wanted a referendum started agitating for one. Sometimes it seems that they haven't thought all this through."
The Taoiseach said that after the Brexit vote, the British government had taken membership of the EU customs union and single market off the table, ahead of trade talks.
Likewise, Ireland now expected Britain to take a hard border off the table, ahead of trade talks.
Mr Varadkar said this did not mean that the UK had to stay in the customs union.
He said London had suggested some kind of customs partnership and that it was up to the British government to say how that would work.
It is understood that during his meeting with Mrs May, the British Prime Minister said both sides were close on the issue, and on the same page. 
However, according to a Government source, this was not the view of the Irish Government, and she did not produce any promise that would satisfy Irish demands.
"Sometimes it seems that they haven't thought all this through." Leo Varadkar calls for clarity on border. | More: https://t.co/0QKWPT8tT4 pic.twitter.com/MqwzoHRcam

— RTÉ News (@rtenews) November 17, 2017
Quick read out of the @campaignforleo Varadkar + Theresa May mtg in Gothenburg acc to Irish govt source:
May said we are "almost there" on the Irish border, all sides on the same page. Varadkar said that was not Ireland's belief.  Source says May's remarks "wishful thinking"

— Tony Connelly (@tconnellyRTE) November 17, 2017
It is understood the meeting between Mr Varadkar and Mrs May was at the request of Downing Street.
It comes amid continuing tension between Dublin and London over the leaked EU Task Force paper last Friday, which said that in order to avoid a hard border post-Brexit, EU regulations governing the customs union and single market would have to be aligned north and south.
This is taken to mean that Northern Ireland would have to remain in, or at least very close, to EU structures, even if the rest of the UK left completely.
The suggestion was rejected out of hand by the British government.
Speaking this morning, Mrs May said she hoped the European Union would respond "positively" to her approach to Brexit.
She repeated her promise that the UK will "honour our commitments" amid speculation she is prepared to increase the amount she is prepared to pay in the divorce settlement with the EU.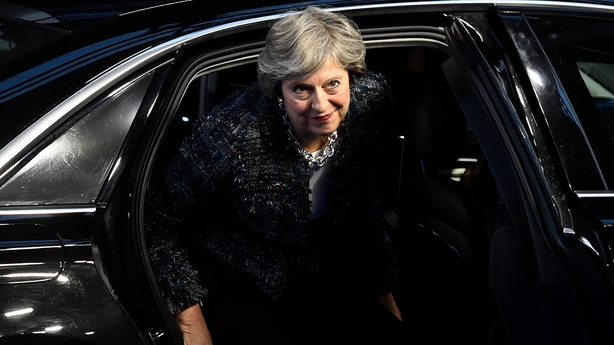 ---
Read more:
---
Mrs May said: "We look forward to the December European Council. We are continuing to look through the issues.
"I was clear in my speech in Florence that we will honour our commitments.
"But of course we want to move forward together, talking about the trade issues and trade partnership for the future.
"I have set out a vision for that economic partnership, I look forward to the European Union responding positively to that so we can move forward together and ensure that we can get the best possible arrangements for the future that will be good for people in the United Kingdom and across the remaining EU27."
Mrs May will also meet European Council president Donald Tusk.
He is expected to say that although internal preparations had begun on preparing for the second phase of the Brexit process, it could not be taken for granted that leaders will agree to move on to formal talks.
The next phase of talks cover a transitional deal and the future relationship the UK will have with Brussels.
The three issues from the first where "sufficient progress" must be made include the financial settlement, citizens' rights and the border between Northern Ireland and Ireland.
Meanwhile, European Commission chief Jean-Claude Juncker reiterated that Britain must do "more work" to clinch a deal by December to move Brexit talks onto the next phase.
"The clock is ticking. I hope that we will be able to come to an agreement as far as the divorce is concerned at the December council (summit) but work has still to be done," Mr Juncker told reporters in Gothenburg.