Taoiseach Leo Varadkar has rejected the idea that the Brexit negotiations are at a cliff edge, but he called for more detailed and concrete solutions from the British government on the Irish question.
His comments come after Ireland's EU Commissioner Phil Hogan said the negotiations on the UK's split from Europe are on a cliff edge to a hard Brexit.
Arriving at the summit of EU leaders in Brussels, Mr Varadkar also said that a majority of citizens in Northern Ireland were most likely to declare themselves as Irish citizens, even those from a unionist background.
The Taoiseach said: "I don't think I'd use that language [of the process being at the cliff edge]. I don't agree with the substance of it. I think we've a long way to go yet. Brexit doesn't happen until April 2019, we're quite far back from the cliff edge.
"So it's incumbent on all European prime ministers and presidents to ensure that we don't sleepwalk towards that cliff and that substantially more progress is made in the next few months."
The Taoiseach attended his first Nordic-Baltic leaders' group meeting ahead of the summit.
He said: "We're all small Northern European states with open trading economies, very similar values, very similar economies, similar political interests.
"I'm very keen that Ireland builds new political alliances in Europe, that's going to be particularly important when we lose our biggest ally Britain in a year or two."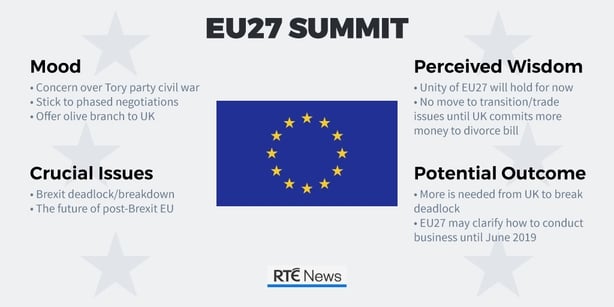 Mr Varadkar said he had impressed upon them the fact that, as he saw it, a majority of citizens in Northern Ireland would declare themselves as Irish, and therefore European.
"After the UK leaves the EU it is very likely that the majority of people in Northern Ireland will be Irish and European citizens. Even people from a unionist background will want to become Irish and European citizens at the very least for their convenience," he said.
Asked if it would be enough for the UK to simply declare that they would not return to a hard border in order to move the negotiations to the trade and transition components, Mr Varadkar said: "I don't think it's enough to say you don't want certain outcomes, you have to really explain how you're going to avoid them.
"There needs to be more detail. What we have had from the UK, which is very welcome, is some very positive sentiments, all the right language about the future relationship between the UK and the EU and also ensuring there isn't any new barrier to trade or movement in Northern Ireland.
"But we need a little bit more detail on it.
"If the UK is leaving the European Union it is incumbent on them to put forward detailed proposals as to how we ensure things remain much the same, and of course that is at the core of the conflict between in the position that UK is taking."
"What they always say is that they want the closest possible relationship with Europe and Ireland.
"They already have the closest possible relationship. It's called the European Union, and I think we need a lot more detail in how you can square the idea of the closest possible relationship with the circle of the fact that they're departing from that."
Mr Varadkar also said that of the three issues on which the UK must make "sufficient progress" before advancing the talks, the issues of citizens' rights and Ireland were more important.
"It's not just about Ireland, it's also about the rights of citizens, which are really important. It's also about the finances which, quite frankly, are less important. What's more important is what happens to citizens not just in Europe but in Britain and Northern Ireland and in Ireland," he said.
The Taoiseach said Ireland and many other countries were opposed to the idea of a digital tax in the EU, designed to force multinational tech companies to pay tax on European turnover, rather than on where they are registered.
He warned that a digital tax at EU level would only benefit the United States, Japan and the United Kingdom, "which is about to leave".
Mr Varadkar was also optimistic of enough common ground being reached in the Brexit talks by December.
Taoiseach Leo Varadkar says Ireland and citizens' rights are "quite frankly, more important" than the UK's financial liabilities on Brexit

— Tony Connelly (@tconnellyRTE) October 19, 2017
Elsewhere, German Chancellor Angela Merkel said there were "encouraging" signs that talks on the future UK/EU trade relationship could begin as early as December.
In a last-minute attempt to break the deadlock, British Prime Minister Theresa May issued a direct message to three million EU citizens living in Britain, promising she would make it as easy as possible for them to stay after Brexit.
In an open letter posted on her Facebook page and mailed to 100,000 EU nationals, Mrs May said that her government and Brussels are "in touching distance" of a deal on citizens' rights and promised to involve EU expats in the design of a "streamlined" digital process for registering to remain.
She repeated her message that "EU citizens living lawfully in the UK today will be able to stay".
Mrs May said that the process to apply for permanent residency would be streamlined, and that EU citizens would no longer have to show they have comprehensive sickness insurance.
The move will be welcomed by the 27 other EU leaders, but it will not be sufficient to allow the process to move beyond the divorce talks, still deadlocked over Britain's financial liabilities, the Irish border and the issue of citizens' rights.
EU leaders will acknowledge that Mrs May's speech on Brexit in Florence last month struck a more constructive tone.
They will also say that they are prepared to begin discussions among themselves - without Britain - over a transition period beyond the departure date of March 2019. But the emphasis will now shift to December.
---
Further Reporting: Tony Connelly, Europe Editor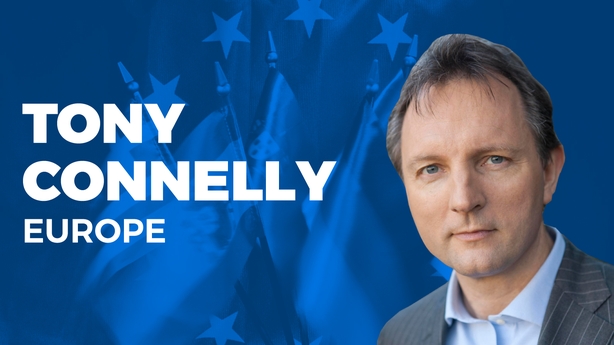 The mood among the EU27 is continued concern over the civil war within the Tory party and a determination to stick to the phased approach to the negotiations, while still recognising they need to offer something of an olive branch to the UK.
The crucial issue remains Brexit, with worries about the process drifting from deadlock to breakdown, but the EU27 want to show they're focusing on other things, such as what the future of the EU will look like beyond Brexit.
The perceived wisdom is that the unity of the EU27 will hold for the moment, and that France and Germany in particular will not offer any major concessions to Theresa May on moving the process to the transition and trade issues until Britain commits more money to the divorce bill.
The summit will most likely say more is needed from the UK before the deadlock can be broken, while the EU27 may reach a conclusion on how better to conduct EU business between now and June 2019.
Analysis: No compromise in sight as EU leaders meet for summit
---
Mr Varadkar, meanwhile, is expected to join the French president Emmanuel Macron in objecting to the European Commission's offer in the latest round of trade negotiations with South American countries.
The Commission has offered a beef quota to Mercosur producers of 70,000 tonnes for the European market, well short of what they have asked for, but much more than European and Irish beef farmers want.
The Government will argue that the uncertainty of the impact of Brexit on Irish beef exports mean this is no time to add extra pressure on the European beef market.
Other issues on the agenda include the migrant crisis and leaders have agreed to give "stronger support" to Italy for its work in Libya aimed at curbing immigration to Europe.
EU President Donald Tusk said also said leaders would return in December to contagious talks about reforming the union's asylum rules, which collapsed under mass influx of refugees and migrants in 2015.