Minister for Foreign Affairs Simon Coveney has said there are still significant unanswered questions about the nature of the border after the UK has left the EU.
But he said the position papers put forward by the UK government were significant steps forward.
In an early attempt to resolve one of the most complex aspects of its European Union exit, Britain has said there should be no border posts between Ireland and Northern Ireland after Brexit.
Mr Coveney welcomed the principles behind Britain's approach but said more detail was needed: "The vast majority of those principles I think reflect the kind of language that we have been using ... and so therefore is welcome.
"Of course what we don't have though is the detail as to how it's going to work."
Speaking on RTÉ's News At One, the minister said there is no straight-forward solution.
He said the EU negotiating team wants, and Ireland is supporting, a "unique political solution" of maintaining the status quo on the island of Ireland.
Mr Coveney said in order to move on to trade and customs discussions, substantial progress is needed, in particular in relation to border issues.
He said: "We don't have detailed answers on the border issues. What we do have, though, is clear commitments in a number of areas - on the Good Friday Agreement/the Belfast Agreement, very strong language and that's needed, by the way, because this is going to be complex legally.
"There is now for the first time a commitment that there would be no physical infrastructure of any kind on the border. There is no straightforward solution to this, if there was we would have heard it by now. This is going to require a unique political solution."
Speaking on RTÉ's Six One, Mr Coveney said that the British government's proposal of creating a customs partnership will be complex to devise. He said negotiating can begin, now that it is known what the UK is looking for.
Outlining how a unique solution might work in practice, Mr Coveney said it is important to protect the relationship that currently exists between Ireland and Britain. 
He referenced the management of animal health on an all-island basis: "We protect what we have at the moment, we manage animal health on an all island basis in Ireland. We cooperate on a practical basis; we need to protect that and maintain that in any new agreement.
"We also need to ensure that the politics of Northern Ireland leaving the EU is responded to with a unique solution that can effectively allow NI to remain connected to the customs union."
The European Commission has said that there must be a political discussion on the Northern Ireland border issue before looking at technical solutions.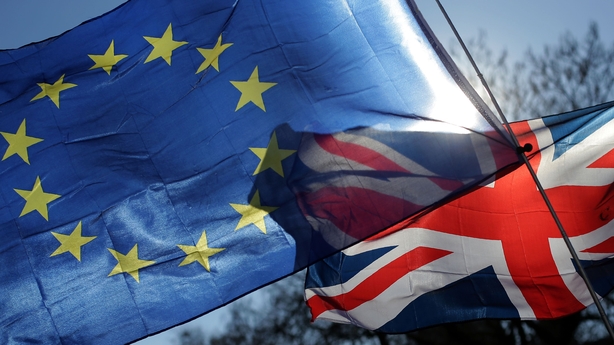 In its initial response to the UK paper on Brexit and Northern Ireland the commission also said that it was essential to protect the Good Friday Agreement "in all its dimensions".
This was a carefully worded statement from the commission, responding to both today's paper on Northern Ireland and yesterday's on future customs arrangements.
On the latter the commission said it "noted" the UK's preference for a temporary customs arrangement after the divorce negotiations end and London's suggested options on a so-called frictionless customs regime, or no customs borders at all.
The commission pointedly reminded the UK that the EU would only address these issues once its priorities in the withdrawal talks were properly dealt with.
On Ireland the commission repeated earlier remarks by Michel Barnier, the EU's chief negotiator.
The statement said it was essential to have a political discussion on Northern Ireland before getting into technical discussions.
This mirrors exactly the Government's position dating back to March, and it was a gentle put-down of the kinds of technical fixes on border checks contained in the British paper.
The statement also said both sides had to discuss how to protect the Good Friday Agreement – including the North/South element of the accord.
The Government has been adamant that ensuring such protection will require more ambitious and imaginative ideas beyond the kinds of technical solutions, and it is clear that the European Commission is happy to adopt that position.
DUP leader seeks 'sensible exit' from EU
DUP leader Arlene Foster said she wants the UK to have a "sensible exit from the EU" that reflects the particular circumstances on the island of Ireland.
Speaking on RTÉ's News At One, Mrs Foster said that today's position paper reflects a common sense approach and said voices from Belfast, Dublin and London have been heard.
She added that there has been a "positive recognition" of Northern Ireland positions in the negotiations and she hoped that this would continue.
In addition, Mrs Foster said there was no reason why there could not be innovation in relation to the border issue and said that everyone in the UK and EU needed to collaborate in order to find a solution.
She said: "I do hope that those in Europe will continue with what, I think, has been a very positive start.
"They know that there's a very unique set of circumstances in Northern Ireland, that we will be leaving with the rest of the United Kingdom. But that doesn't mean to say that the only land border can't be treated in a very particular way.
"There's no reason why we can't do something different, why we can't innovate. We don't have to imitate all of the time."
Meanwhile, the DUP's Jeffrey Donaldson said further cooperation is needed from the Irish Government to enable a "unique solution" in relation to the border issue.
Referencing Mr Coveney's comments that a "unique political solution" is required on border issues, Mr Donaldson told RTÉ's Drivetime that "it's not just down to the UK government".