Former taoiseach Bertie Ahern and former DUP leader Peter Robinson have both said power-sharing at Stormont is the best way to promote reconciliation in Northern Ireland.
Today is the 10th anniversary of "Devolution Day" when Sinn Féin and the DUP entered government together.
Stormont has been closed since the end of January, when a disagreement between Sinn Féin and the DUP collapsed the administration.
The then deputy first minister, Martin McGuinness, resigned amid the scandal over a botched renewable heat incentive, which is set to cost Stormont £490 million.
His resignation automatically removed DUP leader Arlene Foster from her position as first minister - as executive structures dictate one side cannot govern without the other.
After the Westminster elections on 8 June, efforts to form a power-sharing executive will recommence, with an end of June deadline.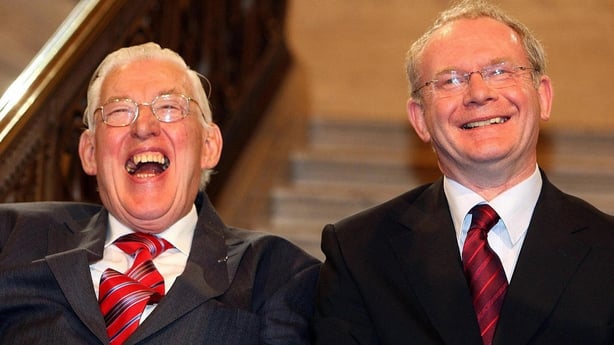 Ten years ago former DUP leader Ian Paisley and Mr McGuinness attracted international attention as they led their parties into power-sharing.
Mr Paisley retired the following year and died in 2014, while Mr McGuinness died in March.
If there is to be a new partnership it will be formed by Ms Foster and Sinn Féin's leader in NI, Michelle O'Neill.
Speaking to RTÉ News, Mr Ahern said he retains his confidence in the power-sharing model set out in the Good Friday Agreement.
Mr Robinson, who was first minister for over seven years, said devolved government remains a better option than direct rule.
We need your consent to load this rte-player contentWe use rte-player to manage extra content that can set cookies on your device and collect data about your activity. Please review their details and accept them to load the content.Manage Preferences
Minister for Foreign Affairs Charlie Flanagan urged Northern Ireland's leaders to reflect on the 10th anniversary of devolution.
He said the restoration of devolved power at Stormont on 8 May 2007 was an achievement that can be recalled with a sense of satisfaction by all who played a part.
"In the ten years since restoration, all parties to the peace process have had to work through a number of difficult challenges and testing moments," he said.
"It is all the more important, then, that the cumulative achievement of that decade of devolved and representative government for Northern Ireland be acknowledged.
"Over the last decade, the devolved institutions of the Good Friday Agreement have delivered significant and lasting steps forward for Northern Ireland and its people."
Meanwhile, the DUP and the Ulster Unionists said they have ruled out an overall pact for Northern Ireland in the general election.
Ms Foster and UUP leader Robin Swann held talks about the potential of joining forces in a bid to return the maximum number of unionist MPs to Westminster.
But despite both parties already deciding against splitting the unionist vote in some crunch constituencies, the pair said they could not agree on an overall formal pact.
In a joint statement from Ms Foster and Mr Swann, they said they would continue discussions about closer unionist co-operation in the time ahead.