A Stormont Assembly election will take place on 2 March, Northern Ireland Secretary James Brokenshire has announced.
Mr Brokenshire called the poll minutes after a deadline elapsed that effectively triggered the collapse of the powersharing executive in Belfast.
He was obliged by law to set an election date after Sinn Féin brought down the institutions by refusing to replace Martin McGuinness as deputy first minister.
Northern Ireland Secretary James Brokenshire says that an election will take place on Thursday, 2 March pic.twitter.com/mJPfy4SLyu

— RTÉ News (@rtenews) January 16, 2017
Mr Brokenshire said: "No one should underestimate the challenge faced to the political institutions here in Northern Ireland and what is at stake.
"While it is inevitable that debate during an election period will be intense, I would strongly encourage the political parties to conduct this election with a view to the future of Northern Ireland and re-establishing a partnership government at the earliest opportunity after that poll.
"The government continues to stand firmly behind its commitment to the Belfast Agreement and its successors, and our responsibilities to safeguard political stability.
"We will continue to do all that we can to find a way forward and secure the continuation of devolved government and I will make a further statement in Parliament tomorrow."
He said the dissolution would not affect the timing of the triggering of Article 50, the formal process beginning Britain's exit from the European Union.
Mr McGuinness quit last week citing irreconcilable differences with his long-term Democratic Unionist partners in government.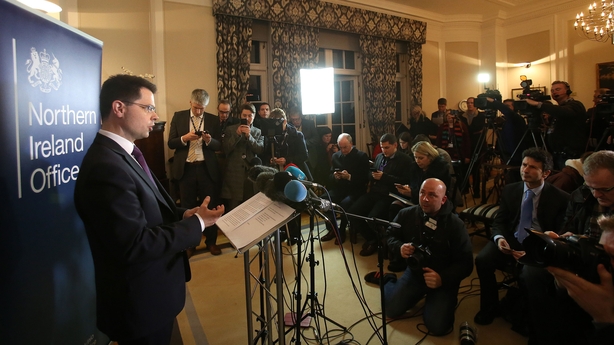 The deadline for Sinn Féin to re-nominate a minister passed at 5pm.
Mr McGuinness' resignation was precipitated by the renewable heat incentive scandal - a botched eco-scheme set to cost Stormont £490 million - but that row also reignited a range of other bitter disputes dividing the coalition.
As it happened: Stormont election called
Ten turbulent years of Stormont power-sharing
Northern Ireland government: What happens next?
Issues polarising the DUP and Sinn Féin
Sinn Féin MLA Michelle O'Neill told the Assembly: "The DUP have treated these institutions and sections of the community with contempt and arrogance.
"Today, Sinn Féin will not re-nominate for the position of deputy first minister."
Ms O'Neill said Sinn Féin would only return to government if there was "real and meaningful change".
Mr McGuinness's resignation automatically removed DUP leader Arlene Foster from her position as first minister - as executive structures dictate one cannot govern without the other.
The DUP this morning renominated Ms Foster to the post. That was rendered meaningless by Sinn Féin's subsequent refusal to renominate its own incumbent at the head of the executive.
Speaker Robin Newton said both ministers needed to be in post for their office to function.
"These requirements have not been satisfied today and the offices of the first minister and deputy first minister must remain vacant," he said.
Ahead of the key Assembly session at Parliament Buildings in Belfast, Ms Foster said the electorate did not want or need an election.
She accused Sinn Féin of triggering a poll because they did not like the outcome of last May's vote.
"They have forced an election that risks Northern Ireland's future and stability, and which suits nobody but themselves," she said.
This evening, Ms O'Neill said that Sinn Féin had called time on the DUP, adding it cannot tolerate allegations of corruption or malpractice in government. 
Speaking on RTÉ's Six One News, she said that Sinn Féin can only be in a partnership government with a party that is interested in equality and delivering for all citizens.
She said Mr McGuinness will be leading the party into the election. 
We need your consent to load this rte-player contentWe use rte-player to manage extra content that can set cookies on your device and collect data about your activity. Please review their details and accept them to load the content.Manage Preferences
Concern over future of institutions
Colum Eastwood, SDLP says he does not see 'any real possibility of putting these institutions back together [after the election]' pic.twitter.com/WR8rbs8XQm

— RTÉ News (@rtenews) January 16, 2017
SDLP leader Colum Eastwood  has said he his most worried about what will happen after the election.
Also speaking on RTÉ's Six One News, Mr Eastwood said that he does not see any real possibility of putting the institutions back together in a quick time frame, saying this is greatly worrying.
He said the parties had fought very hard to make sure there was a power-sharing Government and now this has been put at risk by what he called the disgraceful behaviour of the DUP.
He said they had been allowed to do this by Sinn Féin for ten years and that these two parties have proved that they cannot work together. 
Mr Eastwood said the SDLP had ensured that there was an opposition to hold the two parties to account but Sinn Féin and the DUP do not want to 'do' government and are more comfortable in the current crises. He said the public were now fed up with this.
The SDLP leader said his party wants to be in government  but it will make a choice based on what type of Government there is is going to be.
He said the SDLP is saying to people that if they want the same as up to now to vote for Sinn Féin and the DUP but if they want something different to vote for parties that want to work together.
DUP blames Sinn Féin
Peter Weir, DUP says it is 'very regrettable' that there is now no voice for Northern Ireland ahead of the Brexit negotiations pic.twitter.com/Wecz5PB0uY

— RTÉ News (@rtenews) January 16, 2017
Also speaking on Six One, outgoing education minister Peter Weir said the collapse of the power-sharing executive is being caused by petulance from Sinn Féin.
The DUP MLA said there are pressing issues such as health, education and the economy that his party wants to deal with but Sinn Féin seems to have brought the house down on the basis of a long list which was not raised during the programme for government.
He said that the current situation is more about internal dynamics within Sinn Féin.  
Mr Weir said he stands over his record but the problem is that Sinn Féin is taking action that is preventing progress on important issues. He said this is bringing about an election that nobody wants.
Mr Weir said that it was regrettable that the opportunity for Northern Ireland to have a voice at Brexit negotiations has been denied by Sinn Féin.
He said that letting down the people of Northern Ireland is very irresponsible.
Taoiseach and Prime Minister discuss crisis
Taoiseach Enda Kenny and British Prime Minister Theresa May have urged a "respectful" election campaign.
The Taoiseach's spokesman said the pair discussed the bitter fall-out and regretted that the DUP and Sinn Féin had been unable to reach agreement.
"They both expressed the hope that the election campaign would be respectful, noting that following the election the Northern Ireland parties would once again have to engage on the various challenges they face," he said.
"The Taoiseach and Prime Minister repeated their desire to see the institutions established under the Good Friday Agreement operating effectively, and in particular to have a fully-functioning Executive in place as soon as possible."
Speculation has been mounting of a rancorous election campaign in the weeks ahead given the widening divergence between the two main parties at Stormont.
If a new power-sharing administration cannot be formed after the March elections, the region faces the prospect of yet another election or even direct rule being reimposed from Westminster.
RTÉ Northern Editor Tommie Gorman gives analysis on the upcoming election in Northern Ireland pic.twitter.com/G4llzVMCPu

— RTÉ News (@rtenews) January 16, 2017