The collapse of the Democratic Unionist/Sinn Féin-led coalition government in Northern Ireland comes after ten years of power-sharing.
The renewable heat incentive (RHI) scandal is but one of many crises that have engulfed the institutions in the last decade.
2007: Leader of the Democratic Unionist Party Ian Paisley and leader of Sinn Féin Gerry Adams hold their first face-to-face talks and agree a date for the return of power-sharing in Northern Ireland.
Mr Paisley and former IRA commander Martin McGuinness assume office as first minister and deputy first minister at the head of the power-sharing government.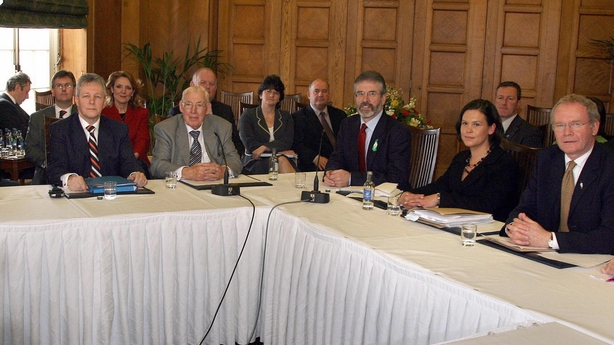 2008: Mr Paisley resigns as first minister and leader of the DUP. He is replaced by Peter Robinson.
2009: Disagreement breaks out between Sinn Féin and the DUP over plans for the devolution of policing and justice powers from Westminster to Northern Ireland.
Mr McGuinness warns of an impending "full-blown crisis" in Stormont.
2010: The disagreement over policing and justice devolution continues. Mr Robinson temporarily stands down as first minister amid a political storm over his wife's private life and financial affairs.
Remaining as DUP leader, he continues to lead devolution negotiations. In February, after ten days of talks, a deal is reached.
2012: A vote at Belfast City Council in December to limit the days the Union flag flies from Belfast City Hall leads to street protests across Northern Ireland by Ulster loyalists.
Most involve protesters blocking roads and some lead to riots. The vote to limit the flying of the flag increases tension between the two biggest parties
.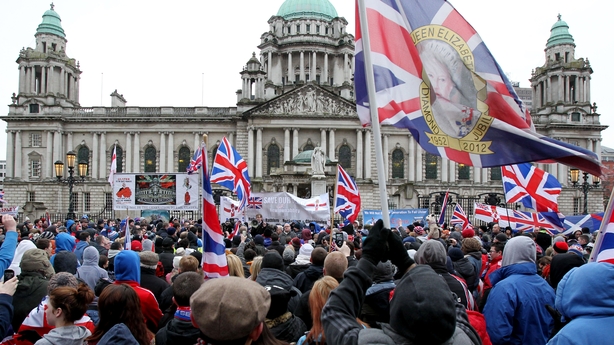 2013: The flag protests continue. Tensions between Sinn Féin and the DUP are heightened when the DUP withdraws backing for a peace and conflict resolution centre on the site of the old Maze Prison, which housed paramilitary prisoners during the Troubles from 1971 to 2000.
Sinn Féin accuses Mr Robinson of caving in to hardline unionist opinion.
Richard Haass, the former US envoy to Northern Ireland, is brought in as an independent chairman of an all-party group set up to deal with divisive issues such as parades and protests, flags, symbols, emblems and related matters stemming from the past.
Months of talks break up at Christmas without agreement.
2014: A crisis over welfare threatens to bring down power-sharing when Sinn Féin refuses to implement reforms demanded by London.
Following 11 weeks of discussion, an agreement - known as the Stormont House Agreement - is reached in December to resolve wrangles over the administration's budget and its non-implementation of welfare reforms while establishing new structures to deal with the legacy of unsolved killings during the Troubles. 
2015: Devolved government again faces possible collapse over a fresh welfare reform row between DUP and Sinn Féin.
Devolution is already hanging by a thread after the murders of two former IRA men in Belfast in August.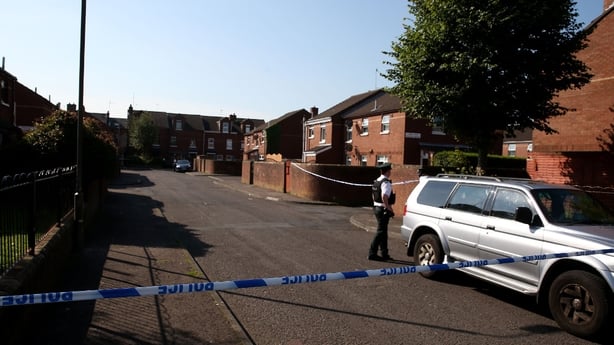 The chief constable of Northern Ireland, George Hamilton, says individual Provisional IRA members were behind the killing and the organisation still exists.
Crisis talks lasting ten weeks result in the Fresh Start Agreement, a deal between the British and Irish governments and Northern Ireland's two largest parties to find a way forward on paramilitarism and welfare reform.
2016: DUP MLA Arlene Foster becomes first minister after Peter Robinson resigns. Serious questions begin to arise over the RHI scheme.
Ms Foster was the minister in charge of the department at the time the error-ridden boiler subsidy scheme was set up.
Sinn Féin calls for Ms Foster to stand aside pending an investigation. She refuses.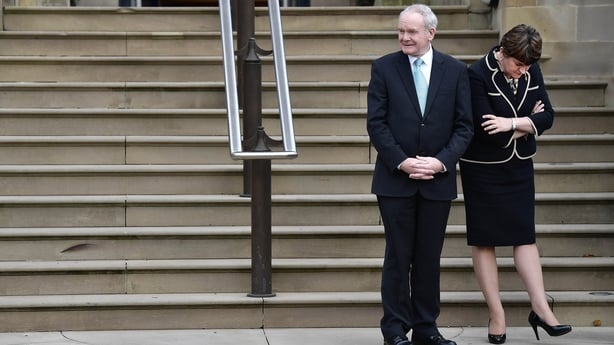 2017: Mr McGuinness resigns as Northern Ireland's deputy first minister in protest at the DUP's handling of the RHI, which could cost taxpayers £490 million.