When it comes to the big parenting dilemma of our age, when children should get a smartphone, the people of Greystones decided there was strength in numbers.
Before the summer holidays, fuelled by concerns that phones were causing anxiety and exposing children to inappropriate adult material, eight primary schools in and around the Co Wicklow town got together to formulate a collective approach.
They agreed with parents' associations that no phones would be allowed until secondary school.
Almost six months in and parents, children and their teachers have hailed it as a big success.
Rachel Harper, Principal at Saint Patrick's Primary School, said the agreement made for an easier summer for parents who had previously been torn between the pressure from their children to own a phone and the risks associated with it.
"They might have been under pressure to purchase a phone. But because of this initiative they were able to say to their child ... we have signed up to this, we are going to hold off with lots of the other parents in your class and wait until secondary school."
The decision has trickled across the community. Children are unlikely to encounter peers with phones when they go to their GAA, rugby or tennis clubs, according to Ms Harper.
"People would be asking for a phone for their birthday and they would be saying 'oh all the other kids in my class have a smartphone' and that is how it starts," observes one of the school's pupils, nine-year-old Rachel Capatina, neatly encapsulating a dilemma that governments, policymakers and parents have been struggled to resolve.
Her 11-year-old sister, Jane was among the children who wanted a phone but is happy with the policy in place.
"Personally I did want a phone last year. But then I was thinking: what is even the point it will just be distracting for me?" she asks.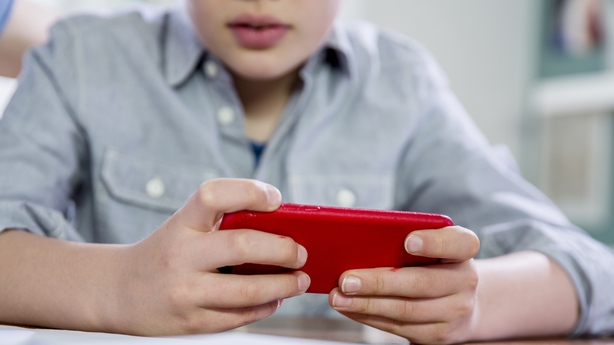 Inspired by this approach, the Cabinet this week agreed guidelines it hopes will encourage other parents to follow suit.
Minister for Education Norma Foley has asked parents to take a "collective decision" not to buy smartphones until secondary school, and will send guidelines to all primary schools.
But can a voluntary approach in an idyllic town like Greystones realistically be expected to take hold across the country?
And is the decision taken by the Cabinet merely putting all the pressure on parents, while letting tech companies off the hook?
In 2020, CyberSafeKids found that 84% of 8-12 year olds in Ireland were on social media platforms (despite most claiming to have age restrictions).
A quarter of all Irish children have seen or experienced something online in the last year that bothered them, with one third of those having kept it to themselves rather than telling a parent or someone else.
The smartphone is just the tool that offers the gateway to cyberspace, according to a world expert in this area, Cyberpsychologist Professor Mary Aiken.
So, asking parents not to give their children a phone is like asking someone not to get into a car, rather than having speed limits, speed cameras and garda patrols in place to ensure their safety, she said.
Even if phones are taken away, "they have iPads, they have wearable tech, they have computers".
"The smartphone is the tool that offers you a gateway to the internet, to social media, to social technology, to search engines. Removing that tool does not solve the problem. The problem lies in cyberspace and kids are growing up in that environment."
"Asking parents not to give their children a phone is like asking someone not to get into a car"
The Online Safety Act, passed by the Oireachtas last year, requires technology companies to enforce age limits and age verification on their platforms.
But Prof Aiken has called for more robust classification systems to identifies specific online harms.
Following the UK example, these could potentially include sexual harm, physical harm such as sleep deprivation and lack of concentration; harm through aggression such as bullying or cyberstalking, and harm to mental health.
With such a framework or classification system, regulation or legislation could be applied to tackle them one-by-one and make cyber space safer for children.
Another approach taken in the UK legislation, passed in recent months, is the development of an "online safety technology sector" which offers tech solutions to tech problems.
"This includes technology for age verification so that children are not volunteering their age. There are robust metrics to make sure the child is old enough to be on the site," said Prof Aiken.
Technologies being used or developed include scanning comments, captions or biographies for anything that might indicate a users' age, or face-scanning technology which can estimate age.
While many platforms have been reluctant to use age verification technology, the British government, introducing its laws said companies "can use their vast resources and ingenuity to develop their own solutions".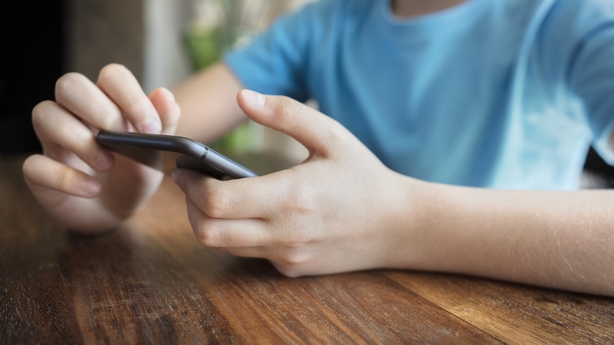 Prof Aiken said that specific safety solutions are needed because "after 50 years of cyber security, everything is getting worse. It does not protect what it is to be human online".
"These tech solutions need to be deployed at a platform level, system level or end point level, so they need to be deployed within the layers of cyber space. Making this the parent's problem is not fair. This is a regulatory, governance and best practice issue. That is not the responsibility of parents."
Meanwhile, other European countries have banned phones altogether in schools.
This has also been recommended by UNESCO, the UN's education, science and culture agency, which said there was evidence that excessive mobile phone use was linked to reduced educational performance and had a negative impact on children's emotional stability.
"Wonderful work happens in schools every day but we need parents to be proactive in this space"
The Cabinet this week decided that a voluntary approach was best.
"We are asking parents to take the lead here. Parents are the primary educators and we will support them in the school system. Wonderful work happens in schools every day but we need parents to be proactive in this space," Minister Foley said.
But with moves globally towards putting the responsibility onto platforms and tech companies - many who have their headquarters based in Dublin and are worth billions of euro to the Irish exchequer - it remains to be seen whether parents can continue to carry the entire load for protecting children online.
As Prof Aiken told an Oireachtas committee when it considered the legislation here: "In the real world, parents do not man the doors at pubs asking people whether they are underage and telling those who are that they cannot go in. The duty of care has to fall to those who profit in this space".