The long-running saga of the High Speed 2 (HS2) rail line is causing a lot of soul searching and recrimination in Britain.
There are similar controversies in Ireland over Metrolink and the Children's Hospital.
However, the sheer scale of the problems caused by the partially-built HS2 is daunting.
Costs are ballooning to over £100 billion (€115 billion) and that is money the UK does not have while it tries to rein in spending and keep borrowing costs down.
A barrage of controversy has been prompted by news that Prime Minister Rishi Sunak is considering axing or postponing the Northern leg of the route that would connect Birmingham with Manchester.
This has led to criticism from businesses and politicians in the North and Midlands who feel repeatedly let down by the promises of 'levelling up' or increased investment that won an electoral landslide for the Conservatives in 2019 and victories in traditional Labour areas of the 'Red Wall'.
Although the Conservative election manifesto was non-committal about HS2, Boris Johnson made it a personal pledge.
He repeatedly promised that HS2 would be built despite the opposition of many in his own party and doubts about the viability of the project.
It was the tangible, shining example of his levelling up pledge.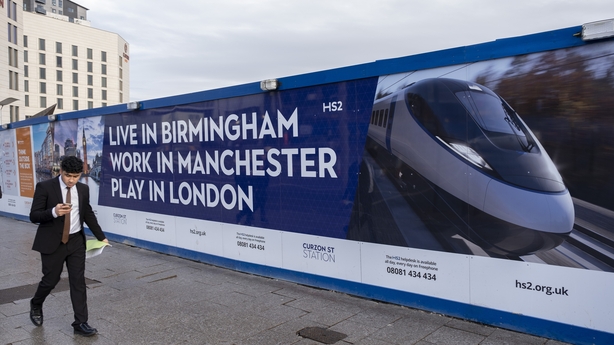 The original plan was a Y-shaped line with high-speed trains travelling at 360km/h between London and Birmingham with branches to Manchester and Leeds.
The new line would free up capacity on existing lines, meaning improved services for passengers and freight.
Mr Johnson also promised the Northern Powerhouse Rail project to link up the new Liverpool freeport to Manchester and Leeds with the high-speed service sometimes known as HS3, and it would have upgraded connections to Newcastle and onto Glasgow.
However, HS2 was hated by many Conservative supporters as it went through the Tory-voting countryside of Buckinghamshire, Northamptonshire and Cheshire, cutting through farms, scenic areas and environmentally-protected areas.
The opposition was diverse ranging from local resident groups to Extinction Rebellion to UKIP. The project was dogged by legal challenges and planning appeals.
Costs ballooned with features such as a 16km tunnel to reduce impact on protected areas such as the Chiltern Hills, but the bigger problem was construction cost inflation due to the Covid-19 epidemic and more recently, the war in Ukraine.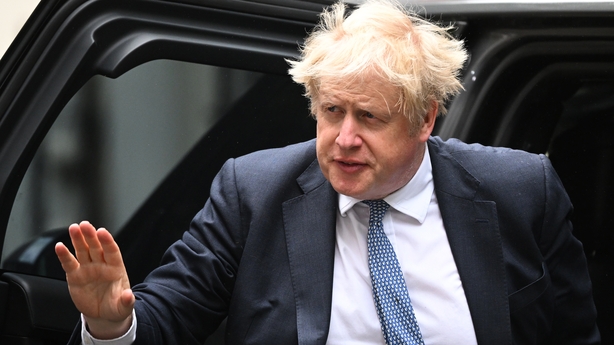 An independent review in 2020 had backed Mr Johnson's determination to complete the project, but only just, and only if the rest of the project was completed.
Links to HS1, the rail link from London to the Channel Tunnel, and to Heathrow Airport had already been dropped.
But the 2020 review found that the costs of HS2 had jumped from £33 billion (€38 billion) to as much as £100 billion (€115 billion).
When Mr Johnson's government turned around one year later and scrapped the line to Leeds and also scaled back the Northern Powerhouse Rail, there were immediate shouts of betrayal from politicians and businesses in the North.
However, the latest reports suggest that even without the Leeds line it would still cost over £100 billion to complete the HS2 line from London to Manchester.
Britain's Chancellor the Exchequer Jeremy Hunt is focused on keeping spending under control and reducing borrowing costs, not increasing them.
Financial experts say that the UK is still paying the price for Liz Truss' premiership which seriously 'spooked' the markets and left investors more wary about Britain.
And of course, there is the hit to economic growth from Brexit.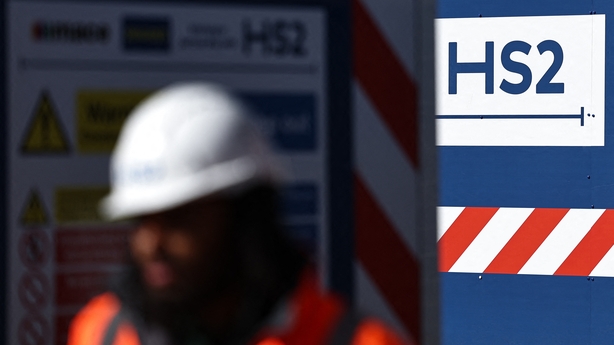 Nick Robinson, the BBC Radio Four presenter, has opined more than once recently that "maybe we in Britain are not as rich as we would like to think we are."
Mr Johnson seemed to know which way things were going.
During his very last speech in the House of Commons, literally just before he walked out the door, he said his successor should not always heed civil service warnings.
He said: "If we always listened to the Treasury we wouldn't have built the M25 or the Channel Tunnel."
But Mr Sunak has shown himself more than capable of ditching Mr Johnson's legacy.
He recently scrapped climate change targets set by Mr Johnson on electric cars, heat pumps and home insulation.
He also seemed to go full on anti-Green by saying he is scrapping taxes on meat eating and airplane travel as well as minimum passenger numbers for cars and a requirement for seven recycling bins - even though none of these measures exist.
Mr Sunak was accused of populism and pandering to the Tory membership base, but he has always been regarded as lukewarm on climate change issues and it is reported that he had opposed HS2.
The recent speculation about the project arose after a photographer got a picture of a document under the arm of an official showing that Mr Sunak and Mr Hunt were discussing its future.
It is thought an announcement is due in the Autumn statement towards the end of November.
However, the photo immediately led to questioning, particularly as the Conservatives are holding their conference in Manchester from Sunday.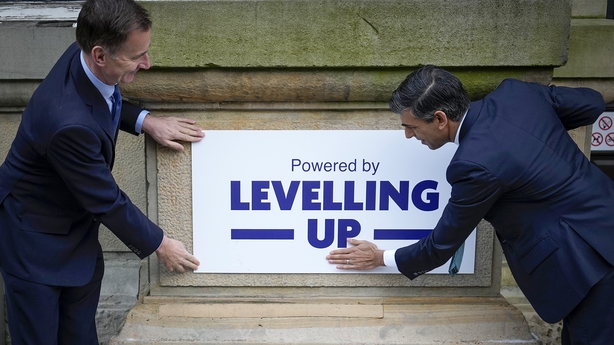 During his round of interviews on local radio there, Mr Sunak repeatedly refused to give any assurances on the high-speed rail link, saying he was more interested in fixing potholes to make things better for motorists.
It is reported that he intends more pro-car announcements during his conference address next Wednesday, including a block on councils introducing 32km/h speed limits on local roads and restrictions on cycle lanes.
However, even the most enthusiastic supporter of public transport will acknowledge there are problems with HS2.
The irony is that the more it is cut back, the less is the return on investment.
The most recent study by the Infrastructure and Projects Authority on a shortened route from London to Birmingham and Crewe in Cheshire decided that it was not viable.
However, delaying the project does not resolve the problems either - as the people in the Camden area of London around Euston Station will tell you.
HS2's London terminus is planned for Euston, but its future is in doubt.
After costs spiralled to £4.4 billion (€5.1 billion), the project team were told to come up with a simpler, cheaper plan.
However, the new design came back with an even higher estimate of £4.8 billion (€5.5 billion). The estimate in 2020 was £2.6 billion. (€3 billion).
The UK Department of Transport has decided to halt work on Euston for two years so they can, literally, figure out what they are going to do next.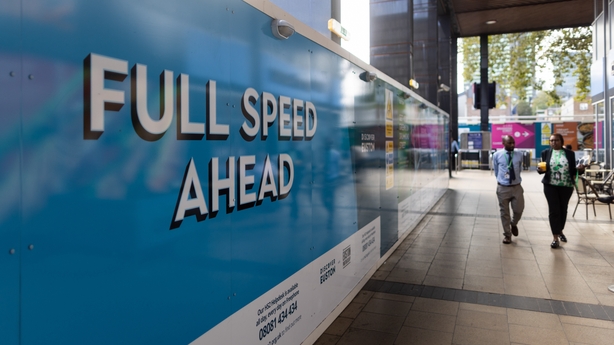 Meanwhile, 215 homes and one popular local pub have been demolished, 153 homes left uninhabitable, 70 businesses displaced and a construction site of 24 hectares is going to be left in the middle of Camden.
In a newspaper interview in 2012, local residents spoke of their despair at the redevelopment plans.
Now with the completion date for Euston being given as 2041/2043 it could be another 20 years before there is an end to it.
Meanwhile, the Department of Transport has admitted that £106 million (€122 million) in design costs for the Euston terminus have been wasted and that it will cost £200 million (€230 million) to wind down and secure the construction site.
Meg Hillier, chair of the House of Commons Public Affairs Committee, which investigated the project, said Euston H2S is "floundering".
As it stands the HS2 will terminate in West London at Old Oak Common.
Those intending to go into central London will have to take the tube, adding more than 33 minutes to the journey and wiping out the time saved by taking the high-speed link to Birmingham.
People travelling to or from East London, let alone Essex or Kent, would in fact save time by taking one of the ordinary trains from central London.
Mayor of London Sadiq Khan said if the Euston terminus does not go ahead "we'll be the laughing stock of the world".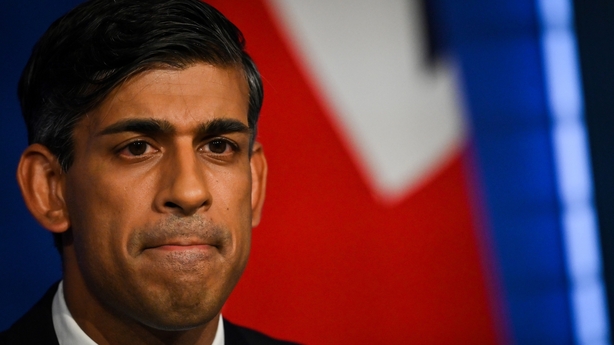 And there is also irony in the fact that while the British government is trying to steer a responsible economic course by keeping costs under control, others claim that scrapping the Manchester line would be even worse for the British economy.
In a joint letter two former Conservative ministers, George Osborne and Michael Heseltine, described the idea of cutting back on the project as "economic self-harm" which would damage the UK's international standing.
As Liberal Democrat MP Norman Baker, a former transport minister in the coalition government, put it: "People are going to say, what on earth are you doing? You're cancelling your environmental policies, you're pulling out of the European Union, you can't build a railway. Just what is happening with Britain these days?"
A total of £22.5. billion (€25.9 billion) has already been effectively spent on HS2 and the London to Birmingham section is 50% completed.
It is due to start running in the "early 2030s". But neither its supporters nor its opponents are happy.
Mr Sunak will have the floor next Wednesday and an opportunity to rally the party faithful.
However, he has shown no appetite for wanting to talk about HS2.