"A big moment" is how Jeffrey Donaldson described the current state of play in negotiations on the Northern Ireland Protocol.
It certainly is for him, as well as the UK and EU teams working towards a deal to end a bitter dispute that has fractured relations between London, Dublin, Brussels and Belfast.
The next few weeks will be the most difficult of his political career.
It was evident from his words after meeting British Prime Minister Rishi Sunak that he knows just how high the stakes are.
The DUP leader read from a printed, prepared speech he had with him when he arrived for Friday morning's publicised meeting, which took place after an un-announced session hours earlier.
"The next generation of Northern Ireland, of its people, requires us all I think collectively to use our best efforts, particularly the Prime Minister and the European Commission president to get these issues resolved and to get to a place where the political institutions can be restored," he said.
"The decisions that will be taken by the Prime Minister and by the European Commission will either consign Northern Ireland to more division, or they will clear a path towards healing and to the restoration of the political institutions."
Gone were the much more confrontational words in the many statements and speeches he has made over the past year.
These were the words of someone who knows that how he responds to whatever deal the UK and EU put on the table will define his political legacy, and the politics of Northern Ireland for many years to come.
There were also signals that his party may be preparing to accept a deal on the protocol that could eventually result in it agreeing to go back into power sharing at Stormont.
There was an acknowledgement that progress has been made across a range of areas, while noting that further work is required.
When the leaderships of Sinn Féin, the Alliance Party, Ulster Unionists and SDLP met Mr Sunak, Northern Secretary Chris Heaton-Harris and a team of senior UK officials, they were each given about 15 minutes.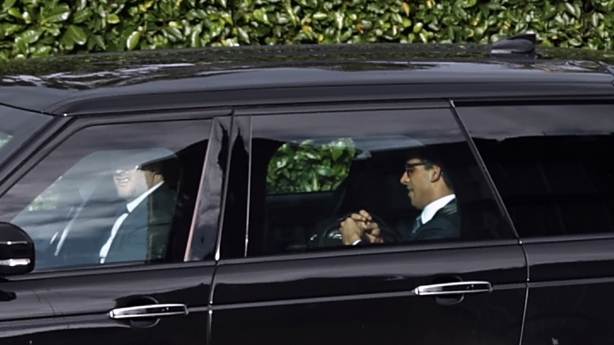 The DUP spent more than an hour and half in those publicised talks on Friday morning, following around two hours of talks earlier when Mr Donaldson and his team slipped unnoticed into the Culloden Hotel near the village of Holywood in Co Down shortly after midnight.
While Mr Donaldson was keen to stress that his party had not seen "the final text" of any proposed deal and was not involved in negotiations, it's obvious it was given access to more detail than the others, as the British government desperately tries to get the party on board.
During those very early morning discussions the DUP spent some of the time in one hotel room, exchanging a series of messages with UK officials in another, sandwiched between face-to-face talks with Mr Sunak.
Two of those the DUP leader had with him, East Belfast MP Gavin Robinson and Lagan Valley Assembly member Emma Little-Pengelly, are both qualified barristers well-versed in reading legal texts.
As Jeffrey Donaldson spoke to the media afterwards, Ms Little-Pengelly was holding a large notebook and several well-thumbed files. Not what you would bring along for a casual chat.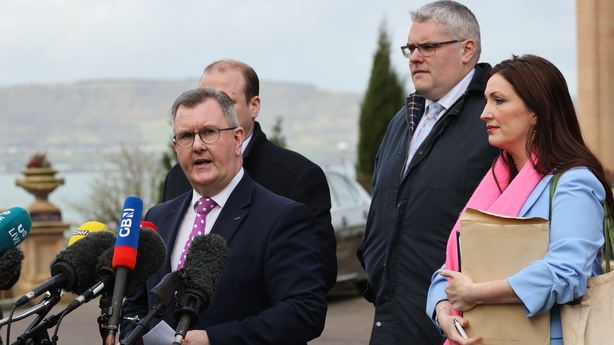 His statement indicated that while what he heard during those engagements may have addressed some of his party's concerns about the protocol, it wants more.
"I want to hear that Brussels will stretch itself to recognise the concerns that we have as unionists," he said.
"Stretch" suggests go a bit further rather than rip it up and start again.
While Rishi Sunak was keen to say yesterday that no deal has yet been finalised, there has been much speculation that a political declaration by the UK and EU could come as early as tomorrow or Tuesday.
Speaking on Friday, Mr Donaldson urged the British Prime Minister not to "be led by a calendar" and said it was more important to take time to get it right.
There was also a clear signal that even if the DUP gives any forthcoming deal a fair wind and indicates general approval, that may not result in an immediate end to its boycott of power sharing.
He stressed that there are likely to be "legislative changes" flowing from any agreement between London and Brussels.
That means the timescale for a DUP decision on a return to devolution could take months rather than the days or weeks the Irish and British governments would like.
So, there could be a protocol deal in days ahead, but no end to the political stalemate at Stormont which the protocol negotiations were designed to resolve.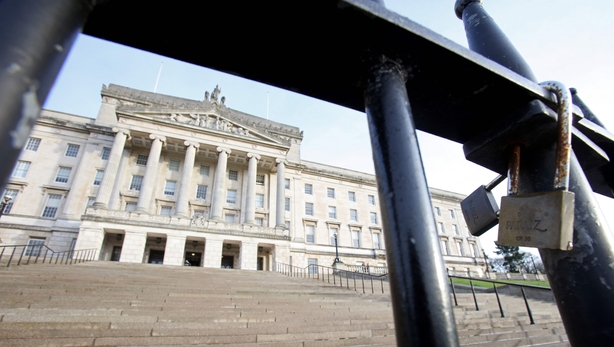 The prize of a return to powersharing before the 25th anniversary of the Good Friday Agreement in April may still be out of reach.
"Seeing a deal in print isn't going to be enough even if by and large we like it," says one well-placed DUP source.
"Implementation is the key. We are never going to simply sign off on words because words can change, we need to see whatever comes forward in legislation and we need to see that implemented."
The problem for the DUP could be that it has set the bar very high.
Initially the focus was on ending barriers to trade and it appeared that significantly reducing checks on goods coming into Northern Ireland from Britain, the so-called Irish Sea Border, would be enough.
The proposed green and red lanes will address that issue, with only goods that then cross the border into the republic, the European Single Market, having to go through Red.
But in recent months, the party leader and a number of other senior figures have insisted that any deal must go much further and also remove any jurisdiction for the European Court of Justice in Northern Ireland.
The European Commission has shown no inclination to accede to that demand.
In Scripture, seven is the number of perfection
For a political party born out of religious fundamentalism, it is perhaps no coincidence that the DUP set seven tests for any protocol deal to pass.
It is a number with huge Biblical significance. In Scripture, seven is the number of perfection.
The reality of political negotiations is that no one ever gets all they want, so Jeffrey Donaldson will have to settle for less than perfection if he is to endorse any deal.
The Bible also says no-one should be weighed down by the pursuit of perfection.
The Lagan Valley MP will be well aware of the dangers of saying "yes" to an agreement that does not address all of its public concerns.
The hardline Traditional Unionist Voice and loyalist paramilitaries, who have backed his strategy since he collapsed Stormont, will point an accusing finger and potentially characterise him as a traitor.
The DUP will fear a potential backlash at the polls if it endorses something that falls short of its demands.
It was then perhaps no coincidence that the Northern Secretary has moved the deadline for reforming a new Stormont Executive before an election has to be held back as far as September of next year.
That would give the DUP time to see any proposed protocol changes enacted in legislation and implemented, and to sell it as a victory. A large influx of cash from Westminster to help address the crisis within Northern Ireland's health service could also be part of British Government efforts to get the party on board.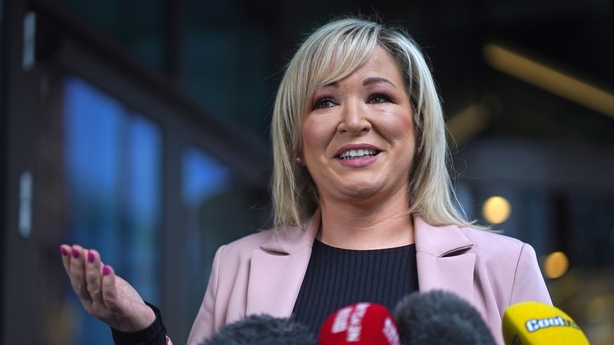 Critics within his own party may also baulk at a decision to endorse any forthcoming deal.
The reality is that many within the DUP's ranks are in no rush to go back into a powersharing administration with Sinn Féin's Michelle O'Neill as First Minister.
Many of them did not want Mr Donaldson as leader when he replaced Edwin Poots and those enemies within may relish the opportunity to make his life as difficult as possible.
But he is also well aware of the dangers of saying "no" and ending devolution, which would result in a return to direct rule from Westminster.
The concern isn't limited to the fact that the Irish Government would have a consultative role under the terms of the Good Friday Agreement.
There is also a deep distrust of the British government, and particularly those led by the Conservative Party.
It is after all Theresa May and Boris Johnson who they blame for selling them out of the protocol. It was arch unionist Margaret Thatcher who co-signed the Anglo Irish Agreement with Garrett Fitzgerald in 1985.
Paul Givan, Stormont's former First Minister, illustrated some of those concerns about direct rule during a debate in the Assembly last week aimed at introducing a new opt-out organ donation law.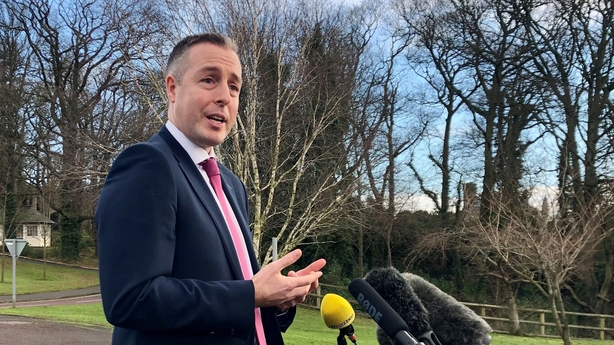 Defending the DUP's position to refuse to approve the appointment of a new Speaker to enable Stormont Assembly members to introduce the law, he urged Mr Heaton-Harris to use his powers to intervene from Westminster.
"The government have legislated on other issues, same sex marriage, abortion, the Irish language," he reminded those in the chamber.
Three pieces of legislation the DUP strongly opposed, but was powerless to stop.
In October last year, another senior member of the DUP warned its members about the dangers of direct rule from Westminster.
"I don't need to tell you that many of the decisions that we have objected to most over the last 10 years have not been taken at Stormont but at Westminster," he said.
"Anyone who believes that having no say in our future is a recipe for success simply hasn't learnt the lessons of history."
The speaker was Jeffrey Donaldson, during his leadership address to the DUP's annual conference.
An end to devolution would also spell an end to the careers of the 90 elected members of the Assembly, who would have to find employment outside politics, which in turn would may it much more difficult for all of the parties to attract future members.
Many within the DUP and wider unionism also fear that in the long-term, the ending of devolved government would endanger Northern Ireland's position within the United Kingdom.
It would pave the way for a perpetual debate about the merits of political control emanating from Westminster or Dublin and accelerate calls for a border poll.
Rishi Sunak also faces considerable personal political risk.
It's clear that he desperately wants a deal with Europe, the UK's largest trading partner.
But the hardline group of Conservative MPs the European Research Group has made it clear that it will oppose any agreement that allows the European Court of Justice to retain any role in Northern Ireland.
The group has backed the DUP's opposition to the protocol so Jeffrey Donaldson could also find himself in its firing line if he accepts a deal that it opposes.
Many Tory backbenchers still believe that Boris Johnson offers a better chance of success in the next British General Election.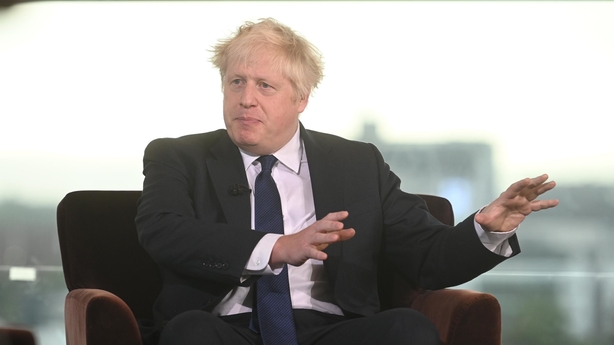 Mr Sunak will know that his enemies within have a proven track record for ruthless efficiency when it comes to leadership change.
While there have been strong indications from Europe that the substantive talking is done, the British Prime Minister has been keen to stress this weekend that nothing has been finalised.
Perhaps he is simply saying that to placate the DUP and those within the ERG, to give the impression that the UK is still playing hardball.
Or perhaps those talks in Belfast that Jeffrey Donaldson insists were not "negotiations" have shaped his thinking and he is seeking further concessions to get the DUP over the line.
The proof will be the pudding.
After two years of protracted wrangling that has seen the UK get through three prime ministers and the DUP three leaders, it seems that an agreement to resolve the dispute is on the horizon.
The next dramatic chapter in the politics of these islands is about to unfold.
It will indeed be a big moment.