Police in Northern Ireland say there is no evidence that loyalist paramilitary groups are preparing to end their ceasefires, despite increasingly hostile rhetoric and threats against Irish Government ministers in recent weeks.
There are concerns about growing anger within loyalism about the Northern Ireland Protocol and the so-called Irish Sea Border, which unionists say has driven a wedge between Northern Ireland and the rest of the UK.
Twenty-eight years after declaring their ceasefires, loyalist groups are still recruiting, still have access to some weapons and are still considered a potential threat.
The PSNI says loyalist paramilitaries helped organise some anti-protocol rallies during the past year and fears have been raised that their opposition could escalate.
But the police assessment is that there is no evidence to suggest the organisations are moving to what they call a "military footing".
We need your consent to load this rte-player contentWe use rte-player to manage extra content that can set cookies on your device and collect data about your activity. Please review their details and accept them to load the content.Manage Preferences
Billy Hutchinson, a former senior figure within the Ulster Volunteer Force, says he is concerned that many working class unionists feel their views are being ignored.
Now leader of the Progressive Unionist Party, which is linked to the UVF, he served 15 years in prison for murdering two Catholics in Belfast in 1974, and was involved in the negotiations that led to the Good Friday Agreement.
"I am concerned about the mood in loyalist communities," he says.
"People need to see that we aren't being separated from the rest of the UK. People talk about the border being in the Irish Sea. It's not, it's in British ports.
"It seems that rather than our economy being lined up with London it's now being lined up with the EU, and that part of the EU is obviously Dublin. That is a genuine concern for loyalists.
"If you ignore people, then what you do is you leave a vacuum, when there's a political vacuum in this country, we know what happens.
"What I don't want is a political vacuum left. I don't want to see anybody going back to prison, I don't want to see anyone dying.
"Politics needs to be working and politics needs to be seen to include everybody and don't exclude."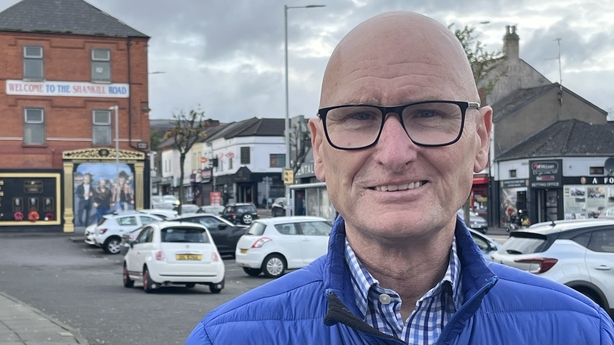 An umbrella group representing the loyalist paramilitary groups the UVF, UDA and Red Hand Commando, has issued a series of statements spelling out its opposition to the Northern Ireland Protocol.
The Loyalist Communities Council, which has met DUP leader Jeffrey Donaldson several times, has said Irish Government ministers are not welcome across the border until the dispute is resolved.
Earlier this month it warned of dire consequences if a long-term collapse of power sharing at Stormont resulted in joint authority by the Irish and British governments.
That was widely interpreted as a threat that the loyalist ceasefires declared in 1994 could end.
David Campbell, the chairman of the LCC and a former chair of the Ulster Unionist Party who was also involved in the Good Friday Agreement negotiations, insists that was not the intention.
"It was not meant to be a threat," he says.
"It was meant to be a conveying and understanding that if the circumstances in which the 1994 ceasefires were undermined which joint authority would do then those ceasefires could in no way be further guaranteed."
We need your consent to load this rte-player contentWe use rte-player to manage extra content that can set cookies on your device and collect data about your activity. Please review their details and accept them to load the content.Manage Preferences
The Irish Government has not used the phrase joint authority when talking about the implications of a collapse of power sharing, but has pointed to the Good Friday Agreement which gives it a consultative role.
But Sinn Féin leader Mary Lou McDonald has said joint authority between Dublin and London should be "plan B" if a power-sharing Executive at Stormont is not resolved.
SDLP leader Colum Eastwood also promoted the idea while the Alliance Party and Ulster Unionists both said it was inevitable that the Irish Government would have a greater say in the politics of Northern Ireland if there was a return of direct rule from Westminster.
Tánaiste Leo Varadkar and Minister for Foreign Affairs Simon Coveney are singled out for particular criticism by loyalists and unionist politicians.
Five years ago, Mr Varadkar, in his role as Taoiseach, used a front-page story and photograph in the Irish Times to warn EU leaders about the potential danger of the return of a hard border as a result of Brexit.
The image was the aftermath of an IRA attack on a border customs post in August 1972 in which nine people died.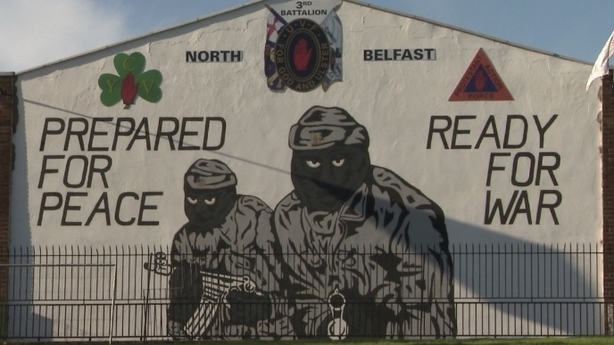 Mr Coveney tweeted a link to the article citing it as an example of why there should not be any border infrastructure on the island of Ireland.
Mr Campbell says the move was perceived as the Irish Government using a threat of violence to get its way.
"That was very dangerous because it was interpreted as the threat of IRA violence being used to put pressure on the EU to avoid a hard border," he explains.
"That in itself created such resentment that it has undone 25 years of positive bridge building between Belfast and Dublin, so the Irish Government need to show some contrition."
One senior loyalist leader said he told Mr Coveney face-to-face that relations between loyalism and the Irish Government have been seriously damaged in recent years.
"I told him that during Bertie Ahern's time as Taoiseach there was trust and we viewed the Irish Republic as a neighbour and friend, but now it is very much viewed as a foreign country and trust that was built up over many years has gone," he says.
Minister Coveney was forced to abandon a speech in north Belfast in March after the venue was the target of a hoax bomb alert by the UVF.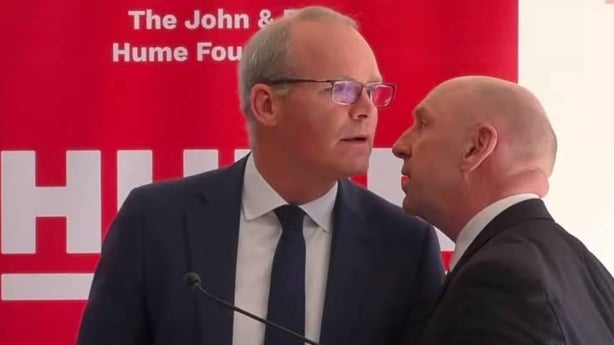 During another visit to the city earlier this month, he was in defiant mood, stating that Irish Government ministers and officials have obligations under the Good Friday Agreement and "will not be intimidated".
While loyalist leaders say there is growing anger within their ranks, police in Northern Ireland do not believe there is currently any serious threat of an end to the ceasefires.
PSNI Chief Constable Simon Byrne told this month's meeting of the Northern Ireland Policing Board that it has not seen "any corroboration of a heightened threat of violence and disorder from loyalist paramilitaries".
Unionist commentator Alex Kane says he is concerned about the potential impact of the LCC on the ability of the DUP to accept any future deal on the protocol between the British government and the EU on the protocol.
He also says the British government has not done enough in the years since the ceasefires to ensure that the loyalist paramilitaries made the transformation to entirely peaceful groups.
"They are laying down demands, they are not simply saying to these parties negotiate and get the best deal that you can, they are laying down demands, they are saying to them 'if you don't get this deal, if you don't get something that is pleasing to us then we will become a problem'," he says.
"I don't think the DUP has done enough to distance itself and they need to because there will be many unionists who have concerns about the protocol, but there are very few people within unionism who think the LCC, an organisation very clearly linked to paramilitarism, is the way forward. They think there should be very clear blue water between paramilitaries and the unionist parties."
Loyalist paramilitary groups have continued to recruit in the 28 years since their ceasefires.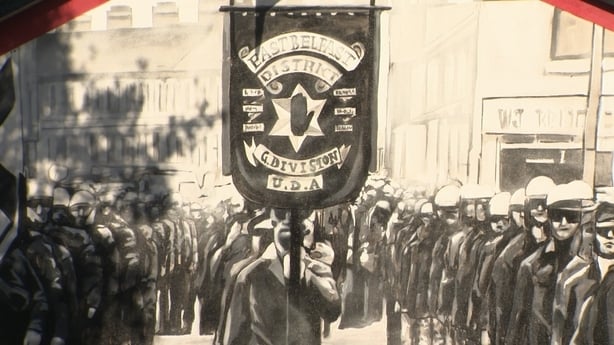 They are currently believed to have a combined membership of more than 15,000, but the vast majority are not regarded as active.
The groups are not regarded as currently having the capability or intent to resume a campaign of violence.
They still have access to handguns and a smaller number of rifles and have the ability to make pipe bombs containing small amounts of explosives.
But the assessment is that they do not currently have the expertise required to make larger devices like car bombs.
The PSNI and a number of senior loyalists have said they have no evidence to support claims that a planned attack in Dublin earlier this month was called off at the last minute.
The police view is that they lack the network and logistics required to carry out attacks across the border even if they wanted to and that the proliferation of security cameras on major roads and in cities and towns makes detection highly likely.
Police say there is no evidence of a move to what they call a military footing.
But there is concern about the intentions of the East Belfast UVF, which claims to have up to 2,000 members and does not take direction from the leadership of rest of the organisation.
PSNI searches targeting the group last week uncovered eight handguns, three viable pipe bombs and a large quantity of ammunition.
The fear is that the group could instruct members to become involved in rioting and blockades of ports in Northern Ireland in a bid to portray it as defending the union and detract from the fact that it is heavily involved in drug dealing and a wide range of other criminal activity.
Standing close to his office on Belfast's staunchly unionist Shankill Road, Mr Hutchinson says many loyalists who took risks to build the peace process and end the violence are determined it will not return.
"The problem is that it can very quickly go to there if we don't do something about it, that's my concern," he said.
"You know, as a young lad on this road back in 1971 you know I didn't see it going where it went, but it did.
"I am always concerned that there's an opportunity for people to go back to violence when politics doesn't work, so it's up to the politicians to make sure it works."
Mr Campbell says the Loyalist Communities Council shares that view.
"My fear as always, and I've conveyed it privately to government and to the police, is the loose cannons in organisations who see leaderships who are perhaps aging and who want their day in the sun," he says.
"I have made it clear that my position and I think the leaderships generally of the groups allied to the LCC would be untenable if there was a return to violence.
"We would have failed if that happened."