The apologetic comments of Northern Ireland Minister Steve Baker are surprising and positive but not completely unexpected. Baker was waving a flag, in a wider diplomatic game.
Nonetheless, it's stark to hear Mr Baker say on RTÉ's Morning Ireland that he's sorry UK-Irish relations "have been soured by the Brexit process" and previous actions by London were "not very respectful of Ireland's legitimate interests".
We need your consent to load this rte-player contentWe use rte-player to manage extra content that can set cookies on your device and collect data about your activity. Please review their details and accept them to load the content.Manage Preferences
Only last June, relations between the Irish and British governments were in a depressed state.
The then foreign secretary Liz Truss introduced the Northern Ireland Protocol Bill into the House of Commons on 13 June. This would enable the British cabinet to unilaterally re-write the deal it had struck with the EU. A trade war with the EU now loomed, with unknown consequences for Northern Ireland trade.
Minister for Foreign Affairs Simon Coveney had a phone call with Liz Truss the same day. One senior Irish source described the exchange to me as "frank and honest" - diplomatic code for downright awful. It was a real low point.
So, where did the turnaround come from?
The departure of Boris Johnson.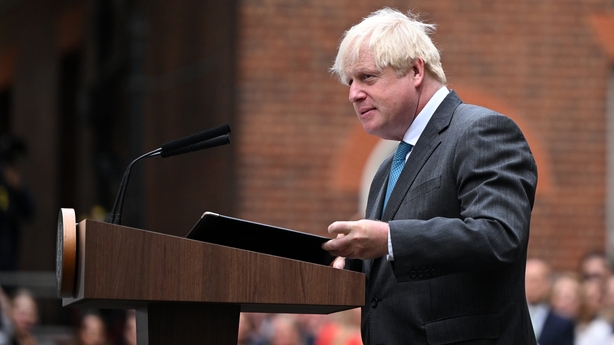 September saw a series of events unfold: At the beginning of the month, Liz Truss was on the cusp of becoming PM. At that time, Taoiseach Micheál Martin and Minister Coveney attended a British-Irish Association meeting in Oxford. Ireland's mantra to the incoming administration was that the relationship between Ireland and the UK is so much more than Brexit ... and we need to get beyond Brexit.
Some of the incoming PM's advisers were there along with connected Tory politicians, the EU's chief Brexit negotiator, and Northern politicians.
The first indications emerged of a possible thaw.
However, the appointment of Chris Heaton-Harris as Northern Ireland Secretary of State - a self-described "fierce Brexiteer" - suggested that PM Truss was maintaining a hardline position. That view was underlined by the appointment of the aforementioned Steve Baker as NI Minister.
Department of Foreign Affairs sources at Iveagh House challenged my view that these two appointments were a negative development. They told me Mr Heaton-Harris and Mr Coveney had a "really good chat" on the phone and they were "eager to meet".
Mr Coveney already knew Mr Heaton-Harris personally - they had both been elected Members of the European Parliament in 2004. More interestingly still, the Conservatives and Fine Gael had both been in the same political grouping at the time, the European People's Party. The two men had something to build-on.
A few days later, Micheál Martin called Liz Truss - an exchange overshadowed by the death of Queen Elizabeth II. Nonetheless, the tone of the statement issued afterwards was positive - they had engaged on a range of issues of mutual concern including the Northern Ireland Protocol and agreed to keep in contact. Sources told me it had been a good, though brief, exchange.
Not too long afterwards, the Taoiseach met Liz Truss at No 10 Downing Street in London.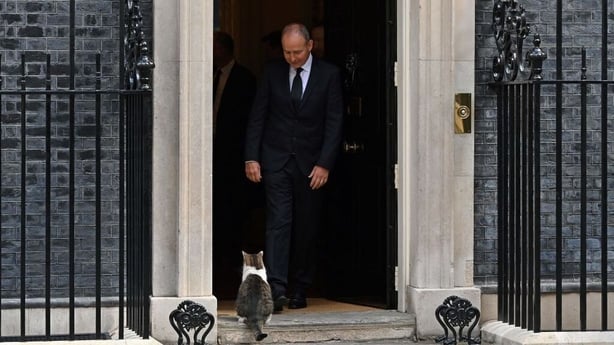 The Taoiseach's pitch was that there was an opportunity for the UK to "reset" its relationship with Ireland. It was described afterwards as a warm and productive meeting. While the Taoiseach declined to get into any detail, one source sent me a text message afterwards with a thumbs-up emoji.
The positive exchanges continued, if not intensified, through September.
Mr Heaton-Harris met Minister Coveney in Co Down last month. The Minister for Foreign Affairs issued a very positive statement - expressing the view that there was now a willingness in the British government for a "serious dialogue".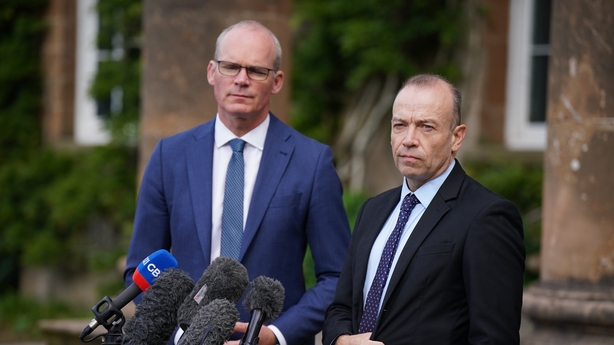 This was quite a take, given that the Irish Government had complained for months that there had been no effort by the British government to engage in meaningful negotiations to break the Brexit deadlock.
Mr Coveney opined that the messages from London were now "quite different" from statements earlier in the year. Mr Heaton-Harris stated that he preferred a negotiated settlement on post Brexit arrangements with the EU, rather than a unilateral approach. That said, he still defended the NI Protocol Bill.
This weekend, in post-ard fheis interviews, the Taoiseach waved a few diplomatic flags himself.
He told Aine Lawlor on RTÉs The Week In Politics that he detected that Prime Minister Truss "genuinely" wanted to get the issue of the NI Protocol resolved.
He said: "I think she would prefer a negotiated solution."
That line was quickly reproduced in the UK press.
Yesterday's apology from Steve Baker at the Conservative Party conference is yet another step in rescuing the British-Irish political relationship.
There's more to come this week: the British PM is to attend a meeting of European leaders in Prague.
The Czech Republic currently holds the Presidency of the EU, but this meeting includes non-EU countries. It's another opportunity to put out the diplomatic feelers.
Last week, the new British Foreign Secretary, James Cleverly, held what was described as a warm conversation with the EU's Chief Brexit negotiator, Maroš Šefčovič. RTÉ's Europe Editor Tony Connelly is reporting today that technical talks between EU and UK officials will get under way soon.
BREAKING: European Commission confirms technical talks between EU and UK officials will take place this week on the NI Protodol

— Tony Connelly (@tconnellyRTE) October 3, 2022
Will all this diplomatic signalling and semaphore activity guide us to an agreement? We will have to wait and see. There is no guarantee of success, but real progress finally looks possible.
Or to put it another way: game on.