The mercury had hit 56 degrees Celsius, when I stepped off the plane and onto the melting tarmac at N'Djamena International Airport, in Chad, in 2008.
I was accompanying members of the Irish Defence Forces on a new UN-approved mission close to the border with war-torn Darfur.
As I wilted in the searing heat, the sergeant beside me quipped: "Now you know why they call it the anvil of the Sahara."
The Chad mission is often regarded as something of a high-water mark - morale was high among the 10,500 strong Defence Force personnel as a large contingent prepared to lead a EUFOR assignment.
Today, there are fewer than 8,500 personnel - the lowest number in decades - and far below the 9,500 figure the force is supposed to be at.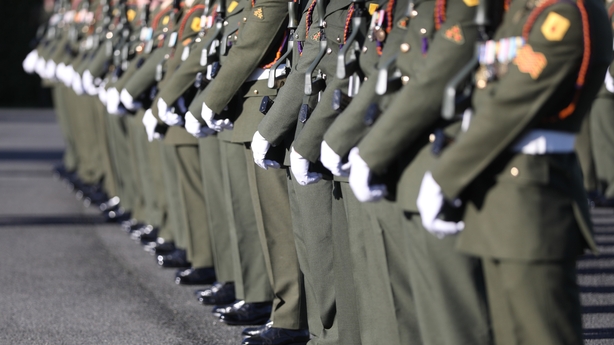 Pay and conditions are usually cited as the main reasons the Defence Forces are haemorrhaging members at an average rate of ten a week, since the beginning of this year.
Successive governments have been under pressure from Defence Force members who've said they simply can't make ends meet.
In 2019, President Michael D Higgins, who is also Commander-In-Chief of the Defence Forces, weighed-in: "It is not too much, I would suggest, to accept that serving men and women should have conditions - including an income and prospects - that are sufficient to provide for themselves and their families."
Regular demonstrations by the families of Defence Force members, coupled with pressure from Opposition parties, ultimately resulted in the creation of the Commission on the Defence Forces and led to today's Cabinet decision.
One of the key decisions is that Defence Force members with less than three years' service will receive more take-home pay.
However, it's argued that replicating work practices which operate in other parts of the public sector, such as An Garda Siochána, is also needed to reverse the slide.
Gerry Waldron, a member of the commission and a former Defence Force member, told me: "If we are able to implement some of the working practices and changes operating in other sectors, we have a better chance of recruiting and retaining those people."
The plan is to increase Defence Force numbers by an additional 2,000 personnel by 2028, with sources saying the process is already under way.
However, ensuring that recruitment involves as many women as men will require significant efforts by the top brass of the three divisions of the Defence Forces: army, navy and air corps.
Accusations of bullying, misogyny and violence made by female Defence Force members, known as 'the Women of Honour', have raised significant questions.
Then there's military equipment.
With Afghanistan in the grip of a Taliban takeover last year and nations racing to evacuate their citizens, Ireland was left high and dry. We don't own a long-range heavy-lift military aircraft.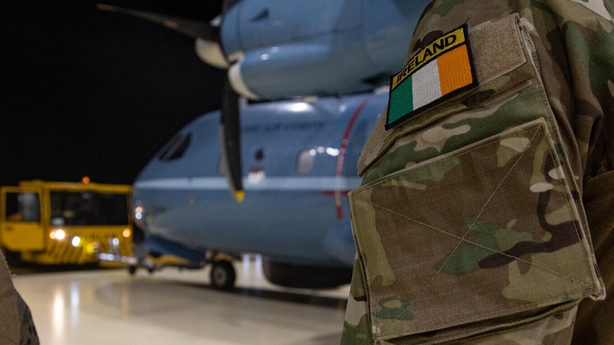 France and Finland stepped-up to help us evacuate our citizens, but some were left behind.
That turn of events shone a spotlight on Ireland's military capability and, more importantly, on the Government's willingness to spend.
The outcome of today's Cabinet meeting means that such an aircraft could be purchased in the near future.
What seems guaranteed is that we're going to get a primary radar system for the country. Apart from Malta, Ireland is the only EU member state without such a capability.
It means that any plane which chooses to switch-off their transponder can ghost into Ireland's airspace undetected.
Gerry Waldron says this is a clear priority: "Approximately 75% of air travel over the North Atlantic is going through either airspace we control or airspace adjacent to us. If we're not able to detect and see threats within our airspace it can pose a significant hazard to civilian air travel."
However, there's a multitude of other issues:
Completing the revamp of existing military barracks, which pre-date the birth of the State.
Providing additional housing for Defence Force members on military-owned land.
Allowing Defence Force representative groups negotiate at the Workplace Commission.
'A need to reflect on neutrality'
Some suggest that Ireland also needs to go back to having a dedicated Minister for Defence, rather than the brief being part of a wider Ministerial portfolio.
During a trip to southern Lebanon last May, Taoiseach Micheál Martin saluted the dedication and bravery of Irish peacekeepers.
With the Defence Forces Chief of Staff Lt Gen Seán Clancy standing by his side, the Taoiseach said he hoped a Citizens' Assembly on Irish neutrality would take place within the lifetime of the Government.
He said: "Post the Ukrainian war, we certainly need to reflect on it and, again, identify the strengths and the contribution that Ireland can make to the world."
At a time of enhanced defence cooperation at EU and UN level, through entities such as Partnership for Peace and Permanent Structured Cooperation or PESCO, a renewed clarity and political direction are needed.
That might be for another day.
The first test for the Coalition will be to appoint a working group and chairperson to drive the reforms contained in the commission's report which was given Cabinet backing today.
As the adage goes - actions speak louder than words.