Cabinet has agreed to increase Defence Forces spending to €1.5 billion by 2028.
The bigger budget will see allowances for the lowest ranks increase by €89 per week or €5,000 per year.
Ahead of the Cabinet meeting, Minister for Defence Simon Coveney described it as the "biggest Government decision on the Defence Forces in living memory ... and one of the biggest things I have ever done in politics".
It follows weeks of talks between Mr Coveney and Minister for Public Expenditure Michael McGrath and their departments.
Support from across the Government was needed to get the plan over the line.
This is the recommendation for what was termed "level two ambition" in the report from the Commission on the Defence Forces.
The commission had called for this target to be achieved by 2030, but Mr Coveney is aiming to have the funding in place two years earlier.
He said the recommendation he was bringing to Cabinet was "very loyal to the Defence Commission Report" which "sets a very ambitious path for growth and expansion and investment by Government for many years to come in the defence sector".
He said the Government "must" make this investment to address capacity gaps in terms of core defence capacity in Ireland.
---
Read more: Defence Forces facing challenges despite spending boost
---
"The recommendation is about adding 2,000 more people to the permanent Defence Forces ... but because we are 1,000 behind where we should be today, that effectively means adding an extra 3,000 people, that's around a 35% increase," he said.
Mr Coveney said he believed the recommendation on allowances and who would be eligible for them would be welcomed by the Defence Forces.
The minister asked the Government to prioritise money for military radar equipment, including primary radar with a potential cost of €200 million.
An additional 2,000 personnel comprising both civil and military roles will also have to be recruited as part of the recommendation.
Mr Coveney told colleagues this morning that every country in the European Union is looking at defence capacity and Ireland needs to do that too.
He said while Ireland is neutral, that does not mean the country is safe. Today's decision should enable the Defence Forces to respond to an attack on Irish sovereignty, he said.
Taoiseach Micheál Martin said raising the head count in the Defence Forces will be an "enormous challenge".
"There is an urgent need for a cultural transformation of our Defence Forces", Mr Martin said, adding that it must be "dramatic". "Government will be keeping a hands-on approach", he insisted.
The Taoiseach was responding to Independent TD Cathal Berry, who welcomed "a moderate increase" in defence spending as "progress".
Mr Berry, who is a former member of the Defence Forces, said the rate of attrition in the Defence Forces is almost ten people each week, amounting to 203 so far this year, which he said is not sustainable.
He said "regular direct intervention" was needed from the Cabinet to ensure "a level playing field".
He also said not a single member of the Defence Forces had been paid the Covid-19 pandemic bonus payment yet.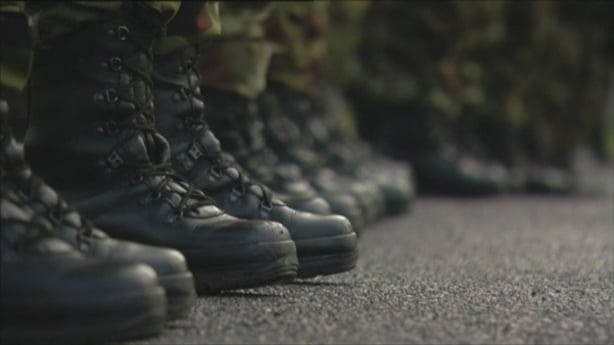 Reacting to the decision, People Before Profit's Richard Boyd Barrett welcomed plans to improve pay - but he said it beggars belief that Government would spend money on military equipment when it is failing to address the cost of living crisis.
Labour's Spokesperson on Defence Senator Mark Wall said at least 3,000 extra personnel will be needed to deliver on today's plan.
He said this would require improved recruitment along with the retention of skilled personnel.
A member of the commission, Gerry Waldron, said today is a good day for the Defence Forces and the defence community, but said it is a start and not an end point.
Mr Waldron, who is a former member of the Defence Forces, said the Government needs to step up to the level of ambition to 'Level 2' and create a national, political and public discussion about what the future of the Defence Forces looks like.
Speaking on RTÉ's News at One, he said Ireland is one of the only comparable countries in the world that does not have a primary radar, or a military grade model to monitor planes flying without due regard or with their transponders turned off and that 75% of air travel over the north Atlantic flies through airspace adjacent to Ireland or space it controls.
Reporting by Mícheál Lehane, Laura Fletcher and Sandra Hurley