The scandals of the past week are unlikely to topple Boris Johnson any time soon.
But they may well mark the turning point, the time the public mood started to move against Mr Johnson, when his reputation as an electoral asset began to turn, to talk of an electoral liability, when the Westminster chatter of who will replace him as leader of the Conservative Party started to break out in the wider country.
In short, the week the spell started to wear off.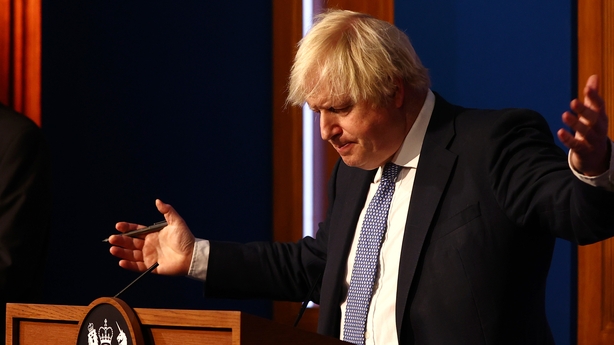 Boris Johnson has long been regarded by most non-British people with a mix of disdain and amusement: amusement with his campaigning stunts and japes - and the blatant disregard for truth that came with them; disdain that he has continued with them as prime minster of the United Kingdom.
But for two and-a-half years he has enjoyed a charmed existence at home, with most people treating scandals and lies with a shrug of the shoulders and the phrase "that's Boris".
But maybe no more - due to the cut-through effect of two swords - sleaze and privilege.
The charge now is of a political leadership that says "do as I say, not as I do". And that brings politics down to local level in a way few things do...
Irish readers will be familiar with "Golfgate" - the furore over a parliamentary golf outing in the summer of 2020 that claimed the jobs of a European commissioner, a Government minster, a high profile broadcaster, and left a newly minted Supreme Court judge battling to keep his job before he had heard a single case.
It was the fury of a public that felt they had been taken for fools by establishment figures, that there was an attitude of one law for the rulers, another for the ruled.
And that was during the relatively mild Covid time of August 2020, when rules were being relaxed.
What has happened in Britain this past week is similar, with revelations about a Christmas party - or parties - in Downing Street and environs, during tier two and tier three lockdown measures.
Parties that happened when hundreds of people were dying daily of a Covid-19 wave, many of them alone, as loved ones obeyed the rules.
British TV and radio shows have been filling up with the relatives of the nearly 500 people who died on the very day a Christmas Party happened in Downing Street (although the Government continues to deny a party happened: Nobody believes their denials).
Those testimonies have connected with people in ways that no amount of outraged hyperbole from columnists, shock jocks and TV personalities can.
Members of parliament will be discovering this for themselves as they spend this weekend in their constituencies.
The charge now is of a political leadership that says "do as I say, not as I do". And that brings politics down to local level in a way few things do - even for the broad mass of the politically docile.
Even normally conservative supporting newspapers like the Daily Mail and The Sun are piling in, with front page after front page denouncing the prime minster and his Downing Street team for apparently laughing at the people.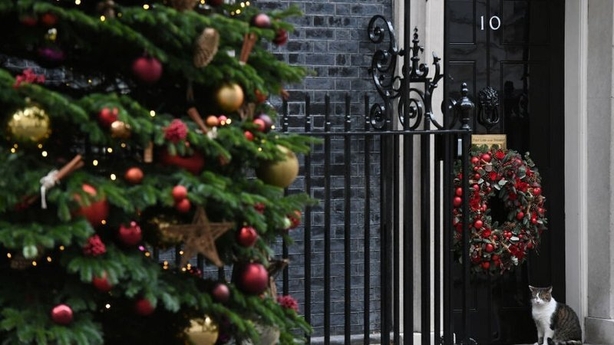 It is a flagrant breach of the "blitz spirit", the sense of "all being in it together".
This is the tacit contract between rulers and ruled that allows the widespread acceptance of difficult public health measures to get through the pandemic.
When that starts to break down, so does the ability of the government to govern.
That is manifesting itself in Parliament too, with a growing rebellion on the Tory backbenches.
Ahead of a vote on Tuesday on the latest set of Covid restrictions, brought in to stem the rise of the Omicron variant (expected by government scientists to become the dominant strain in the UK by the middle of next week, such is the speed of its transmission), 53 conservative MPs were known to have come out against the measures by last night - some think up to 100 could rebel.
Mr Johnson may well be dependent on the Labour opposition to get the measure through - not a good look for a prime minster who won a "stonking great" 80 seat majority at the election.
The shocking leak (shocking for anyone who has ever rehearsed an on-camera production in media, politics or business) of a video of Number 10 press aides apparently laughing and joking about a Christmas party last year was the straw that broke the camel's back for the public (although the story of the lockdown Christmas party had broken the week before in The Daily Mirror).
His old 'bumbling-through' routine is not cutting it any more with the political class, the business class, and increasingly with ordinary members of the public.
How badly damaged the Johnson brand is with the public may well be clear in the early hours of Friday morning, when the results of a by-election in Shropshire will be announced.
Normally the Tories would romp home in a constituency where their vote is "weighed, not counted". But this time may be different.
The by-election is to fill the seat left vacant by the resignation of former Northern Ireland Secretary of State Owen Paterson.
Mr Johnson's ill-fated effort to spare his friend and fellow Brexiteer Paterson from a 30 day suspension for taking payments from a Covid test company to lobby ministers and officials on behalf of the company, backfired badly, tarnishing all the Conservative MPs who obeyed the whip to vote for a reversal of an independent parliamentary watchdog report.
Paterson resigned anyway. And those MPs who had rebelled on the vote discovered there were no consequences for doing so. That has emboldened them for a bigger revolt against the Covid measures.
It was then that Tory MPs turned against their leader for the first time in a serious way. And the allegation of Tories on the make - political sleaze - was loose in the country.
Coming on top of the petrol shortage in September, the growing problem of supplying supermarkets with the normal range of goods due to Brexit, the inept handling of a railway investment programme, and the surging number of migrants trying to cross the Channel, the prime minster appeared to have lost his way politically.
His old "bumbling-through" routine is not cutting it any more with the political class, the business class, and increasingly with ordinary members of the public.
But it has been the Christmas party saga that has acted as a lightning rod for this growing sense of displeasure with the prime minster and his government.
The return of 'flatgate'
The sea change in attitude towards the prime minster helps to explain why another story that had been contained within the Westminster bubble over the past year, has now burst out again - the saga of how the expensive re-decoration of the prime minister's flat was paid for.
The return of "flatgate" - the story of how the £141,000 cost of re-decorating the prime minster's apartment was met - that appeared to be a nexus of sleaze and privilege: gold wallpaper allegedly costing £850 a roll paid for by a very rich donor to the Conservative Party – which was then fined for not disclosing the payments properly.
And the possibility that the prime minster may not have been wholly truthful in his dealings with an earlier inquiry into the affair.
Now, suddenly, it seems as if Boris Johnson has lost one of his political superpowers - his ability to get away with saying anything, regardless of whether or not it was true.
The Covid Bill revolt and the Shropshire by-election won't make any difference in terms of parliamentary arithmetic.
But in terms of denting the image of Boris Jonson the election winner, it may be the start of a trend. Just as the opinion polls may be starting to solidly turn against him for the fist time since his election as prime minster.
It's still too early, according to polling experts, to say there is a definitive trend - but three polls in a row have now put the Labour Party in the lead.
That party, after a decade of internal upheaval, now has a frontbench that gives quite a good impression that it might have the makings of an alternative government. It's starting to come together for Labour - slowly - just as things are starting to slip away for the Conservatives. An inflection point.
Boris Johnson - the great campaigner, the unquestioned electoral asset - may be losing his appeal.
In TV parlance, he may have "jumped the shark" (a reference to an old American TV show, which was considered cool - up until an episode in which the main character jumped over a shark whilst waterskiing. After this point the show was no longer cool. It lingered on in the schedule for a few more seasons, but its trajectory towards cancellation was relentless from that point on).
Perhaps Friday afternoon was a good time to bury some unwelcome (for Brexiteers) news about the Northern Ireland Protocol.
While the ERG-type MPs are out on a limb over Covid, and Labour tactics ensure they will be isolated - David Frost's Brexit team let it be known they are ready to cut a deal with the EU on solving practical elements of the trading difficulties thrown up by the operation of the Northern Ireland Protocol, backing away from an earlier insistence on seeking radical changes to the way the protocol is governed, including the role of the European Court of Justice (at least for this year).
With so much going on, pragmatically edging away from a confrontation with the EU looks like a smart move - in a period when there have been precious few smart moves.
Right now there is just too much bad stuff happening for Boris Johnson, and he needs to get a grip, nurse it home until Christmas, get some rest, then try to relaunch himself in the New Year.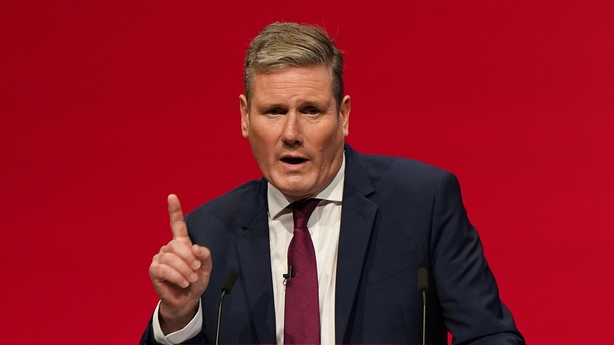 But once the love is gone, it is hard to rekindle. What then for Boris?
His former top Downing Street aide, Dominic Cummings – himself the subject of an earlier episode of Covid rule breaking – introduced us to the obscure Inuit word "Kulangeta", defined in an academic text about psychopaths (why was Cummings reading such stuff?) as "a man who repeatedly lies and cheats and steals things...takes sexual advantage of many women...someone who does not pay attention to reprimands and is always being brought to the elders for punishment".
How do the Inuit deal with a Kulangeta in their midst, inquired a Harvard sociologist quoted by Cummings? "He would be pushed off the ice when nobody is looking."
Dominic Cummings has been suggesting since August that officials in Downing Street are trying to push Mr Johnson off the ice.
Back then he wrote that Mr Johnson was protected by "Starmer's obvious uselessness" which was keeping the Conservatives high in the polls and the backbenchers relaxed. But he predicted that would change. It is.
The changing mood at home trails behind the view of Boris Johnson abroad.
Last week, a report in the French satirical weekly "Le Canard Enchaine" said President Macron had told aides at the Elysee that Mr Johnson was a "gougnafier" - an obscure French word, variously translated as an oaf, or a knucklehead.
The unflattering term reportedly came in an outburst about Mr Johnson's style of politics, after a phone call between the two leaders about the tragic death of migrants trying the cross the channel in a rubber boat had been derailed by Downing Street making public a letter demanding the French take back migrants.
According to the report, Mr Macron said "it's sad to see a big country, with which we could do great things, being run by a clown".
He blames Brexit for the "circus" of British politics, and says Mr Johnson privately apologises to him for his public anti-French attitudes, which he claims are needed to satisfy public opinion.
So Macron (allegedly 😀) calls Johnson a clown and a "gougnafier" ("knucklehead"🤡)

Most interesting revelation in today's Canard Enchaîné is however ...

"In private, he tells me he's sorry he acts like he does, conceding he has first and foremost to accommodate public opinion" pic.twitter.com/TNFJxlCkXg

— Alex Taylor (@AlexTaylorNews) December 1, 2021
A more robust French view of Mr Johnson's style of government was expressed by leading political journalist Marion Van Renterghem in this French TV show, helpfully subtitled.
"Johnson is someone who lies all the time. Lies are ontological, elemental, essential for him"

So 😀 I just subtitled into English what my friend @MarionVanR said about him on French TV, mentioning, among other things, the @PeterStefanovi2 video 👇 pic.twitter.com/Bd4SKGTtiM

— Alex Taylor (@AlexTaylorNews) December 1, 2021
This article from July by the London bureau chief of German TV channel ZDF captures the European view of Mr Johnson well.
It is not that British people haven't noticed. Lawyer and trade unionist Peter Stefanovic put together this collection of Boris Johnson clips, mostly from Parliament.
Now on a staggering 40 MILLION VIEWS! Despite an almost complete media blackout from UK News Channels working TOGETHER we have sent a powerful message. If it's ruffling this many feathers now just imagine when it hits 50 million. Let's keep going! pic.twitter.com/PlvEkEij1V

— Peter Stefanovic (@PeterStefanovi2) November 13, 2021
It has been viewed millions of times, but little of this has cut through with the wider public. Probably because it tries to counter spin with facts, losing all but the most committed with numbers. Prose loses to poetry.
This week the video was promoted by Tony Blair's former spin doctor, Alastair Campbell, on BBC television, as part of a denunciation of Boris Johnson over the Christmas party and "flatgate" affairs.
"The BBC is the only national broadcaster not to play Peter Stefanovic's video (now on 41 million views) which set out months ago lies told by Boris Johnson at the despatch box..stop pretending it's a new phenomenon we have a liar as a Prime Minister"

Interviewer doesn't comment pic.twitter.com/W60x8bikEa

— Peter Stefanovic (@PeterStefanovi2) December 10, 2021
But most of these criticism have failed to stick in Britain, sliding off Mr Johnson's political Teflon coating.
Until now.