I was in New York this week to cover the city's mayoral election. We had to crisscross between Manhattan, Brooklyn and The Bronx following the various candidates as they met voters and held campaign events.
Reaching each destination took a lot longer than anticipated due to packed streets and traffic jams, but rather than getting frustrated, I was glad to see the return of the gridlock.
I felt a sense of relief that things were starting to look normal again. The 'city that never sleeps' was awake once more. New York had been eerily quiet throughout the pandemic and during my visits there over the last year, I was struck by the deserted streets and closed businesses.
It was no surprise that the city was in lockdown. It was, after all, the epicentre of the US coronavirus outbreak with more than 30,000 lives lost.
Perhaps it was the trauma of the last year that has resulted in the high uptake of Covid-19 vaccines among New Yorkers.
The Governor of New York lifted most of his coronavirus restrictions earlier this month when the state hit a target of 70% of all adults having received at least one dose of the vaccine.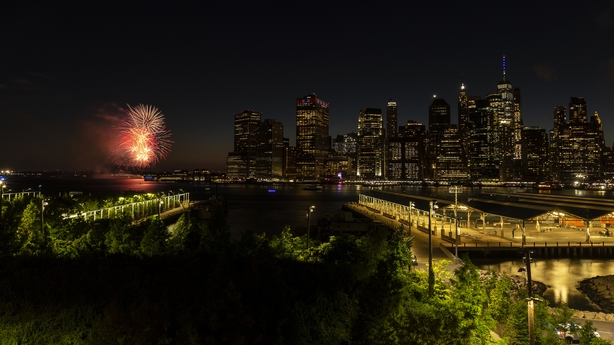 It is the same target that President Joe Biden has set for the entire country for the Fourth of July. He vowed that this year's Independence Day would also mark America's independence from the virus.
The 70% target has not just been met in New York, there are similar vaccination rates in Washington DC, Pennsylvania, Maryland, Illinois, Virginia and California.
The figure is even higher in states such as Vermont, Massachusetts and Hawaii where more than 80% of adults have been partially or fully vaccinated.
Sixteen states and the District of Columbia have reached the president's goal, but at the other end of the spectrum states such as Alabama, Louisiana, Tennessee and West Virginia are lagging behind in their vaccination rates.
On a recent visit to West Virginia, I encountered people who were hesitant about getting vaccinated.
Wendy Crites told me that she deals with the public everyday as part of her job and never caught the virus, so was not planning to get the vaccine.
"I'm a little afraid of some of the side effects I've heard about. I don't trust it and I think it came out too fast," she said.
Woody Lee said he does not believe in taking vaccines because he feels he already has a strong immune system.
"Anytime you put any chemicals in your body there could be repercussions," he told me.
Vaccination rates have also slowed in North Carolina and yesterday Joe Biden visited the state to encourage people to get their shots.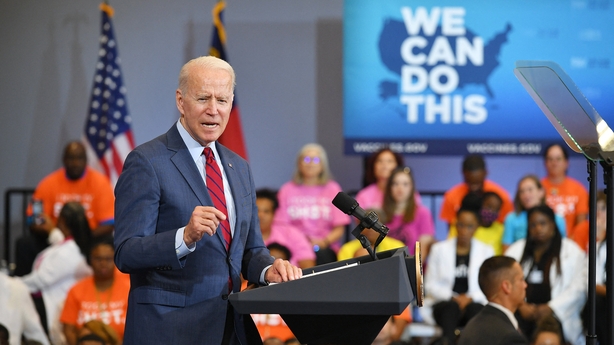 He toured a mobile vaccination unit, met with frontline workers and also spoke to volunteers who are helping to get community members vaccinated.
During a speech in Raleigh, North Carolina, the president urged people to get their shots and highlighted the risks posed by the Delta variant of Covid-19.
"It's now the most common variant in America and unvaccinated people are incredibly vulnerable," he said.
He warned that the variant was more easily transmittable, potentially deadlier, and especially dangerous for young people.
"But the good news is, we have a solution. The science is clear. The best way to protect yourself against the virus and its variants is to be fully vaccinated. It works. It's free. It's safe. It's easy. It's convenient," Mr Biden said.
The White House acknowledged this week it will not meet its goal of getting 70% of adults at least partially vaccinated by Independence Day.
One of the problems has been a reluctance among 18 to 26-year-olds to get their jabs.
Jeffrey Zients, the head of the White House Covid-19 response team, said it will take a few more weeks for their vaccination targets to be met.
"The reality is, many younger Americans have felt like Covid-19 is not something that impacts them and have been less eager to get the shot," he said.
In many parts of the US, people were offered incentives to get vaccinated such as free beer, lottery tickets, gift cards, tickets to sports events and even cash payments.
There are walk-in clinics in high street pharmacies and free transportation to vaccination centres.
It could not be easier for Americans to get a vaccination but perhaps the best incentive of all will be the promise of things returning to normal, even if normal means getting stuck in a New York traffic jam.