Arlene Foster has resigned as Northern Ireland's First Minister, starting the clock ticking on a seven-day deadline for Sinn Féin and the DUP to agree to go back into government with each other.
If they fail to reach agreement, the Stormont Executive will cease to function and Northern Ireland Secretary Brandon Lewis will be obliged to set the date for an election "within a reasonable time".
The DUP has nominated Lagan Valley MLA Paul Givan to be the new First Minister, but it is not that simple.
Sinn Féin has to endorse him and agree to go back into the powersharing administration by nominating a Deputy First Minister - that person would once again be Michelle O'Neill.
Based on statements from the two camps yesterday, the omens are not good.
Sinn Féin accused the DUP of "acting in bad faith", with the DUP suggesting that a failure by republicans to reach agreement would "be playing fast and loose with people's lives", a reference to Northern Ireland's hospital waiting lists, which now exceed 300,000.
Sinn Féin has made it very clear what it wants in return for its endorsement of Mr Givan: a firm commitment to deliver a long promised Irish language act.
For legislation to have any chance of being introduced before the next scheduled assembly election next May, the process has to begin before Stormont breaks for its summer recess on 10 July.
The parties have been sounding each other out since Edwin Poots became the new DUP leader, but the shadow boxing ends and the real negotiations get under way the moment Ms Foster steps down
A commitment to an Irish language act was part of the New Decade New Approach (NDNA) agreement in January last year, which paved the way for the restoration of the Stormont Assembly after a three-year suspension.
Mr Poots was one of the key architects, along with Conor Murphy, the Stormont finance minister and Sinn Féin's chief negotiator.
The two men will lead the negotiations this week. They have known each other more than 20 years and are said to have a good working relationship.
"They both come from farming backgrounds and are both straight talkers," said one person who has seen them in negotiating mode.
"They can talk calving and lambing, but can also talk turkey and get the business done."
The pair went for a stroll and a private chat during the British Irish Council summit in Co Fermanagh on Friday.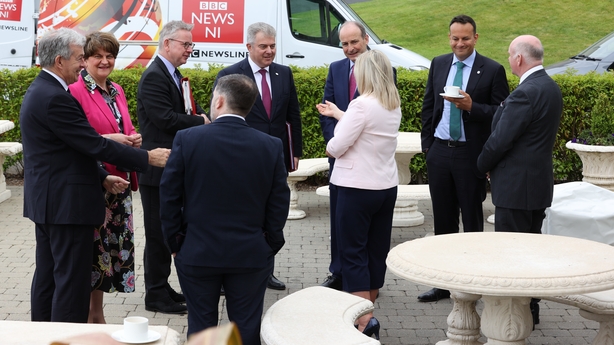 While Taoiseach Micheál Martin, Ms Foster and Ms O'Neill were taking part in a press conference, Mr Poots and Mr Murphy could be seen in animated conversation.
The body language appeared good. When asked if the smiles meant a deal had been done, Mr Poots said "conversations are continuing".
Mr Murphy said they had a good chat "about the ducks and farming". They then went and had a "cuppa" and a chat with Tánaiste Leo Varadkar.
Mr Poots has said several times in recent weeks that he intends delivering on all the commitments, including those on language.
Each time, Sinn Féin's response has been to demand action, not what it called "fluffy words".
The DUP leader and his allies have also repeatedly mentioned the need to deal with Northern Ireland's spiralling hospital waiting lists, stressing that is their top priority.
The message is simple: what is more important, an Irish language act or dealing with a health crisis?
The aim is to build pressure on Sinn Féin to go back into government.
"Are Sinn Féin seriously going to collapse the assembly when Northern Ireland is still in the midst of a pandemic and facing an unprecedented crisis in the health service," asked a senior DUP source.
For Sinn Féin, it is about trust. Mr Poots' fingerprints are all over the New Decade New Approach agreement and he has repeatedly said he is a man of his word and will honour the commitment to legislation.
"He needs to be tested," said a source. "It's all very well saying you are a man of your word, you also have to demonstrate it."
The DUP choice of Mr Givan for First Minister caused concern within Sinn Féin as the Lagan Valley MLA infuriated Irish language activists in his role as Communities Minister, when he withdrew a £55,000 bursary to send disadvantaged children to the Donegal Gaeltacht.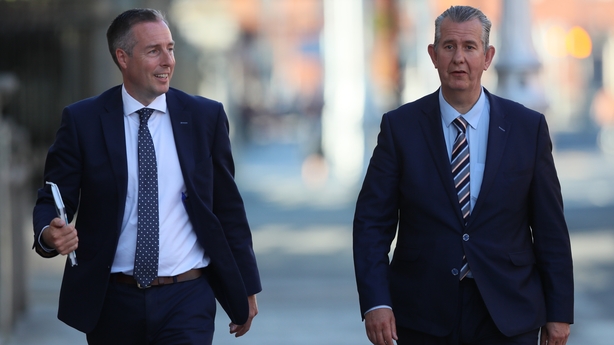 Sinn Féin fears that whatever his own intentions are, Mr Poots cannot persuade hardliners in his party to deliver something many have made clear they strongly oppose.
The starting pistol on the latest round of political negotiations at Stormont will not officially be fired until Ms Foster leaves office, but both sides have already exchanged early opening salvos.
That followed a meeting in Belfast City Hall yesterday between Ms O'Neill, Mr Poots and Mr Givan.
A short time later, a senior Sinn Féin source accused the new DUP leader of being "disingenuous" when making public commitments to implement all aspects of the New Decade New Approach agreement.
"We believe they are acting in bad faith. We do not believe they will deliver on the Irish language act," they added.
"Our position is that the nomination for First Minister and Deputy First Minister has to be accompanied by legislation on the Irish language."
The DUP's response referenced its repeated comments about health being the priority.
"No one would forgive Sinn Féin for playing fast and loose with people's lives in Northern Ireland," a spokesman said.
"The DUP leadership stands resolute to enter government, respect power sharing and get on with the job. It is up to others to follow.
"We remain committed to the New Decade New Approach agreement and want to see it implemented in all its parts."
Mr Poots and his advisors may be gambling that Sinn Féin cannot refuse to go back into government because of a dispute over the Irish language as the public backlash would be severe.
Sinn Féin in turn may calculate that the DUP will not want to be accused of bringing down Stormont as a result of being "petty" and dishonourable by refusing to deliver something it has signed up to.
It may also believe that with the DUP clearly fractured at this time, its new leader would not welcome an election.
Sinn Féin is aware that it would face a backlash from many of its own base if it does not deliver the long promised legislation.
Equally, many within the DUP view ground on the Irish language as electoral suicide within the Protestant, Unionist and Loyalist (PUL) community.
The message from Sinn Féin is that it cannot afford to go into the next assembly election without having delivered on Irish language legislation - the DUP view is that it can not afford to go into the election having delivered it.
Governments in Dublin and London will hope that an early election is a prospect both parties want to avoid and that it is in their interests to find common ground: the language of compromise.