Germany is holding national elections on 26 September, which will determine who will become the next chancellor to replace Angela Merkel, who after almost 16 years in power is now a household name across Europe.
The autumn may seem a long way away, but the competition as to who will take over is already hotting up.
Merkel's are big shoes to fill, as she has clocked up four consecutive election victories at the helm of Europe's biggest economy.
However, it is by no means a foregone conclusion that the next chancellor will be cut from the same conservative cloth.
The Green party is now riding high in the polls, and for the very first time in its 40-year history, it has unified behind a single candidate for the top job.
Annalena Baerbock, whose candidacy was announced early last month, is a high-flying former trampolinist, who has been a co-leader of the Green party since 2018.
Her party has received a significant bounce in recent opinion polls putting her either level with, or in one recent poll by the Kanter institute for Bild am Sonntag, ahead of Merkel's ruling conservatives.
This means the job of chancellor could actually now be within her reach, although there are still five long months of campaigning to go.
Such is the threat of a more left-leaning ecologist taking Germany's top job, that she has also been battling a slew of online disinformation about her, led by right-wing opponents, and possibly even foreign actors, including Russia.
This has included false claims that she would ban barbecues and that she would prevent Germans from having pets, due to the associated CO2 emissions.
Who is Annalena Baerbock?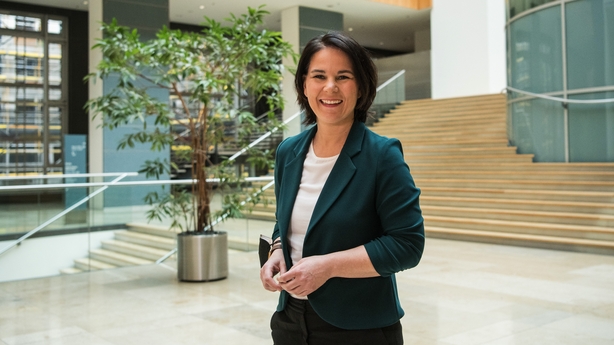 Baerbock won the Green's candidacy ahead of her fellow party co-leader, Robert Habeck.
The decision to name a single Chancellor candidate has been seen as a clear sign that the Greens are now ready to push for the power that comes with Germany's top job.
Well established in Germany for decades, they no longer want to be seen only as a fringe party or as smaller coalition partners.
Baerbock was born in a village near Hanover, in north-western Germany and went on to study political science and public law in Hamburg.
The 40-year-old has a keen interest in international and European affairs and went on to study further at the London School of Economics, before becoming an adviser to a member of the European Parliament.
She then worked on foreign and security policy for the Greens in the Bundestag, the lower house of Germany's parliament, before being elected into office there in 2013.
She has focused her career on climate and economic policies as well as playing an instrumental role in Germany's exit from coal.
Married with two daughters, she lives in Potsdam, near Berlin.
Does she have a chance of winning?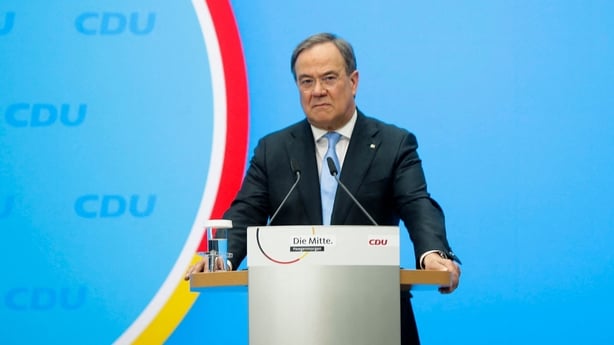 "Germany has never seen anyone like her running for chancellor. She is 40 years old, she has two children, she's a successful politician," says Dr Christian Martin, Professor of Comparative politics at the University of Kiel and currently the Max Weber visiting chair of German and European Studies at New York University.
However, she has no direct experience in government, something which her two current opponents are likely to campaign strongly on, in the run up to September's vote.
"She has not shown yet that she can win electoral campaigns," says Dr Martin, "but she presents a fresh face and excellent policy knowledge and expertise to the German public and to Europe".
One of her opponents is 60-year-old Armin Laschet, the candidate selected for the chancellory by Merkel's conservative Christian Democrats (CDU) party, along with its sister party, the Christian Social Union (CSU).
He is the prime minister of Germany's largest state, North Rhine-Westphalia and has extensive knowledge of government.
So too does Olaf Schulz, the chancellor candidate for the Social Democrats, who is currently Vice-Chancellor.
Arguing recently that he would be better placed to lead Europe's largest economy after the elections, he said: "Germany is one of the world's biggest and most successful industrial countries. It should be run by someone who has experience in governing, who not only wants to govern, but can actually do it."
The 62-year-old has insisted the race is still open, despite his party trailing in third place in polls.
However Ms Baerbock's supporters believe this lack of experience in government should not count against her.
"If you think this through, this logic, then basically there always needs to be a repetition of people who have been in government to go into government again," German Green MEP Terry Reintke told RTÉ.
"Whereas I have a feeling that there is really a sense of renewal in the air right now in Germany, because there is a lot of frustration about how this government is dealing with things."
Grace O'Sullivan, Green MEP for Ireland South, agrees: "She's in with a chance. We have a feeling that there is a Green wave of young people coming behind Annalena now….the Greens are in government now in six different European countries [including Ireland], so there will be support for her on that level as well."
She expects the conservatives to put up a strong fight, however: "I would expect the CDU, because she's a challenger to their candidate, that they will also put up quite some opposition towards her.
"I imagine it will be quite a difficult campaign, as it proceeds, because we've seen it even in campaigns in Ireland, presidential campaigns, they can become very personal."
For her own part Ms Baerbock has sought to make a selling point of her relative lack of experience, saying: "I stand for renewal. Others stand for the status quo."
The only female candidate so far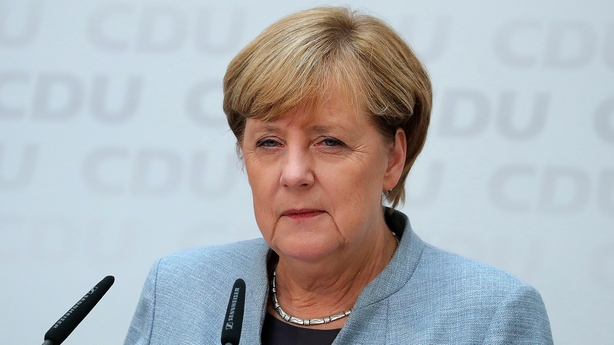 "The question is: 'Can a man be Chancellor?" says Dr Martin. "That is the question asked jokingly in German news media, because Germany has had a female chancellor for the last 16, years and quite a successful one at that."
He says that similar to Merkel, Baerbock is a politician known for her logic and pragmatism and he says: "We know from surveys that a lot of women with children feel close to a person like Annalena Baerbock, and that can't hurt, going into the election."
O'Sullivan says for Baerbock, being a mother is one of the reasons she wants to push for climate policies, to help safeguard future generations.
"Annalena herself said that one of her huge motivations in politics, was when she was in France during the signing of the Paris Agreement.
"She had her young child with her and she realised that her young daughter, that the consequences of climate change and environmental degradation on her child and that generation will be significant if we don't take action now. I think that's a big motivational drive for her."
If successful, the Green's candidate for chancellor wouldn't be the first young woman to rise to national leadership in recent times: "We have seen with new heads of state for example in New Zealand and Finland where younger women have taken these responsible positions," says Reintke.
"I really hope that Angela Merkel can be the starting point and that Annelena Baerbock can be the continuation of it."
A target of disinformation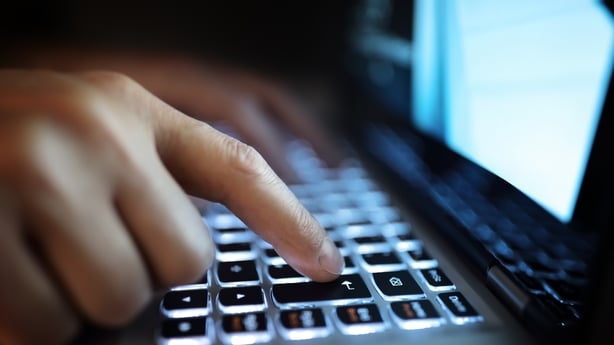 Since the announcement of her candidacy last month, Baerbock has been the target of internet trolls, doctored images purporting to show her in the nude, and a glut of fake news stories, including a claim that she wants to ban pets across Germany, due to the C02 emissions they emit.
She has denied this claim, along with others that she would enforce the teaching of the Quran in schools, and ban the holding of barbecues.
"The reference to prohibiting having pets, to have a better climate protection, this is really not a demand that either Annalena Baerbock nor the Green party in Germany has ever made," says Reintke.
"But it was really widely spread all across Facebook for example and other social media channels."
She adds: "This is certainly a problem that women disproportionately face in politics, but it is also in general a threat for democracy."
"Frankly it's ridiculous," says Dr Martin. "We've seen this time and again, not only in Germany of course, that this tends to come from the far right and foreign actors, mostly Russian, in as far as we can pinpoint it, and this is to sow disunity and undermine the democratic process."
Whilst some of the claims against her are easy to disprove, he says other media articles written about Baerbock have been potentially more damaging.
"There was another news article, that was somewhat closer to the truth, but it was spun in a very unfortunate way, if you ask me, which said that the Greens might outlaw single family homes. No one has ever said anything to this effect."
He said this article was based on comments made during a discussion around the sustainable growth of cities, particularly in high density areas, but they were: "spun in way that the Greens are the party that want to outlaw certain things and institute a nanny state that will tell the Germans what to do. And there is a kernel of truth to that in that the Greens have a history of advocating for tighter regulation".
He says this is particularly true when it comes to reining in industry, and that the Greens could find this reputation difficult to shake off during a difficult period ahead, focused on post-pandemic economic growth.
Foreign policy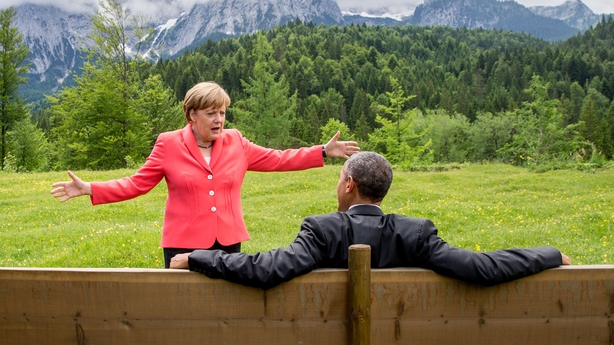 Like Merkel, whoever becomes the next chancellor will play a key role in shaping policies across the European Union and beyond.
Within just a week of being unveiled as her party's pick for the role, Baerbock was quick to outline some of her foreign policy views. She insisted that Germany must increase pressure on Russia, following its military buildup at the Ukrainian border.
In an interview with the Frankfurter Allgemeine Sonntagszeitung, she also repeated a demand presented in the Greens' election manifesto, earlier this year, that said political support for a second German-Russian gas pipeline under the Baltic Sea, should be withdrawn. The project is almost complete.
Her CDU opponent Armin Laschet supports the Nord Stream 2 gas pipeline from Russia to Europe and in an interview with Reuters in February, he said: "feel-good moralising and domestic slogans are not foreign policy".
Some analysts suggest that the next chancellor of Germany may not be able to match Merkel's commanding position on the international stage, which was carefully built up during her 16 years in power.
"In terms of foreign policy, Angela Merkel leaves big shoes for her successor to fill," said Thomas Gitzel, economist at VP Bank, in a recent interview with AFP.
"Armin Laschet will not be able to fill them and probably won't want to," he said. "The future focus will be on domestic policy."
However Dr Martin believes that if the Greens do win out in September's election, they will want to push for more European integration. This is not a direction that would win favour in Russia.
"For Russia there is a number of reasons not to want Annalena Baerbock as a Chancellor," says Dr Martin. "For one, she appears to stand very much for a stricter approach against authoritarian governments. This is very much the party of democracy, pluralism and the law."
Baerbock's recent call for further moves towards the creation of a European army, is also something that will be closely watched in Ireland.
"I think definitely that would be an issue for people in Ireland because we guard and cherish our neutrality very strongly, so I think that would be a point of discussion, in terms of foreign policy," says O'Sullivan.
A long way to go
Whatever happens, Green policies are now firmly at the centre of European politics, with the 'European Green Deal' forming the central plank of European Commission President Ursula von der Leyen's agenda.
The landmark deal on climate change aims for Carbon neutrality in the European Union by 2050, and all candidates to become the next German chancellor will have to set out their stalls on this issue.
Dr Martin believes that the Greens' opponents will stand the best chance of beating them "if they can convince voters that the Greens are the party that is bad for the economy, is bad for growth and would destroy jobs, then that could hurt the Greens, as it has done in the past".
However O'Sullivan insists that the party is all for growing the economy and creating jobs, once that growth is sustainable under Just Transition.
"As an old Green environmental activist going back to the 80s myself, the objective was to try to raise awareness so that people would really realise that we are in huge difficulties due to climate change, so my own view has always been that the more who acknowledge it, the more that are pushing the Green agenda the better."
She warns against "greenwashing" policies from other parties but says: "Now we're seeing the US back at the table, we're seeing China committing to targets… it's all moving in the right direction."
Five months is a long time in politics and ultimately that the Greens' recent success in the polls could be down to the fact that they have unified behind one clear candidate.
The conservative CDU and CSU, meanwhile, have only just emerged from a bitter battle over who would become their chosen candidate for chancellor.
Laschet, from the CDU, won out, despite being bruised by recent criticism over his response to the Covid-19 pandemic.
He is seen as a cautious centrist, compared to the colourful and more charismatic Bavarian Markus Soeder from the CSU, who has now bowed out of the race.
Dr Martin says it is unlikely that the Greens will make it to the top this time around, but believes that Baerbock could easily become the next Vice-Chancellor.
"If I had to make a wild guess right now, I would say that the CDU will hold onto or regain its leadership role in German politics. I think Armin Laschet will be Chancellor and Annalena Baerbock will be an excellent Vice-Chancellor in a Black-Green coalition."
However he adds a note of caution about how the German political system, which leans heavily towards coalitions, works: "To become chancellor in Germany, the party for which you're running doesn't have to garner the most votes.
"It is enough that you can form a coalition that will vote in the Federal parliament to make you Chancellor, and there is a good chance for that for Annalena Baerbock, not only given current polls, but also trajectories of the polls heading into September."
Additional reporting AFP/ Reuters