At St Mary's Junior School in Dublin's Rowlagh on Monday, my colleague RTÉ cameraman Mark Ronaghan captured a telling image.
There with me to report on the reopening of schools, Mark filmed as six-year-old Elliemay Devitt burst into her class, hurtled across the room, and threw herself into the lap and arms of her teacher Miss Foley.
Kate Foley, resplendent in celebratory pink, was taken by surprise - almost knocked off balance even - as she attended, down on her hunkers, to two of Elliemay's classmates. But she responded with care and affection to her pupil's joyous greeting.
Why wouldn't she? It's been ten weeks, and – having met her - I can attest to the fact that Elliemay is a truly delightful little girl.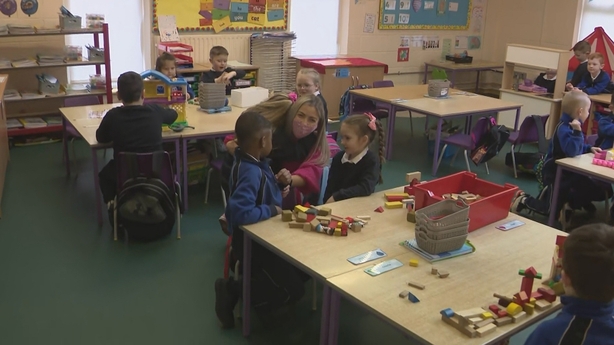 It's an aspect of teaching that some who dismiss or criticise safety concerns expressed by teachers and others who work in schools may not be fully aware of. Teaching - proper teaching - is hands on work. And among Kate Foley's exuberant senior infants, social distancing is a notion that hasn't fully caught on as yet.
With this and other factors in mind, teachers and Special Needs Assistants in recent negotiations with the Department of Education secured some basic additional safeguards in advance of their return; medical grade masks for SNAs for instance - something the trade union Fórsa says they had been pushing for since September - and a temporary concession that allows teachers who are pregnant to remain working at home for the time being. Most would agree that such demands are far from unreasonable.
The new B117 variant has heightened existing concerns. As Tánaiste Leo Varadkar put it, this variant appears to be "behaving differently", among children as well as adults, and we know so little about it.
At the gates of St Mary's on Monday, parents too expressed concern.
Samantha Harper was glad that her daughter was returning, but she too was worried. "Is she going to catch coronavirus and bring it back to the rest of us?" she pondered.
These parents know what they are talking about. Their lived experience tells them that the reopening of schools is about balancing competing risks.
They know that their children stand to lose more than most by being out of school.
Studies have found that children from low-income backgrounds - and Rowlagh is a disadvantaged area - have suffered most severely as a result of the school closures, and that that negative impact could reach far into their children's futures.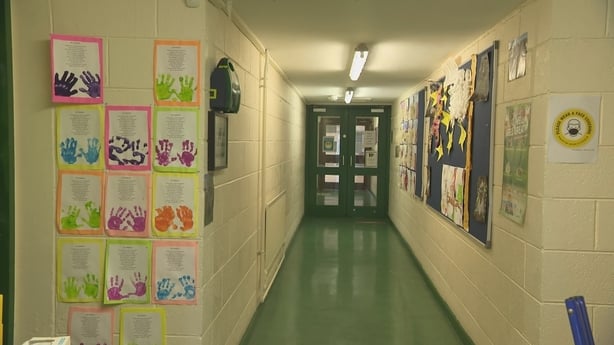 But on the other hand this close-knit community - held together by a network of inter-generational and inter-connected families - has first-hand experience of the much more immediate health risks too.
One senior infant did not return to St Mary's on Monday. Tommy O'Neill is one of Elliemay's closest playmates, their mothers are best friends.
Last month Tommy was admitted to the intensive care unit of Crumlin Children's Hospital, seriously ill with Paediatric Multi-System Inflammatory Syndrome. It is a rare condition that can occur in children after exposure to or infection with Covid-19.
Tommy's mother, Leanne, says the family have no idea where Tommy caught Covid-19. They didn't even know he had it because he displayed no symptoms.
Policy has been devised on the basis that children are less likely to be affected by the virus, but apart from the very small proportion of children who, like Tommy, can fall severely ill, evidence is also emerging now which indicates that so-called 'Long Covid' may be an issue for children too, although hard data is scant.
This week a group of scientists and academics held a webinar and published a discussion paper on the reopening of schools. The Independent Scientific Advocacy Group has challenged what it calls the official narrative that 'Schools are Safe'.
It argues that "available evidence suggests that contacts in schools have similar risks to contacts anywhere else" and has called for a much more robust approach to containing the virus in schools, including stronger tracking and tracing with reverse tracing to identify infection sources, as well as a redefinition of close contacts in a school setting to include all those who share the same classroom.
During the webinar, the President of Epidemiology and Public Health at the UK's Royal Society of Medicine, Dr Gabriel Scally, spoke about good ventilation in schools as "absolutely crucial". He expressed concern that so little attention has been paid to this issue.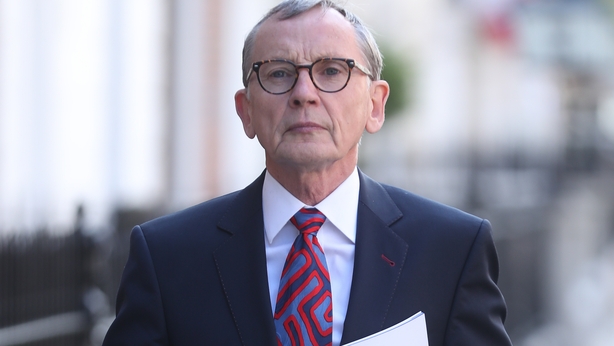 "It is one of my disappointments that we haven't seen anywhere on these islands a major programme to take over extra space, so that children can be in bigger and better ventilated spaces," Dr Scally said.
The ISAG, which supports a zero Covid approach, has proposed a traffic light type system for schools here, with various measures kicking in depending on the level of transmission in the local community.
Both the group and Dr Scally also strongly support the mandatory wearing of masks by primary school children - as is the case elsewhere - as part of a full range of mitigation measures.
"I am at a loss to know why mask wearing is not being considered," said Dr Scally.
But this week HIQA advised that there should be no change to existing policy here. "HIQA has found that the evidence points towards face mask use in the community reducing transmission of SARS-CoV-2," it said.
"However, in young children, the benefit of face mask use is likely small and may be affected by their reduced ability to comply with face mask wearing. Any decision to require or recommend face mask use in children must be balanced against perceived disadvantages associated with their use.
Its Deputy CEO Dr Máirín Ryan said: "The best way to ensure that schools remain a low-risk environment is by the continued use of a combination of public health measures, such as physical distancing, hand hygiene, cough etiquette, increased ventilation and by not attending when you have symptoms of Covid-19."
Thankfully Tommy O'Neill is on the mend now, according to his mother Leanne. But it will be a long time before he can take his place again in senior infants at St Mary's.
Tommy's convalescence will be slow. Leanne has been advised that there are to be no strenuous activities for at least eight weeks.
"He is doing really well so I'm grateful for that", she says, "but he has a long road ahead".
Tommy's school, like schools across the country, has a raft of mitigation measures in place. Like parents at the school gates, Principal Maura O'Shea knows just how vital it is for her pupils to be back in school, and how vital it is that they are safe.
It seems everyone at St Mary's is being as careful as they can be. But like so much else these days, the issue of schools and children under Covid is not straightforward.
There are many unknowns and there are competing views as to what the best approach may be. Schools too have a long - and potentially bumpy - road ahead.