Brexit can seem like several conversations happening at the same time.
The UK talks to itself, EU leaders talk to each other, and then both sides negotiate. But along the way, disconnects open up, and when amplified by the British media and Tory backbenchers, tensions flare.
Theresa May was plagued by this phenomenon. It reached its nadir during a torrid summit in Salzburg in September 2018. To the EU, the putdown of May's Chequers plan simply reflected EU red lines; to the UK it was an outrageous humiliation.
This week at an eagerly awaited summit in Brussels, the signalling and semantics got scrambled once again, only this time Boris Johnson wasn't there.
Johnson had said the summit was the deadline for a deal. If there was no breakthrough he could walk away. That irritated EU leaders, but again they saw it as part of the internal UK conversation.
Ironically, the summit came on the back of genuine progress in the most difficult areas. David Frost, the UK's chief negotiator, had signalled movement on the state aid issue. Michel Barnier, his opposite number, had pushed fisheries ministers to be more "realistic" about the idea of keeping things exactly as they were for EU fleets in British waters.
These weren't giant leaps, but relative to six months of gridlock, it was movement. Both sides were acknowledging the efforts of the other. So, the summit was being seen as the moment to build on this.
But there were reservations on the EU side. London had been pushing hard to start the so-called tunnel, the sealed-off negotiating space that would be the preamble to a final push, and a final deal.
The EU was resisting. There had to be more movement from the UK on the key issues first (fisheries, the level playing field, governance, or how to solve disputes in the future).
On Wednesday there were surprisingly negative signals coming from the UK negotiating team. London was complaining that the EU was still not getting the fact that the UK would be an independent, sovereign state. Brussels wouldn't start sharing legal texts.
The EU for its part was resisting that. Once legal texts are down on paper, negotiating chapters get closed off and fisheries gets left isolated at the end. This was something member states were determined to avoid.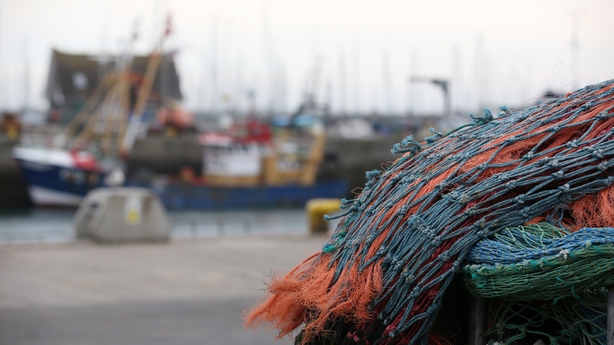 Because Johnson had turned the summit into a moment of truth, all eyes were on how 27 prime ministers would respond. Michel Barnier would brief them on the state of play on Thursday.
There is a longstanding craft in the evolution of what are known as the "conclusions" of a European Council.
EU summits are designed to give a shot in the arm at the highest political level to the issue of the day. In other words, leaders tend to signal, direct, encourage - but not get into the nitty gritty of negotiations. Their final "conclusions" are designed to reflect that.
On Brexit, leaders have perfected the art of the bland Council communiqué. They are drafted by officials, then approved in advance by EU ambassadors. Sometimes leaders themselves will change the text in the room, and that's when everyone really takes notice.
While summit conclusions may appear bland, every word counts.
The problem this week was the disconnect between what the UK wanted to hear, and what EU leaders were prepared to venture.
Would leaders usher in the tunnel?
The word "intensify" is seen as code for "tunnel". The initial draft of the communique did use the word: "the European Council invites the [EU] chief negotiator to intensify negotiations…"
That was where things stood on Tuesday night. However, member states were unhappy. "Intensify" had become overused and was, in any case, meaningless.
"We've been intensifying since July," says one official close to the negotiations. "The talks are already intense. The problem isn't the intensity, it's the political will to move, on both sides."
At a meeting of EU ambassadors on Wednesday morning "intensify" was dropped and "continue" used instead. From an EU point of view, this made sense. Boris Johnson had billed the summit as a make or break moment as to whether negotiations should continue.
"The emphasis was on the word 'continue', we're taking the Prime Minister at his word," says the official, "because [the Prime Minister] said he wanted to know if it's worth continuing. And it is worth continuing."
So, from Wednesday morning the communiqué had, from the UK's point of view, been downgraded and showed a lack of ambition, but from the EU's point of view it accurately reflected the state of play.
However, EU sources insist Boris Johnson would have known that was as far as the EU were prepared to go when he spoke by video link to the presidents of the European Commission and Council, Ursula von der Leyen and Charles Michel, on Wednesday night.
Officials say there should have been no surprise on London's part as to the kind of statement leaders would issue the next day.
As such, Brussels was dismayed at the reaction of David Frost, who took to Twitter immediately after the conclusions were adopted word for word by EU leaders.
Frost tweeted: "Disappointed by the #EUCO conclusions on UK/EU negotiations. Surprised EU is no longer committed to working 'intensively' to reach a future partnership as agreed with @vonderleyen on 3 October."
1/3 Disappointed by the #EUCO conclusions on UK/EU negotiations. Surprised EU is no longer committed to working "intensively" to reach a future partnership as agreed with @vonderleyen on 3 October.

— David Frost (@DavidGHFrost) October 15, 2020
The speed of Frost's response was greeted with cynicism in Brussels.
"For Frost to do it, within minutes of the conclusions being adopted, without listening to what the press conferences had to say, didn't look like someone who was genuinely offended, but someone who wanted to put that message across domestically, and to whip up frustration with the EU," said one EU official.
Boris Johnson was due to give his reaction to the summit on Friday morning after being briefed by Frost. The tenor of Frost's reaction on Twitter prompted officials to fear the worst.
The statement was issued on Friday morning. On the face of it, Boris Johnson was walking away. All Britain had ever wanted was a Canada-style free trade agreement, but the EU hadn't been negotiating seriously and its leaders had just made it explicitly clear that Canada was not on offer.
"They want the continued ability to control our legislative freedom, our fisheries, in a way that is obviously unacceptable to an independent country," said Johnson.
As such, the Prime Minister had now "concluded" that Britain should prepare for a No Deal outcome. Or, as he put it, "arrangements that are more like Australia's based on simple principles of global free trade".
---
Brexit Republic Podcast: Scratch That, EU're Cancelled
---
EU officials were baffled. A Canada-style FTA was never asked for, and was never on offer, said one. The EU-Canada FTA (CETA) involves tariffs, and those would have had to be negotiated by both sides line by line. That would have meant an extension to the Brexit transition period, but Johnson had repeatedly ruled that out.
Britain, its physical proximity, and its pre-existing and deep integration into the single market, was an entirely different prospect to Canada.
The UK had also pushed for single market access beyond that of the EU-Canada agreement, EU officials insist.
The broad recognition of professional qualifications, the ability for citizens to work in each other's markets for short periods, the potential for British firms to compete for procurement contracts and vice versa, were all demands by British negotiators which went beyond the CETA.
British sources dispute this. Yes, the recognition of professional qualifications was originally on the table, but it was simply a "speeding up" of the CETA provisions. Furthermore, London was now considering whether it was worth having any qualifications agreements at all.
However, officials and diplomats in Brussels were irritated in the extreme at how Johnson had reacted to the summit.
One official from a sizable member state noted that Boris Johnson had "torn up" both the Political Declaration (agreed by both sides last year), and the Northern Ireland Protocol (jointly ratified and already legally binding), without much ado, but then threatened to pull down the talks because the EU had changed a few words on a draft conclusion.
One outcome at least of Johnson's declaration was that the word "intensify" was back in vogue.
Within minutes of the statement, Commission President Ursula von der Leyen tweeted that "the EU continues to work for a deal, but not at any price. As planned, our negotiation team will go to London next week to intensify these negotiations."
🇪🇺-🇬🇧 talks: the EU continues to work for a deal, but not at any price.

As planned, our negotiation team will go to London next week to intensify these negotiations.

— Ursula von der Leyen (@vonderleyen) October 16, 2020
Michel Barnier had said he would travel to London on Monday, but then David Frost withdrew the invitation to physical talks. Yet, both men would speak on Monday by phone and prepare the structure of how the talks would continue for the rest of the week.
We may have the scenario of Barnier being physically in London on Monday, but not able to meet Frost.
If this was choreographed disappointment on the UK side, it was getting very messy.
Away from the theatre of the European Council conclusions, and Johnson's reaction, there were some significant developments behind the scenes this week.
As reported last week, Michel Barnier had attempted to coax fisheries ministers into adopting a more "realistic" position on the continued access of EU fleets to UK waters, and their entitlement to shared fish stocks.
Having encountered strong push back from the coastal member states, there was a change in sentiment from Mr Barnier when he addressed EU foreign and European Affairs ministers in Luxembourg on Tuesday.
"He gave me the impression that his line has become harder," said one diplomat present.
"Ten days ago Barnier was moving into the space of trying to encourage ministers to be more flexible and giving him room for manoeuvre. Now he's more hardline."
The downbeat mood on fisheries, a potential dealbreaker, was shared by Ireland and France. Simon Coveney, the Minister for Foreign Affairs, told the meeting that the Government's budget, out that day, had been based on a No Deal outcome.
Clement Beaune, the French Europe Minister, said Emmanuel Macron's cabinet had started advancing No Deal planning.
Coastal member states had urged Michel Barnier to make more use of the leverage which they said the EU had: that there could be no FTA without an agreement on fisheries first. During a bilateral meeting between Barnier and Coveney, it was agreed that the EU should not permit fisheries to become the final, unresolved obstacle on the table.
In other words, were there other negotiating files that were still open that could give the EU more leverage on fish?
As leaders arrived for the summit on Thursday, one potential option emerged. The UK has sought continued participation in the EU's single energy market. Officials noted that it was a highly lucrative market for the UK, in terms of trading electricity and gas via interconnectors to the European grid.
Those negotiations were advanced, and relatively non-controversial. However, because the EU did not want to close off individual chapters until the very end, the energy negotiations were still open.
"The energy market is considerably more valuable to [the UK] than the entire fish stock they're talking about," says one diplomat. "Barnier seems to have paused the discussions on energy for the moment, and this link has been made with fish."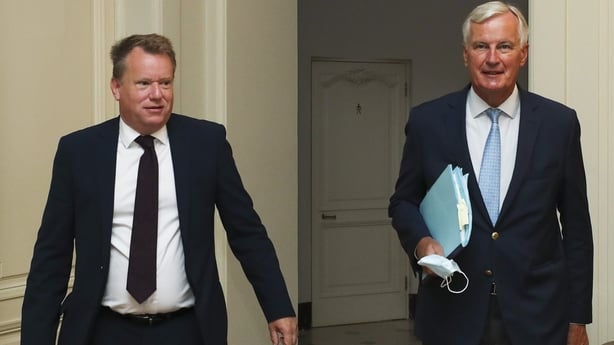 Officials noted the relative value of fisheries and what the UK could potentially earn from, albeit more limited, access to the fisheries market.
EU vessels catch much more from UK waters than vice versa. According to a briefing paper seen by RTÉ News, the average annual value of the fish caught by the eight coastal member states from the UK's Exclusive Economic Zone (EEZ) is €630 million. The UK catches €110m per year from European waters.
However, at his news conference on Friday the French President Emmanuel Macron told reporters that selling electricity and gas to the EU energy market was worth between €700m and €2.5 billion per year to the UK.
"Barnier has made a very direct link with that," says one official. "If the UK get what they're looking for in terms of this interconnector market, over €700 million, which ties in quite neatly with the figures we're talking about on fish. Barnier is saying, we're essentially giving you that for free, so we want a quid pro quo on fish."
Conflating fish and the energy market could end up being a highly controversial move. Energy flows both ways, and Ireland in particular depends on electricity and gas coming from the continent via the UK. Gas and electricity are also tied in to the complex dynamics of geopolitics and climate change.
Despite the furore over this week's summit and Boris Johnson's reaction, it is clear that something will have to give on fisheries.
EU officials privately admit that the status quo, in terms of European access to British waters, and the share of fish stocks, is not achievable. What Michel Barnier wants to achieve is as close to the status quo as possible.
That will involve coastal member states losing quota. We know this because they have already been holding informal discussions about burden sharing: ie, if one member state suffers a big loss in valuable quota, then other countries will have to share some of the pain.
That will be an internal EU conversation, separate from the broader negotiations. From Ireland's point of view, the main concern is that if French and Belgian fleets are stripped of some quota share, they will seek to compensate for that in Irish waters. These will not be easy discussions.
For the moment, European fleets are united by the common purpose of preserving as much of their historic access rights and quota shares as possible. Officials say that despite the rhetoric on both sides, a deal should be doable whereby EU fleets lose some fish quota but keep a considerable amount of their access to UK waters in such a way as to allow both sides to dress the outcome up as a victory.
Britain will have to be able to show its fishermen can catch more fish, the EU will want to show that the losses will have been marginal. That's a simple bargain, but it will be devilishly hard to strike.
Time was already short, and this week's summit debacle means valuable negotiating time has been lost.
---