Are the contours of a deal taking shape?
On Wednesday the UK's chief negotiator appeared to break new ground on the issue of state aid.
"We're some way from a deal," David Frost told the House of Lords European Union Select Committee, "but we are at least having a decent discussion about this, about what is possible and not possible."
State aid has been the most intractable of obstacles, with both sides clinging to fundamentally opposed positions.
The EU set out by demanding the UK accept its state aid regime into the future. That was rejected by London, so Brussels instead insisted both sides sign up to a detailed, legally coherent and binding set of rules that would prohibit one side using subsidies to get a competitive advantage over the other.
The EU then sought details of the UK's post-Brexit state aid regime. London demurred, saying it was not necessary. WTO provisions on state aid were sufficient, and London was only looking for a standard free trade agreement (FTA) approach to state subsidies.
On Wednesday Lord Frost appeared to signal a shift.
"We are only just beginning a discussion about [whether it is] possible to go further than you normally do in a free trade agreement and agree some provisions that...shape and condition the subsidy policy on both sides," he said.
"Shaping" and "conditioning" sounded like the EU's preference for something that would be durable. Lord Frost spoke of "high level principles" and how they could determine a joint state aid understanding.
"If subsidies are granted," he told the committee, "[there will need to be] clear statements that they must contribute to public policy or market failure. They must be justified on those grounds. They must be proportionate. There must be openness and transparency about what they are."
He added: "Those are all commitments we are willing to make."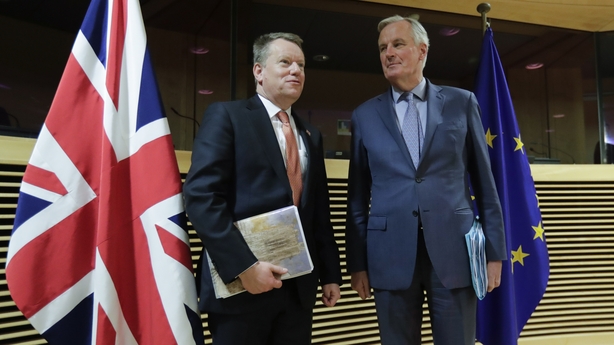 While Mr Frost was speaking in London, his opposite number Michel Barnier was briefing EU ambassadors in Brussels. Although he appeared less optimistic, Mr Barnier signaled there was movement and that draft papers had been exchanged.
"There is something going on," says one senior source. "They are talking, and talking in detail. Barnier was a lot more reserved in how far this has got, and he was certainly implying there's a fair distance to go. Frost was much more positive."
While the UK is focusing on high level principles, the EU is still looking for more detail. Brussels wants to be sure there is a strong, independent competition regulator in the UK that will enforce any shared state aid regime.
The EU is also insisting on the ability to retaliate if it believes the UK is breaching the rules.
"If the EU decided the UK was taking measures that affected the level playing field, the EU could autonomously retaliate without going through some cumbersome arbitration process," says the source. "The retaliation would be fast, swift and large. Each partner would have the same rights, but if the EU was to do it it would probably have a more significant impact."
State aid is only one of a number of so-called level playing field sticking points.
This week a fresh disagreement emerged over how to ensure neither side will be able to lower its standards on the environment, labour and social protections, taxation and climate change in order to attract inward investment or gain a trade advantage.
This relates to the so-called "ratchet clause", or what the EU prefers to call the "evolution clause".
On 2 October European Commission president Ursula von der Leyen said: "We have to work on a mechanism where, over time, when things change there is an alignment."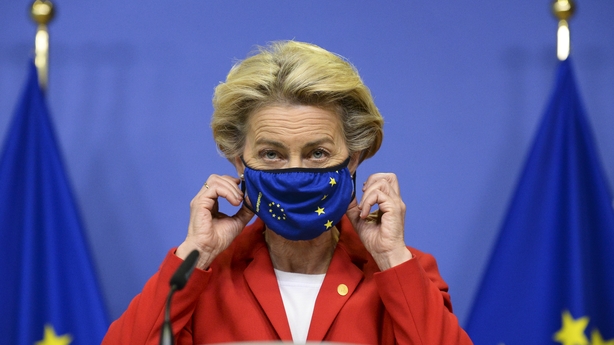 The idea of "dynamic alignment", or remaining in lockstep with EU rules over time, has been a non-starter for the UK. The EU has not insisted on it for either state aid, nor the other level playing field areas.
However, from the outset member states have said a simple promise by both sides not to lower standards below a certain floor (known as "non-regression") would not be enough.
Since the EU would be developing policies over time - for example, the European Green Deal - then non-regression clauses could be superseded by new legislation and become obsolete.
"The evolution clause would allow both sides to refresh their standards so they're up-to-date, but agreeing it mutually, so it's not a unilateral process," says one source close to the negotiations.
EU sources believe British resistance to the idea stems from a reluctance to give a future Labour government the ability to adopt new laws on labour rights, for example, because they were somehow required by the level playing field provisions within an international treaty by which they were bound.
If there is some movement on state aid, then the other big stumbling block - fisheries - seems as intractable as ever, with coastal member states hardening their position.
This week Mr Barnier spoke individually by video link to fisheries ministers from the so called Group of Eight (Ireland, France, Belgium, Spain, Germany, Denmark, the Netherlands and Sweden).
The fisheries negotiations have been deadlocked for months over the share of quotas of the 100 or so of shared stocks, and the access European fleets should have to UK waters post-Brexit.
The stakes are high, since there can be no overall FTA unless there is a side deal on fisheries.
Going into the negotiations in March, Mr Barnier was given an uncompromising mandate by national capitals: European fleets should largely get the access to British waters as present since such rights went back decades if not centuries.
With the negotiations now entering the critical phase, Mr Barnier has been probing how far he can coax coastal states towards compromise.
"His message is that we should explore the flexibility within the mandate," says one EU official. "We're not going to bargain fisheries away. This is not an attempt to throw European fisheries under the bus. It's to say, what can we do to try and reach an agreement within the mandate."
However, he has run into trenchant opposition. Ahead of his calls with ministers, national fisheries attachés and Brexit coordinators met in Brussels on Monday and unanimously agreed there should be no wavering from the mandate.
Member state officials have become concerned that the EU is not making full use of its key leverage: that there can be no overall deal without a fish deal.
If a free trade agreement is within touching distance, is the argument, the UK will not sacrifice the deal for an industry which has an annual turnover similar to that of Harrods.
"The unanimous view was that Barnier should stick to the mandate," says one official. "We have the leverage of the free trade agreement, let's use it. The leverage only works if the UK wants an FTA."
The obvious problem is that officials on the UK side might believe the very same thing about the European Union when it comes to the relative importance of fisheries.
With fish, of course, there are tangible, up front losses. Both sides have struggled to identify what species are priorities, and what they might be prepared to deem "non-priority" fish, but the reality is that all species are a priority to some community somewhere.
"Fishing communities tend to be quite specialised," says one EU official. "If you wipe out a stock it might not have an impact on everyone, but for those who actually rely on that stock it might be devastating."
On Wednesday, Mr Barnier made it clear that a no deal because of fisheries would be the worst outcome for fisheries communities.
"Barnier came across as somewhat frustrated," says one diplomat. "I don't think he's getting much encouragement from the fisheries ministers on what he's trying to do. He's trying to find a way through. He did stress, if they find agreement on this, the EU is going to have to accept a loss of quota."
So, the big negotiating hurdles - state aid, the level playing field, fisheries - are all in play. Officials in Brussels are downplaying any notion of a grand bargain where the UK moves on state aid and the EU moves on fisheries. But if a no deal situation is to be avoided, dramatic manoeuvres in the coming weeks cannot be discounted.
Overshadowing everything is the Internal Market Bill (IMB).
The European Commission has triggered legal action and the UK has so far refused to remove the clauses in the Bill which override the Northern Ireland Protocol.
While the legal action takes its course, the trade talks have continued, and talks have also continued within the EU-UK Joint Committee, which is where issues of concern on the Protocol are supposed to be settled.
The big question is as follows: if the Joint Committee can resolve the UK's concerns on exit summary declarations for NI-GB goods, and on how to define goods at risk (ie, those goods from GB-NI which will attract a tariff because they risk being traded cheaply across the border), and if a successful free trade deal does away with other concerns, will the UK quietly remove the offending clauses?
Michael Gove, the Cabinet Office minister, was directly asked this by the House of Lords committee on Wednesday and replied: "We'll wait and see."
In Northern Ireland itself, the IMB has led to legal confusion among the civil servants who are supposed to be laying the groundwork for the Protocol to come into effect on January 1.
Officials and businesses are understandably drawn to any legislation - such as the Internal Market Bill - that would minimise or remove altogether the costly checks and controls that the Protocol brings.
However, they want to make sure they are not breaking the law.
Add to that the problem that the North's Agriculture Minister, the DUP's Edwin Poots, has publicly denounced the Protocol.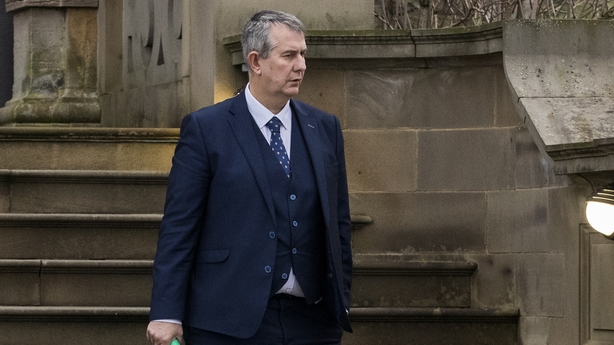 Under the Protocol, Border Control Posts (BCPs) - or "Points of Entry", for those who prefer not to use the term "border" when describing intra-UK sea freight - are required so that checks and controls on food, animal products and live animals can be carried out according to the EU's Official Controls Legislation (OCR).
These posts must be staffed by vets and technical officials, and have IT systems that are plugged in to both the UK and EU food safety and animal health systems.
These are legal obligations under both EU and British law, namely Article 5(4) of the Protocol and Article 7(a) of the EU Withdrawal Act.
Denis McMahon, permanent secretary to the North's Department of Agriculture (Daera), has set out the agonising complexity he and other officials have to confront.
"We need to comply with domestic law, and the UK needs to comply with international law. We just need to, there's no question about that," he recently told the Northern Ireland Assembly's agriculture committee.
He added: "I'm accountable to the Minister generally, but in this particular case I'm acting against the Minister's wishes. Because we've been put in an impossible situation as a result of the wider politics... we find ourselves having to navigate our way around this."
That dizzying navigation is being done at speed. Northern Ireland officials were unable to move until the UK set out how it would implement the Protocol through its Command Paper. The paper only appeared in May, more than half a year after the Protocol was negotiated.
That gave officials just seven months to construct from scratch an entirely new customs and food safety regime at Larne, Belfast, Warrenpoint and Belfast Airport.
The fact that the UK still hopes to whittle down the full range of controls through the Joint Committee, and ongoing uncertainty about a free trade agreement, has complicated things further.
Building the port facilities, staffing them and getting IT systems up and running has required an awful lot of high-speed alignment between different actors: the ports, Daera, Defra (the UK Dept of Agriculture), the planning authorities, contractors and the European Commission.
In August, the authorities secured £45 million from HM Treasury in record time, including £38m for capital expenditure, and £6m for staffing and training (it's thought an extra 100 veterinary inspectors and other technical staff will be needed).
At every turn, officials and businesses are having to weigh up the likelihood of an outcome being required before committing to the cost of preparing for it.
"What you're doing is not to build too big so it's a white elephant," Robert Huey, the North's chief vet told the Stormont agriculture committee, "and not to build too small so that people have to wait unnecessary times."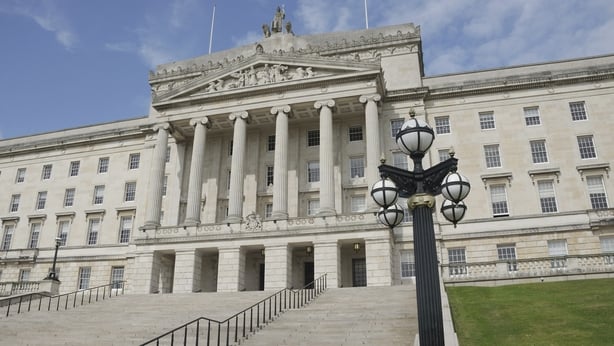 In fact, officials are hedging before constructing parking bays at Northern ports for document and ID checks on food products in case the Joint Committee reaches agreement on significantly down-scaling the number of checks, or that the checks can take place on the other side of the Irish Sea before lorries get on boats.
Needless to say, despite the Herculean effort, the sheer scale of what the Protcol requires means that the deadline will be missed (it was not until 17 September that tenders for the design and construction of veterinary facilities were finally issued).
"Despite monumental efforts by the team not everything will be in place by 1 January 2021," Denis McMahon told the agriculture committee on 24 September.
That means officials are having to put contingency measures in place so that the Protocol can function from 1 January. This matters both for traders, hauliers and - as the EU would stress - the safety of EU consumers.
"We're out there looking for buildings to repurpose, we're looking for additional land to put up temporary buildings on, in which checks can be carried out," Robert Huey told the committee.
All this is against the most punishing political backdrop.
The UK is pushing, through the Joint Committee, for the maximum interpretation of the Protocol's provision that there should be "unfettered access" for goods going from Northern Ireland to GB, and the Article 6 "best endeavours" clause, which commits both sides to "facilitate trade between Northern Ireland and other parts of the United Kingdom."
For London, that means removing any requirement for goods going from NI-GB to have Exit Summary Declarations, which is required under the EU's customs rules, and reducing customs and sanitary and phytosanitary (SPS) formalities.
The most acute concern here is the flow of mostly food consignments from GB depots to Northern outlets of UK supermarket chains. Officials say one sea freight container might contain 400 separate consignments, each of which would in theory need 400 separate food safety certificates, not to mention customs declarations.
EU sources say they understand the gravity of the supermarket issue, but are concerned that, rather than find flexibility within the legal framework of the treaty, the UK are trying to modify the treaty altogether.
The other problem is that, of all the controls for goods entering the single market, those covering food safety are the most sensitive.
These issues are currently being worked on by officials on the technical Specialised Committee, which met on Friday.
Rather than both sides trying to figure out how to implement what the Protocol requires, this process now appears to be a full-scale negotiation.
The EU wants an "effective" presence in Northern Ireland so that veterinary and customs officials can check on control systems at ports and airports. The opening positions of both sides were far apart, with Brussels seeking a permanent office in Belfast, while the UK is understood to have suggested that officials make just three visits per year.
The dynamic in the technical talks is such that the UK will show flexibility on the EU presence issue, but only if the Commission shows flexibility on the supermarket consignments.
Arguably the most difficult issue - deciding what goods from GB are at risk of crossing the land border - has yet to be grappled with in detail by both sides, although the Commission has proposed using a tariff differential as the key determinant of what would be at risk of being traded across the border.
While that issue will be largely irrelevant if there is a free trade agreement by the end of October, early November, other trade-offs at Joint Committee level could take weeks.
Meanwhile, Northern businesses are trapped in a morass of legal and political complexity and uncertainty. Whatever the outcome, business models are certain to change.
"Even best case, things are not going to be as easy across the Irish Sea as they are now," says one senior official involved in the discussions.
"It's inevitable that some long term shifts will happen in business models. It's easy to move stuff now. That's a way of working that people take for granted. If that's preserved, great. But if not, you can see how over time that will evolve."
---