The US President Donald Trump was forced to postpone a planned campaign rally in New Hampshire this weekend because of bad weather.
The outdoor event was due to be held at an airport.
"The rally scheduled for Saturday in Portsmouth, New Hampshire has been postponed for safety reasons because of Tropical Storm Fay," Trump campaign communications director Tim Murtaugh said in a statement.
Donald Trump tweeted that they had been "forced to reschedule" the event because of the storm.
The US president's return to the rally stage has not gone smoothly.
His first election event since the coronavirus lockdown was last month in Tulsa, Oklahoma.
It was supposed to be Donald Trump's big comeback rally. Large crowds were predicted but never materialised and an address to an outside overflow area was cancelled due to the poor turnout.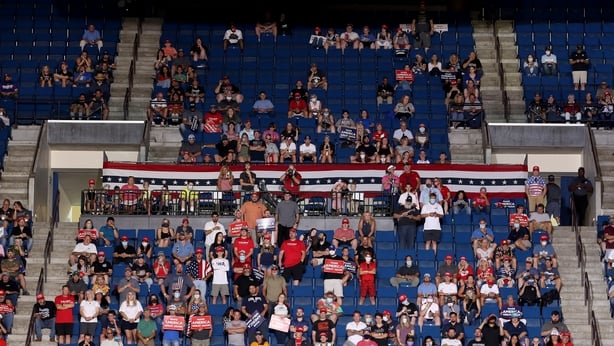 Teenage activists said they had sabotaged the event by registering for tickets online and then not turning up.
Organisers blamed protests and negative media coverage, and highlighted the fact that millions of people had watched on TV and online.
The Trump campaign had been slow to make predictions about crowd size at this weekend's New Hampshire rally although the president himself had forecast big numbers.
Before the event was postponed, White House advisor Kellyanne Conway appeared to play down attendance expectations.
"People will decide whether they want to go. I think there are so many millions, literally, of Trump-Pence voters who don't want to go to rallies because they are already supporting the President and they're going to do what they can to get other people to support the President, but they don't want to go to rallies because maybe they're older or they have some of the underlying co-morbidities," she told Fox News.
The resumption of Trump rallies has been criticised by many health officials who warn that such gatherings could spread the coronavirus.
The Democratic candidate Joe Biden announced earlier this month that he will not be holding any rallies.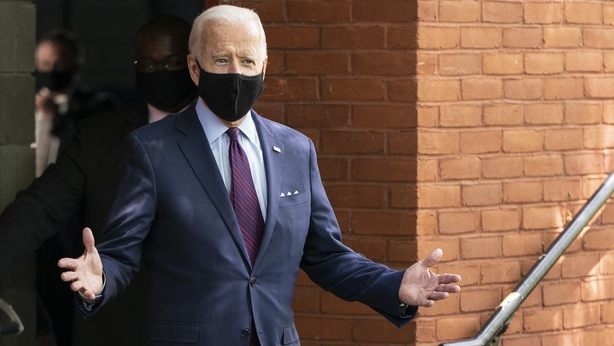 "This is the most unusual campaign, I think, in modern history," Mr Biden said at a recent press conference.
It may be unusual but it is working for him.
Joe Biden continues to enjoy a big lead over Donald Trump in the opinion polls despite his low-key campaign.
A shortage of appearances has led to a shortage of targets for his opponents. When he does deliver a speech or attend an event, the Trump campaign has been quick to attack Mr Biden on his policies.
On Thursday, he launched his economic plan at a steel plant in Pennsylvania and Donald Trump accused him of plagiarism.
"He plagiarised from me, but he can never pull it off. He likes plagiarising. It's a plan that is very radical left, but he said the right things, because he's copying what I've done. But the difference is he can't do it," Mr Trump said.
Joe Biden can be gaffe-prone and is not the best media performer or public speaker. Donald Trump knows this and would relish additional debates and more press scrutiny of his opponent in the hope it would erode his lead in the polls.
While Mr Biden is content with virtual fundraisers and small, socially-distanced gatherings, Donald Trump wants big rallies with lots of supporters.
But whether it's the pandemic, small crowd sizes or tropical storms there is no shortage of things to rain on his parade.