After two years of lobbying, speeches, phone calls, music concerts, promotional videos and celebrity endorsements, it is finally crunch time for Ireland's bid to win a two-year term on the United Nations Security Council.
UN ambassadors will cast their ballots in the coming hours and will choose between Ireland, Canada and Norway to fill two vacant seats on the council.
If all 193 United Nations members vote, then Ireland will need 129 votes to win, which is a two-thirds majority.
If the two seats have not been filled after today's vote, a second round of balloting will take place tomorrow.
Campaigning during a pandemic
At the start of Ireland's campaign, it was all about face-to-face meetings and 'pressing the flesh', but such interactions have become impossible in recent months because of the coronavirus.
That hasn't stopped the lobbying, however, with Irish officials hitting the phones, hosting Zoom calls and using video conferencing to drum up support for Ireland's bid.
The coronavirus has also affected the voting process.
In the past, member states voted by secret ballot during a meeting of the UN General Assembly, but because of social distancing, a new system has been agreed that will see UN ambassadors casting their ballots at different time slots throughout the day at the UN headquarters in New York.
Ireland's campaign
Ireland officially launched its Security Council campaign at the United Nations headquarters two years ago.
UN ambassadors were taken to a U2 concert in Madison Square Garden.
An exhibition area was set up outside the United Nations building with tents and stalls showcasing Irish music, food and culture.
Crowds were addressed by Bono, Mary Robinson, the Taoiseach and the Tánaiste.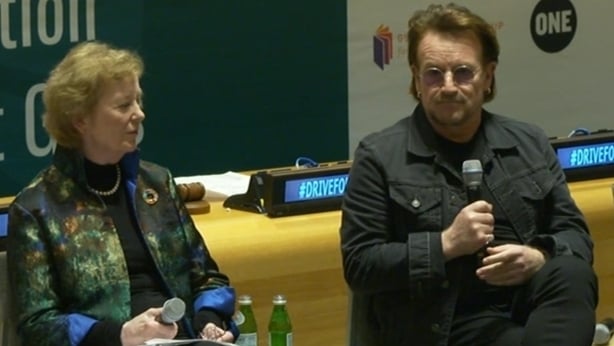 Leo Varadkar said that Ireland would bring hard won insights and practical lessons to the table, and that Ireland understands the need to listen and the importance of respecting differences.
In his address, Tánaiste and Minister for Foreign Affairs Simon Coveney said the Irish were bridge-builders by nature and a people who work to build collective solutions to global challenges.
Over the last two years, the Taoiseach and the Tánaiste have returned on a number of occasions to the UN headquarters.
President Michael D Higgins has also visited in order to promote Ireland's candidacy.
Throughout the campaign, Irish officials have highlighted the country's history and experience of difficult times, including the Great Famine, the struggle for independence and the Troubles in Northern Ireland.
They have also been keen to promote Ireland's record of peacemaking both at home and abroad, citing examples such as the Good Friday Agreement and the country's involvement in UN peacekeeping missions in conflict zones around the world.
Culture has also played a big part in Ireland's campaign, and just before the coronavirus brought an end to in-person campaigning, UN ambassadors were taken to a performance of Riverdance in New York in March.
The competition 
Ireland won two-year rotating terms on the Security Council in the past, in 1962, 1981 and 2001. This time around, there is some stiff competition from Canada and Norway, who are also looking for seats.
Both countries are pumping more money than Ireland into their bids.
The Irish Government has spent €840,000 over the last three years, but Canada and Norway have each spent around €2m on their campaigns.
Aside from the money, Ireland is also competing against two countries that are generally liked around the world.
This was alluded to by Bono at the launch of Ireland's campaign two years ago.
"That Canada is nice is the worst thing I can say about them," he said.
As for Norway, he said: "who could ask for a better neighbour or committed peacemaker?
"Here's the worst thing I can say about them, they're tall. They're too tall."
And while Ireland may have Bono, Canada has Celine Dion.
In March, UN ambassadors were taken to one of her concerts in New York as part of Canada's bid.
Irish officials say they are hopeful and optimistic, but it is impossible to predict the outcome with any certainty.
In the past, there have been cases of countries receiving pledges of support that failed to materialise.
Because votes are cast by secret ballot, it is easy for UN members to break promises without repercussions.
Why does Ireland want a Security Council seat?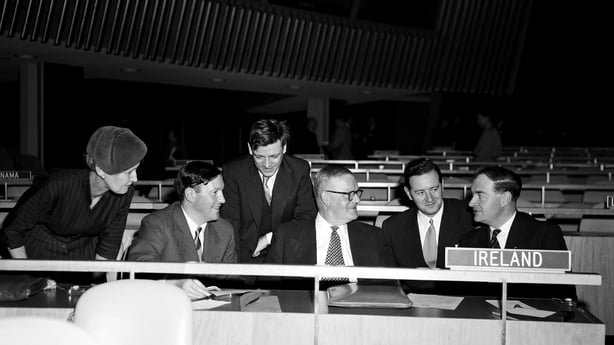 Winning a seat on the UN Security Council was part of the Government's 'Global Ireland 2025' initiative, a plan to increase Ireland's global footprint.
It states that Ireland will promote its values of peace, humanity, equality and justice through the campaign for election to the UN Security Council, adding that "if successful, this will place Ireland at the heart of UN decision-making on matters of vital importance, including international peace, security and development".
The Security Council is probably the most visible, headline-grabbing arm of the United Nations. It is where atrocities are condemned, resolutions are passed and angry words are exchanged between world powers.
It is frequently criticised, however, for being ineffective. Permanent members like the US and Russia can simply use a veto if they don't agree with the resolution being discussed.
It may not be perfect, but from the Irish Government's perspective it is better to have a voice at the table than to be shouting from the outside.