"I strongly believe the only option is a full return to education in September" - so said Minister for Education Joe McHugh at yesterday's press conference.
This is what the Government is now working towards. No 'phased return', no 'blended learning'. A full return, come September, for all children.
After weeks of speculation as to how schools might reopen - and what that reopening might look like - at last we have something, even if it is only an aspiration.
We always knew that it was going to have to be a balancing act – balancing the health considerations of not providing children with a proper education and continuing to deny their families the respite and support offered by schools, against the very serious public health considerations of Covid-19.
The Government thinks it can get the balance right, while at the same time reopening the schools to all.
Yesterday, it published a Department of Education paper which looked at the various options.
Maintaining a two-metre social distancing regime would, it found, mean that most primary school children would only be able to attend school for one day every week.
A one-metre distance regime would mean that only half of pupils would be able to attend on any given day.
The picture was not that much better at second level.
The Minister made his view clear: "I certainly do not want to envisage a situation where we continue to leave children behind and I have to weigh up as minister the risks associated with that, of the failure to provide education".
That means that strict social distancing between children in schools come September will not be applied.
The Minister also said we had to be "honest" about how young people interact with each other.
Mr McHugh does not believe that any of this is necessarily in conflict with public health advice.
"At the heart of this will be guidance from the health authorities," he said.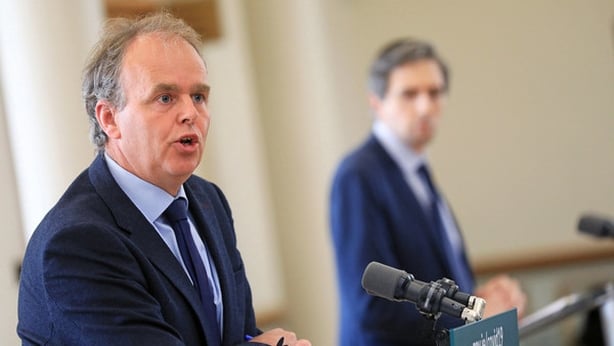 But the unions are not convinced. Commenting on summer courses and camps that are planned in advance of school reopening, the union representing Special Needs Assistants accused the Minister of failing to provide guidance on managing the Covid-19 health risks.
On the full reopening of schools in September, the teacher unions also expressed the strongest misgivings.
"We would be most concerned," the ASTI said, "if a different approach to physical distancing was introduced which was inferior to that which pertains in wider society."
So we have a destination – the full reopening of schools, for all children, come September – but we have no roadmap. And we have a plethora of questions.
How will all this be managed?
---
---
Hygiene will be central, the Government says. Handwashing, cleaning, more cleaning, and very strict protocols as to what happens if - for instance - a child presents with a temperature. Or if a teacher has symptoms of a cold.
What happens if a child's grandmother is diagnosed with Covid-19? In this case, the individual school would respond, in a manner that will have to be agreed.
How do second level students move between science labs and woodwork rooms where learning is hands-on?
"We will continue to work with officials to see what will work," said Mr McHugh.
The Minister referenced Belgium several times during yesterday's press conference, as an example of how this full return might work.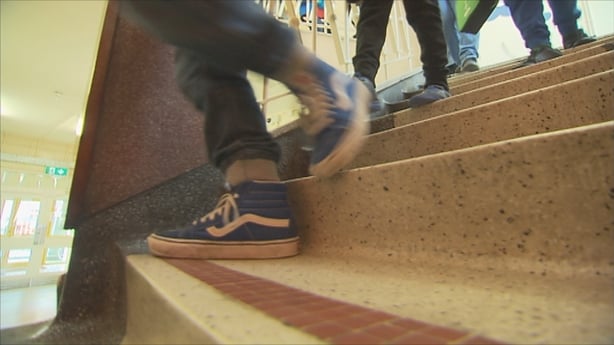 There, basic hygiene rules, such as regular handwashing, and sneezing into your elbow, are regarded as fundamental. All schools must also have an emergency plan in place in case an outbreak occurs.
Teachers are not wearing masks when interacting with very young children, but they are encouraged to wear one when dealing with other adults.
Pupils do not have to wear a face mask.
For pupils interacting with each other, social distancing rules are relaxed. But they are being enforced for contact between teachers and pupils, and also between teachers themselves, and parents.
During break times, children are staying within their own class groups as much as is possible.
A school's cleaning regime is going to be of paramount importance. Like everywhere else now, the role of the cleaner, already valued in schools, but among the lowest paid of its workers, will be key.
The Government estimates that an additional €24 million will be needed between September and Christmas alone to pay for the kind of cleaning and sanitising that will be needed. It says that money will be made available.
There will, of course, be children who will not be able to return in these circumstances. Children who have immunocompromised conditions, for instance. Among this cohort are some of the children who most need a return to some semblance of normality. How will their needs be met?
There is a lot to be ironed out.
The unions are very concerned about the health implications for their members. It is their job to be. They want talks.
But if the reaction of many of my work colleagues when the news was announced yesterday is anything to go by, the majority of working parents will welcome this decision with a massive and heartfelt sigh of relief.