True in the euphoria of their unexpected General Election success, some sections of Sinn Féin broke into tricolour-waving Ooooh-AaaaH-ery even though health and housing issues had dominated their campaign strategy. But north of the border and slightly less so south of it, Sinn Féin remains a full-on United Ireland party.
Fine Gael and Fianna Fáil wait until Page 19 of their 24 page 'Terms of Endearment' document to set out their stall. Headed "Mission: A Shared Island" it makes for interesting reading.
The first four sentences are worth quoting:
"We are committed to working with all traditions on the island, to build consensus around a shared future. This consensus will be underpinned by the terms and institutions of the Good Friday Agreement and by absolute respect for the principle of consent enshrined therein. We will establish a Unit within the Department of An Taoiseach to work towards a consensus on a united island. The unit will examine the political, social, economic and cultural considerations underpinning a future in which all traditions are mutually respected."
Two immediate observations. It's not the 'United Ireland' pursued by Sinn Féin but a United Island. Nor is it an "Agreed Ireland" - the phrase that many Irish diplomats and politicians used in discussions and public events in recent years.
Background and baggage
Fianna Fáil can trace its roots back to May 1926 when after the fall-out with Sinn Féin, the party was founded by its first leader, Eamon De Valera and others, including Sean Lemass, Sean T O'Kelly and Constance Markievicz. The bad blood between Fianna Fáil and Sinn Féin has been a constant since then.
Throughout Sinn Féin's exponential growth in Dáil Éireann (14 TDs Feb 2011 - 37 TDs Feb 2020), the party always recognised that squashing Fianna Fáil is a mandatory step on the road to power.
In January of last year Fianna Fáil's Micheál Martin and the SDLP's Colum Eastwood announced a "historic and unprecedented partnership" (not a merger) between the parties.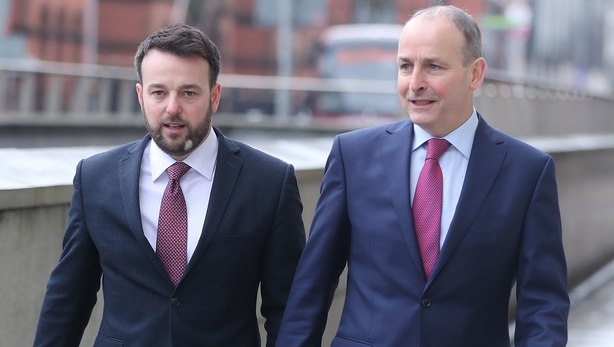 It didn't have the blessing of several grandees within the SDLP who had long-standing relationships with the Labour Party and in cases, Fine Gael. But they didn't make a fuss about something that was not written in tablets of stone. There was the added satisfaction that the 'liaison' would irk the Shinners.
A very obvious consequence of the Micheál Martin/Colum Eastwood initiative is Fianna Fáil aligned itself to the party founded by John Hume.
In his acceptance speech at the Nobel Peace Prize ceremony in Oslo in Dec 1998, John Hume used that 'Agreed Ireland' handle and also said: "Difference is an accident of birth and it should therefore never be the source of hatred or conflict. The answer to difference is to respect it. Therein lies a most fundamental principle of peace - respect for diversity."
Under the Varadkar/Coveney axis, Fine Gael has been keen to air its nationalist credentials. Addressing an Oireachtas committee on the Good Friday Agreement in November 2017, Tánaiste and Minister for Foreign Affairs Simon Coveney said: "I am a constitutional nationalist, I would like to see a united Ireland in my lifetime. If possible in my political lifetime."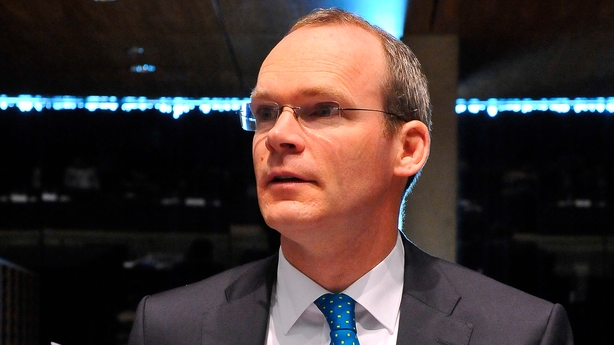 Two weeks later,on 8 December 2017, when an agreement on Brexit matters seemed to be in place, Leo Varadkar made a statement which included the lines: "I want, in particular this morning, to recognise the concerns of the unionist community in Northern Ireland. And I want to assure you that the Irish Government has no hidden agenda. There is no question of us exploiting Brexit as a means of moving to a united Ireland without consent. We do not want to see a border in the Irish Sea, any more than we want to see a border between Newry and Dundalk or between Letterkenny and Derry. We want to build bridges, not borders..."
Later in his speech Mr Varadkar said: "To the nationalist people in Northern Ireland, I want to assure you that we have protected your interests throughout these negotiations. Your birth right as Irish citizens, and therefore as EU citizens, will be protected. There will be no hard border on our island. You will never again be left behind by an Irish Government."
Unionist unease continues
The main Unionist parties won't be surprised by the tone of the Fine Gael/Fianna Fáil document but they are unlikely to welcome it. Yes, it is different to Sinn Féin policy and strategy but to some unionist eyes, it's not a matter of does one smoke or inhale, a smoker is a smoker.
For hardline unionism, the pattern and pace of change is unnerving. A British prime minister who has no need of unionist support; a Brexit policy that will bring with it further pressures; Sinn Féin revitalised after a surge in support south of the border; and now a coronavirus pandemic when disquieting comparisons surface regarding strategies pursued south of the border and in London.
The argument can be made that an administration in Dublin won't have the means to finance the cost of a united Ireland/united island anytime soon. But sometimes deep-rooted suspicions cannot be fully calmed by logic.
There is a fascinating detail in that FG/FF document - "We will establish a Unit within the Department of An Taoiseach to work towards a consensus on a united island."
So the unit with be located in the Taoiseach's department, not in the Department of Foreign Affairs. No great surprise there on past form.
If Micheál Martin is going to have first run at the rotating Taoiseach role, who will be the Minister for Foreign Affairs in Iveagh House?
Will it be the Tánaiste and Minister for Foreign Affairs Leo Varadkar? Might Simon Coveney be left in that Foreign Affairs job? Or could it be someone else?
And when it is Fine Gael's turn to nominate the Taoiseach, what happens then?
Interesting times ahead. On the island.