There are some records that no government wants to break - and unemployment is one of them. 
But on Monday, the Department of Employment Affairs and Social Protection revealed arguably the worst figures for social welfare income support claims ever, as the economy shut down due to Covid-19. 
Even during the worst of the banking crisis, unemployment topped out at around 466,000, or close to 16%.
By February of this year, the Live Register had fallen to 182,000  - around 4.8%.
But in just five weeks, Ireland has reached a point where 844,000 people are either totally dependent on the State for all their income, or are being subsidised by the State to stay in employment. 
Let's look at the numbers. 
By the end of March, 207,000 people were receiving "normal", non-Covid-related Jobseeker's Benefit of €203 per week. 
But as the coronavirus took hold and the economy shut down, the Government introduced the €350 Covid-19 Pandemic Unemployment Support Payment on 16 March. 
A week ago, the Department of Employment Affairs and Social Protection was processing 283,000 valid claims for that emergency payment. 
By last Monday though, that number has soared to 507,000 - in other words, an additional 224,000 claims in just a week - and there are more applications in the pipeline.
Add the 207,000 standard Jobseeker's recipients and the 507,000 Pandemic Unemployment recipients, and you have 714,000 totally dependent on the State for income. 
Leaving aside the complication of differentiated unemployment welfare benefits (with a difference of €147 per week depending on when you became unemployed), this is an extraordinary figure, far outstripping the previous record.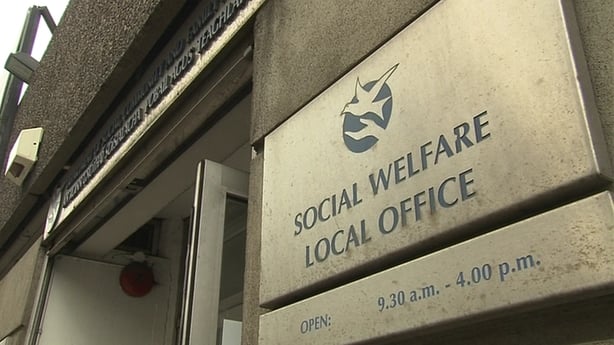 But that's not all. 
As businesses closed, the Government launched an initiative to keep workers in jobs, or at least off the dole queues: the Temporary Wage Subsidy Scheme (TWSS). 
Under this scheme, the State subsidises an employer by paying up to 70% of the normal take-home pay of a worker - provided the employer keeps the staff member on the books.
The employer must anticipate a 25% fall in income and an inability to pay normal wages and outgoings. 
The subsidy is based on the employee's net average weekly pay for January and February including bonuses, commission and overtime, and is open to employers even where staff may be temporarily not working, on reduced hours and/or reduced pay.  
It's hoped that by maintaining the employment relationship, it will be easier to reboot the company, and kick-start economic activity when the health emergency ends.
The Government subsidy is up to €410 for workers earning under €38,000, €350 for workers on between €38,000 and €76,000, while workers above that threshold do not qualify for the scheme.
The latest figures reveal that 39,000 have signed up for the scheme, and wage subsidies covering 130,000 employees have been processed. 
Add those 130,000 subsidised workers into the mix, and 844,000 out of a workforce of 2.3 million - around 36% - are relying either entirely on welfare, or are being subsidised in work. 
Minister for Employment Affairs and Social Protection Regina Doherty said the scale of the demand for the Covid-19 payment demonstrated the "once in a century" nature of the emergency facing the country - and pledged to get assistance to all who need it as quickly as possible. 
Both the Covid-19 Pandemic Unemployment Payment and the TWSS were launched at extraordinary speed - as the Government realised the urgency of delivering a financial safety net to a population not only faced with sudden unprecedented mass unemployment, but also enduring the additional psychological stress of being cooped up under lockdown. 
However, while praise is due to civil servants who have turned these schemes around with unusual rapidity, there have also been anomalies, resulting in some people being better off being laid off than kept on by their employer - particularly those in lower paid jobs.
RTÉ has been told of examples of younger workers, for example students with part-time jobs, who have been laid off, and qualify for the flat-rate Covid-19 Pandemic Payment of €350 - far more than they were actually earning in employment.
At the same time, workers who have been kept on, for instance in frontline grocery retail, are earning less than the €350 welfare payment while working a full week's hours. 
Meanwhile there are further problems for workers earning above €76,000 - who are ineligible for the TWSS.
Some employers argue that without the State's TWSS subsidy, they cannot afford to keep on these highly skilled employees at the upper end of the pay scale and may have to lay them off.
They point out that this runs counter to the Government's stated aim of the scheme of maintaining the employer-employee link. 
We spoke to one worker in the construction sector who misses out on qualifying for the TWSS by €5 per week - and knows his employer simply can't afford to keep him on without the subsidy.
The Construction Industry Federation has written to the Government urging it to open the TWSS to all workers, giving them a flat rate refund of €350 including for the higher paid so they at least have a financial floor.
Firms like Hidden Hearing Ireland have written to the Minister for Business Enterprise and Innovation Heather Humphreys pointing out that they may have to lay off up to 120 highly skilled audiologists because the scheme does not cover employees earning above €76,000.
In addition, while 39,000-plus employers who have signed up for the TWSS are receiving state refunds for a portion of wages, not all are topping up from their own resources - a previous request (but not an obligation) from the Government.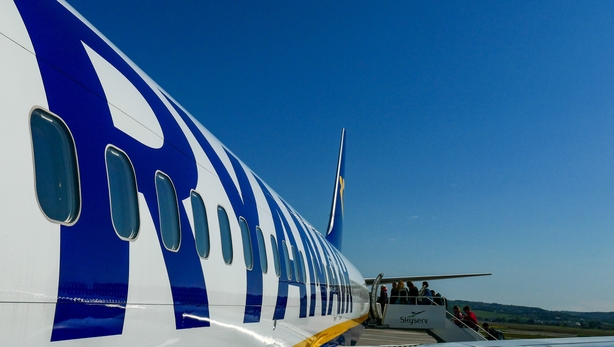 Ryanair told RTÉ it will be applying the rules of the TWSS in full, as the Covid-19 crisis has led to flights being reduced by over 99% (from over 2,500 daily flights to just 20) and the working hours for pilots and cabin crew effectively cut to zero.
It is calculating the entitlement to the subsidy based on average wages in January and February - and will top up pay where necessary to ensure all Irish-based staff receive at least 50% of their pre-pay cut salary.  
The airline says details are still being finalised as there are still some anomalies in the Revenue guidelines. 
Both Sinn Féin and Labour have called for a minimum floor of €350 for all workers affected by the Covid-19 crisis.
Minister for Finance Paschal Donohoe has acknowledged that there are anomalies in the TWSS whereby lower paid workers can be worse off in State-subsidised employment than on welfare.
He points to the fact that  the scheme was introduced at great speed, and that there were always going to be anomalies due to the breadth of the intervention. 
He expressed the hope that the scheme will be in place for a "relatively" short period of time - and is looking at the issue.
Whatever about any flaws in support schemes devised by the Government - and there are disappointed people who do not qualify on certain criteria - they are at least delivering a floor of support to many who would be stuck without them. 
The schemes are intended to last 12 weeks - but that may be optimistic, depending on the progress in battling the coronavirus - and there will undoubtedly be a massive, multi-billion euro bill at the end of this emergency.  
The Government is pinning its hopes on business restarting quickly, with most of the people now on welfare returning to work rapidly - though most accept that some sectors, like hospitality and aviation, may take a long time to recover.
For those who do not return to work immediately, though, what happens to their social welfare payments? Will the Government be able to wean the Covid-19 Pandemic cohort on €350 back down to "normal" Jobseeker's Benefits of €203? How long with the TWSS have to continue to prop up ailing businesses?
These are questions that the Government will have to address - whenever there is a government. 
While there will undoubtedly be relief when the health emergency subsides, the legacy of the coronavirus for the labour force may take far longer to pass, and represent a poisoned chalice for the incoming administration.