Since becoming president of the United States Donald Trump has hosted the 'shamrockery' three times in the White House.
Enda Kenny was the Taoiseach who arrived with the green stuff in March 2017 and Leo Varadkar has done so on the two gatherings since.
Even before Mr Varadkar has folded his crisply-starched shirts and green tie for next week's visit to Washington, President Trump caught the visitors off-guard with a surprise.
He announced that he is filling a vacancy that has existed since he took office over 3 years ago. Mick Mulvaney is to become the new US envoy to Northern Ireland.
Sitting on the official announcement until Thursday's gathering in the White House would have made sense to some. The Taoiseach, Northern Ireland's first and deputy first ministers, Arlene Foster and Michelle O'Neill, and a considerable cast of lesser will be stateside.
The announcement that reached Irish ears in the small hours of Saturday morning caught Dublin, Northern Ireland's power-sharing executive and the interested sections of the Northern Ireland Office by surprise.
There was an acceptance on both sides of the Atlantic that Mick Mulvaney's days as the Acting White House Chief of Stafff were numbered.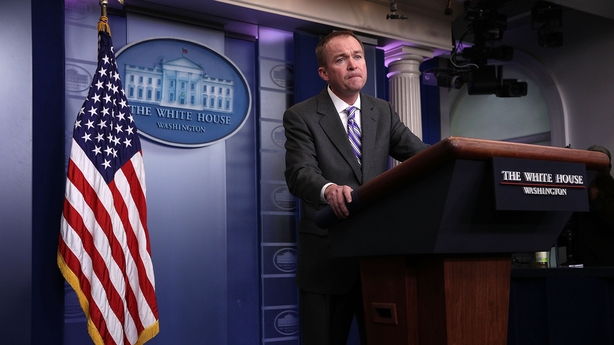 His gaffe at a White House news conference signed his own political death warrant. His error was to shrug off criticism of an alleged corrupt deal with Ukraine by saying "we do that all the time".
Donald Trump and loose talk is one thing. Donald Trump's staff talking loosely and landing their boss in the manure in another matter.
For Mick Mulvaney, confirmation that he has been dropped is sad but not unexpected. The good news is he has been given a soft landing. And for him, it involves dealing with "the old country".
By US public life standards, he is young - he will be 53 in July. He is a native of Virginia. Some of his ancestors emigrated from Mayo. He is a practising Catholic.
He worked for a time as a lawyer and later in the family real estate business before switching to a career in politics, first at regional and then national level. He was elected to the House of Representatives in 2011.
He held a number of roles in White House administration since Donald Trump became president. He was appointed Acting Chief of Staff, taking over from John Kelly, who succeeded Reince Priebus.
Under President Trump the holders of that office tend to last as long as a Watford FC manager.
Last month, in his Acting Chief of Staff role, he travelled to Ireland in the company of the US ambassador to the United Kingdom.
It was a low-key visit. But the accompanying contingent of Secret Service agents didn't go unnoticed in several areas of Belfast where such patterns are usually clocked.
Among those he met were Fr Gary Donegan, a Passionist Priest, known for his cross-community work in North Belfast and elsewhere.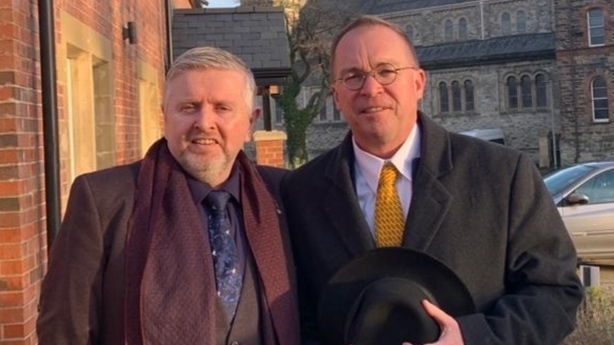 Fr Donegan will be among the guests at the Speaker's lunch on Capitol Hill next Thursday. In a break with procedure, President Trump and Vice President Pence are unlikely to be at that gathering, due to the bad blood between them and the lunch hostess, Speaker and Democrat Nancy Pelosi.
Mick Mulvaney will be the 7th person to take up the Northern Ireland Special Envoy job. It was created by Bill Clinton and the first nominee, Senator George Mitchell, was by far the most accomplished holder because of his role, chairing the 1998 Good Friday negotiations.
The others were Richard Haas (2001-2003), Mitchel Reiss (2003-2007), Paula Dobriansky (2007-2009), Declan Kelly (2009-2011) and Gary Hart (2014-2017).
Haas and Reiss were respected by those with an interest in what are sometimes called "security issues" because a lot of 'persuasive' work was required during their terms.
Gary Hart had the best of intentions and political skills to match but he was short on resources and meaningful opportunities.
Mick Mulvaney's difficulty is that he is being posted to what could become a political minefield. Flashing lights suggest Boris Johnson, politically secure thanks to a massive General Election victory, has new belief in the concept of a hard Brexit.
He and his totally compliant cabinet are interested in breaking new ground, as soon as possible, by striking a trade deal with the United States.
Many within the Boris camp would take pleasure in distressing the Brussels club they have left.
The Withdrawal Deal, including the Irish protocol and the relationship struck with Ireland to help that successful phase of negotiations with the EU, could well have the status of eaten bread. Easily forgotten. Like an old, old girlfriend. That was then.
If Boris Johnson walks away from the EU negotiations in June and starts talking up an EU exit on WTO terms, the notion of a border down the Irish Sea might be replaced by fears about a hard border on the island of Ireland.
The Trump administration might have a view on such matters - the Democrats, led by Nancy Pelosi (and some influential Irish Americans in the Republican party) might take another.
In his new role Mick Mulvaney may find himself trying to make peace at home and abroad.