The latest round of public hearings in the impeachment inquiry into US President Donald Trump resume today with a number of key witnesses due to testify this week.
Later today Jennifer Williams, an advisor to US Vice President Mike Pence, is scheduled to give evidence.
Ahead of her testimony, Mr Trump attacked her on twitter describing her as a 'Never Trumper'. He claimed he didn't know her and said she should read the transcripts of his calls with the Ukrainian president.
The tweet followed the release of details of Ms Williams' closed-door deposition. Earlier this month, she told the impeachment inquiry that she was listening to the controversial 25 July phone call between Mr Trump and the Ukrainian president. She described Mr Trump's request for investigations as "unusual and inappropriate".
Tell Jennifer Williams, whoever that is, to read BOTH transcripts of the presidential calls, & see the just released ststement from Ukraine. Then she should meet with the other Never Trumpers, who I don't know & mostly never even heard of, & work out a better presidential attack!

— Donald J. Trump (@realDonaldTrump) November 17, 2019
Democrats launched this impeachment inquiry accusing Mr Trump of threatening to withhold military aid from Ukraine to pressure the country into launching a corruption investigation into his political rival Joe Biden.
Mr Trump has denied any wrongdoing and has dismissed the inquiry as a witch-hunt and a hoax.
Also due to give evidence today is Alexander Vindman, a top Ukraine specialist with the National Security Council. Like Jennifer Williams, Mr Vindman listened to the 25 July telephone conversation and was so concerned by the call that he reported it to his superiors.
"I did not think it was proper to demand that a foreign government investigate a US citizen and I was worried about the implications for the US government's support of Ukraine," Mr Vindman said.
Two other witnesses are due to testify later today; Kurt Volker, the former US special envoy to Ukraine and Tim Morrison, a former National Security Council aide.
Republican members of the House Intelligence Committee requested that these two witnesses appear and they are expected to support Mr Trump's view that he did nothing illegal or inappropriate.
One of the most significant witnesses of all will testify tomorrow. Gordon Sondland is the US Ambassador to the EU and the impeachment inquiry has previously heard that he was centrally involved in efforts to get Ukraine to launch politically motivated investigations.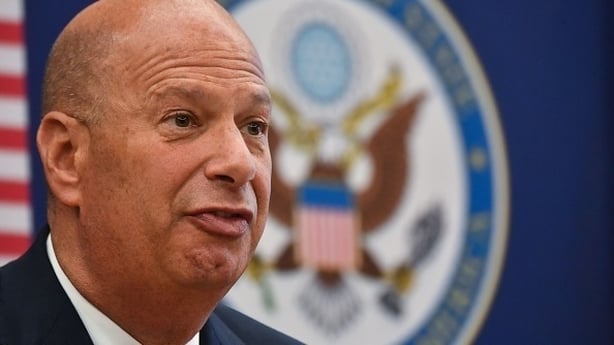 State Department official David Holmes says he overheard a phone conversation between Mr Sondland and Mr Trump during which the US president asked about Ukrainian investigations. He was assured by Ambassador Sondland that the Ukrainian president would do "anything you ask him to".
After the call, Mr Sondland is reported to have said that Mr Trump cared more about investigating the Bidens than about Ukraine.
On Thursday Fiona Hill, a former Russia expert with the National Security Council, is due to testify.
Last month, in her closed-door deposition, she said she had concerns about Mr Trump's personal lawyer Rudy Giuliani and his involvement in Ukraine. She said she reported these concerns to the then-National Security Adviser John Bolton, who said that Mr Giuliani was "a hand grenade that is going to blow everybody up" and insisted he was not part of "whatever drug deal" was being cooked up.
The first public hearings of the impeachment inquiry began last week with, at times, powerful testimony from Mr Taylor, the acting US Ambassador to Ukraine; State Department official George Kent; and Marie Yovanovitch, the former US Ambassador to Ukraine.
Some of their evidence was potentially damaging for Mr Trump but Republicans were quick to point out that much of the testimony was hearsay; second and third-hand accounts of what happened.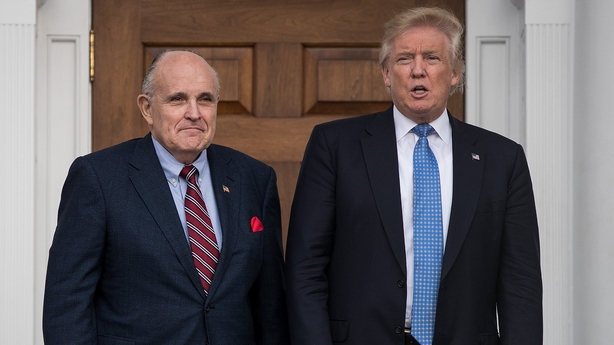 This has been an argument repeatedly used by Mr Trump and his supporters; that the whistleblower who sparked this investigation, and the witnesses we've heard from so far, didn't have first-hand knowledge of events. The problem with that defence, is that some of the people we are due to hear from this week did have first-hand knowledge and have been accused of being centrally involved.
But even if these witnesses provide damning evidence, will it actually change anything? Will it move the impeachment narrative?
Mr Trump fully expects to be impeached by the Democrat-controlled House of Representatives and is relying on the Republican-controlled Senate to clear him.
A two-thirds majority would be needed in the Senate to convict the President and remove him from office, so if all Democrats voted in favour of removal, they would need 20 Republicans to join them.
Right now, there are no signs of that happening.
Mr Trump has survived controversy after controversy throughout his presidency.
So while he's likely to keep his job, how damaging will the impeachment process be for Mr Trump as he campaigns for reelection?
An ABC News/Ipsos poll out this week showed that 70% of Americans think the US President's request to a foreign leader to investigate his political rival was wrong and 51% said Mr Trump should be impeached and removed from office.
Among Republicans, however, 65% said they did not think the President had done anything to warrant impeachment.
Mr Trump has survived controversy after controversy throughout his presidency. After this week's impeachment hearings, we'll have a better idea if this is yet another storm that he will weather.