The embassy of Ireland, the diplomatic mission of the Republic of Ireland in the United Kingdom, is located at 17 Grosvenor Place, London. Buckingham Palace, the Queen's London residence is close by.
As President Michael D Higgins said at the banquet in Windsor Palace during his state visit in October 2015, "ar scáith a chéile a mhairimid" - we live in the shadow of each other.
Adrian O'Neill is the current ambassador in London. Fifteen years ago he was working his passage through the diplomatic corps when the then DUP leader, Rev Ian Paisley, agreed to meet the taoiseach Bertie Ahern.
That breakfast gathering was an important staging post in the journey that brought the DUP from a party of protest to a party in government. The venue was deliberately chosen - Irish territory on UK soil.
Daithí Ó Ceallaigh was the Irish ambassador then and he was assiduous at keeping a Visitors' Book. Ian Paisley added his signature to it.
I was there that September morning and remember interviewing the DUP leader about his encounter with Bertie Ahern.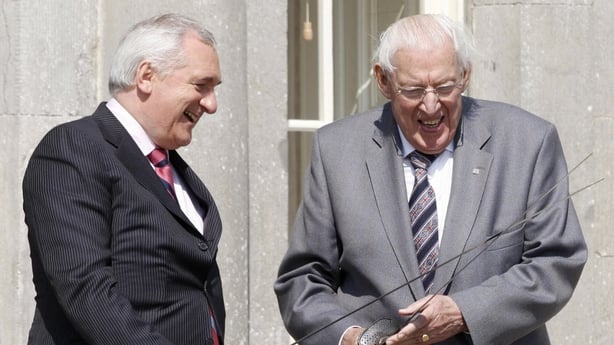 Would he eat an Irish fry or an Ulster fry at the embassy? No, he would have a hard-boiled egg so they couldn't poison him. And what about a handshake? No, there would be no handshake. But if at some stage in the future, in the unlikely event of him striking a deal with Bertie Ahern, "he would shake his hand then and he would give him such a grip..."
Three years later during Easter Week 2007, Ian Paisley was being driven across the invisible border, on a historic journey down to Dublin. Nine days before, images of the DUP leader and leading party members sitting around a Stormont table with Gerry Adams and Sinn Féin members had made headlines around the world. (That historic footage confirmed that plans were in train for the formation of a DUP/Sinn Féin power-sharing administration.)
When his official car pulled up on the gravel outside Farmleigh House in the Phoenix Park, the 80-year-old Dr Paisley bounded towards the waiting Taoiseach. On his best and worst days he was uncannily sharp. He pulled from his hard-drive a reference from that Irish embassy visit of September 2004. His voice boomed: "Where is this man?I have to give him a grip..."
The scene surprised even the serial doubters. As Miriam Lord wrote in The Irish Times: "With arm outstretched, he made an enthusiastic lunge for the Taoiseach. They shook hands. Bertie grasped the top of Big Ian's arm. Big Ian gave Bertie a manly wallop on the shoulder. They were like two auld farmers at a mart, striking a deal over a bullock...
"And that was it, the moment in Ireland's history we thought we would never see. Seismic, earth-shattering and over in a minute - but the symbolic importance of that handshake cannot be underestimated.
Countless lives and lifetimes to get to here. But at last, when Bertie met Ian, courage and hope finally got the chance to shine."
In his sunset years, after he was saddled with compulsory retirement by the party and church he founded, Rev Ian Paisley made a further number of trips south, retracing the reconciliation journey. On at least one of them he stayed at Farmleigh House and visited a number of Dublin landmarks.
Although he and his family were irked by what they considered shoddy treatment in his own backyard, he was at peace with himself, indeed pleased with himself over the big steps taken in the final years of his life. He also knew that nobody but himself would have been able to oversee the change of direction of the DUP.
Last Tuesday night, a different side of Rev Paisley was featured in the most recent episode of the fine BBC Spotlight History of the Northern Ireland series. Mandy McAuley was the presenter.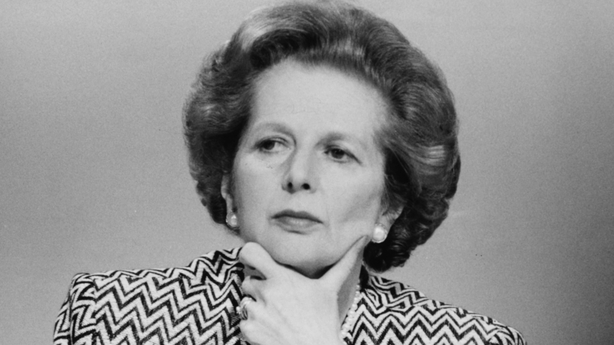 The documentary returned to the mid 80s when the DUP was revving up unionists about the threat of a sell-out by Margaret Thatcher. It included footage of Dr Paisley overseeing the burning of an effigy of the then British prime minister. The pumped-up crowds roaring with delight.
The BBC programme also had images of the DUP leader addressing men in red berets in a packed Ulster Hall. He promised them he would supply political cover to their newly formed Ulster Resistance Force. Other speakers at that gathering were Peter Robinson, Dr Paisley's deputy and a young-looking Mayor of Belfast, Sammy Wilson, now the DUP's Brexit spokesperson at Westminster and a member of the Privy Council.
One of the benefits of the Spotlight series is it reminds us of how far we have travelled. Not just Ian Paisley. For the vast majority, it has been a welcome journey. Watching one programme interviewee reminded me of a story told about him and a former RTÉ colleague and later Guardian journalist, Maggie O'Kane. During a tense journey with him Maggie asked, did he ever have a Catholic in his car before? He replied: "Only a dead one."
That's how bad it was. That's how far we have travelled.
Leo the risk taker
In politics, risk-taking is often precarious. Fear of getting too far ahead of the support base is a factor. It was long after his Fine Gael leadership role went up in smoke that Alan Dukes got credit for his Tallaght strategy that supported responsible economic reforms carried out by the minority Fianna Fáil government.
In 2013, Peter Robinson committed himself to cross-community reconciliation initiatives with his then partner in government, Martin McGuinness. But Mr Robinson then dispatched a back-tracking letter while he was on holidays in Florida because his DUP colleagues were not prepared to support him.
Sometimes politicians make decisions because it is the right course of action to follow. On occasions circumstances help to encourage action. Last Thursday, Leo Varadkar and Boris Johnson found themselves in a position where it made sense to at least explore if there might be a way to avoid fast-approaching chaos.
The photographs of the pair of them, posted by the Taoiseach on Twitter, were eye-catching.
Here in Cheshire in the UK with PM @BorisJohnson to talk #Brexit. Looking forward to a detailed discussion to see if we can make any progress pic.twitter.com/zZeC4MQuZY

— Leo Varadkar (@LeoVaradkar) October 10, 2019
It was a repeat performance of the Dublin visit and New York meeting. Boris in the crumpled suit was the one who looked like a Paddy the Plasterer character. Leo was from the stylish assembly line that produced Emmanuel Macron and Justin Trudeau. The Facebook recruiters who flashed the big bucks when wooing the former Liberal Democrat leader, Nick Clegg, may well be tracking Leo.
After their three hours together they issued a joint statement and a smiling Taoiseach then gave an upbeat news conference at Liverpool Airport. His actions debunked the mantra that all matters were the responsibility of Brussels head office and the Irish Government couldn't engage in bilateral negotiations with London.
Leo had obviously decided that he was going to take an initiative and he had a number of good reasons why.
The first was made clear two days before, on Budget Day. The Brexit backdrop is everywhere. It is the elephant in every room of the house. It is influencing most Government statements and policy. The way Paschal Donohoe is heading, he will soon be telling children they must go to bed early because of Brexit.
The Government's fate in the next general election will be significantly influenced by how it handles Brexit. Jeremy Corbyn is no Micheál Martin. Regardless of whether the UK makes an ugly or a gentle exit from the European Union, because of the Corbyn factor, Boris Johnson probably has better prospects of making it back as prime minister than Leo Varadkar.
But if the UK crashes out of the EU, Boris could be setting himself up for even more chaotic times in the Downing Street hot seat than the kind of Brexit mess that the next Taoiseach will have to navigate.
What about the DUP?
The DUP's deputy leader, Nigel Dodds, created mild anxiety in London and Dublin at the weekend. The origin of the report, written by a journalist of the Italian newspaper, La Republica, was a puzzle. Through his Westminster MP role, Nigel is also a member of the NATO parliamentary assembly. He was in London for one of its events when the Italian journalist bumped into him there.
But the Dodds comments and the written statement issued by the party leader, Arlene Foster on Friday night contained no blood red lines. Even the "we're not going to get thrown under a bus by Boris Johnson" comment by Ian Paisley junior on Friday night, had wiggle room attached.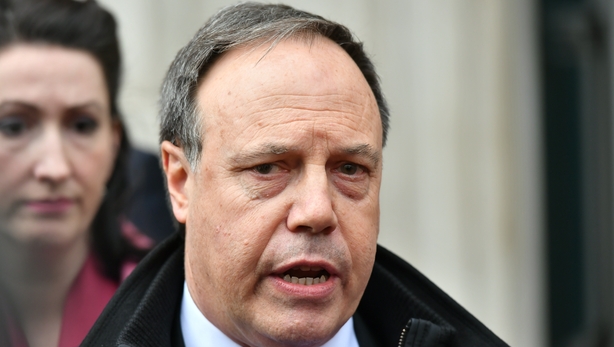 The DUP are likely to wait and see what emerges from the negotiations under way in Brussels before they decide on their final position. If the negotiations collapse in Brussels, the pressure on the DUP to make a difficult call may not materialise.
In the highly complex agreement being pursued against the odds, the return of Stormont could make a positive contribution.
So much of the Brexit narrative in recent months has stressed the need to protect the Good Friday Agreement - after all, the European Union and the United States were supportive players in the accord made by the British and Irish governments and Northern Ireland's parties in 1998. It is now more than 1,000 days since the collapse of the power-sharing institution.
Stormont's role in the mix?
Boris Johnson made an enlightened decision to appoint a Brexit remainer, Julian Smith, to his cabinet and give him the Northern Ireland secretary role.
Last Friday morning, he was working in Warrenpoint, Co Down, at 8am. At 10pm on Saturday night, he was in Derry meeting an SDLP delegation with Colum Eastwood.
Julian Smith was the first British cabinet member to make it clear that the notion of a one Stormont party or one Stormont faction veto over a Brexit deal really is 'for the birds'.
The Simon Coveney/Julian Smith relationship is potentially the best Secretary of State/Minister for Foreign Affairs match up for several years. The two of them have clout. They are sharp and they respect each other. In a curious way, they are the broadsheet version of the Boris/Leo combo.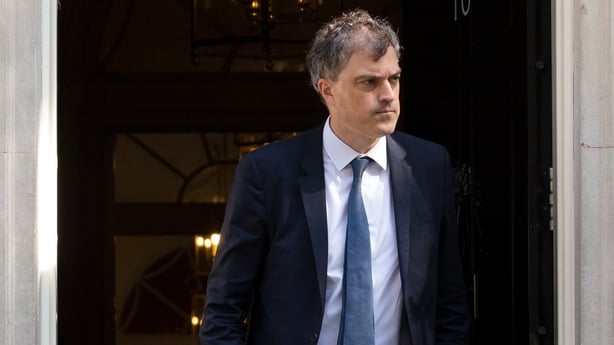 Julian Smith's heavy workload of recent days is due to his determination to explore if there is any possibility of restoring power-sharing before 21 October. After that date, abortion will be decriminalised in Northern Ireland.
If there is no Assembly in place by next Monday, it will fall to the Secretary of State to determine what provisions should apply in relation to pregnancy termination from 1 April.
Pro-life organisations and others are pressurising not just the DUP, but all the Northern Ireland parties to return to Stormont and deal with these sensitive questions.
The abortion question has put the Stormont malaise under the spotlight again. A deeper, undeniable truth is that because it has no operational devolved government, Northern Ireland is failing across the policy spectrum in areas such as health, education, infrastructure and investment.
Julian Smith calculates (and Simon Coveney agrees) that a restored Stormont, working with new energy, could have a positive input to the wider Brexit story. He also suspects that if Arlene Foster can't get her party back to Stormont before the abortion legislation deadline, DUP interest in resurrecting power-sharing will dwindle.
Among some Sinn Féin members there is an attitude of sit and wait and see how Brexit unfolds. A sub-section advocates letting the DUP stew in a mess of their own making. John O'Dowd, aged 52, is set to challenge Sinn Féin's Northern Ireland leader, Michelle O'Neill, for the party vice president role at the November Sinn Féin Ard Fheis.
In some quarters he is wrongly seen as the champion of those who argue Stormont's days are over and it's time to concentrate on border polls and the push for a United Ireland.
As an Assembly member for Upper Bann, John O'Dowd built a reputation as a hard-working pragmatist, committed to devolved government. He served as Education Minister for five years and had a solid working relationship with, among others, the DUP's Mervyn Storey.
But there is no denying the unease within Sinn Féin ranks, linked to the incontrovertible evidence that the rise in the party's fortunes has stopped. South of the border Fine Gael and Fianna Fáil are delighted with Sinn Féin's poor showing in recent local and European elections.
The two main power blocs are tripping over themselves, developing new environmentally friendly policies as they eye up Eamon Ryan and The Greens as a potential coalition partner after the next General Election.
They relish the notion of Mary Lou McDonald morphing into Mary Who McDonald. She refuses to go away, as was made clear by her telephone conversation with the British prime minister yesterday and forthright interviews on Morning Ireland and BBC's Today programme this morning.
In the past men were the key figures in all the peace process breakthroughs. (The arrangement was typical of what happened at so many levels of society - the priest came to the convent, said the mass and gave the sermon. The nuns made the breakfast for him).
In February of last year three woman, Mary Lou McDonald, Michelle O'Neill and Arlene Foster almost led their two parties over the line in a deal would have restored power-sharing.
It also would have been a powerful, historic achievement. A big reason why it fell apart was the lack of support Arlene Foster received from a small number of men in her own party, most of them Westminster MPs.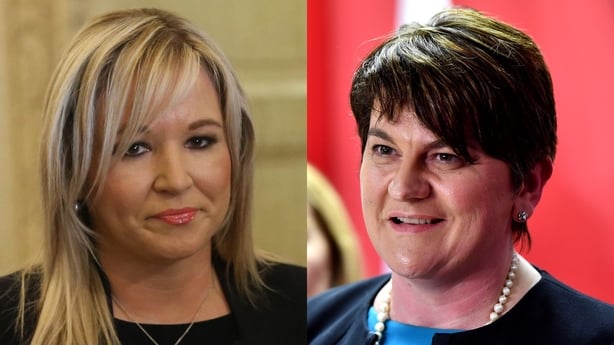 Arlene Foster and Michelle O'Neill are committed devolutionists. Neither of them will run in the next Westminster elections, so while Stormont remains closed they have no full-time positions. They remain focused on striking a deal to restore power-sharing. The timing and the terms remain problematic.
From the Adams-McGuinness era, Sinn Féin acquired a reputation for over-negotiating. In car buyer mode, they regularly sought mud flaps, car mats, a fill of petrol and two All Ireland tickets thrown in to sweeten every deal. Tack on to that trait a link up with the most effective lobbyists on the island of Ireland, the Irish language sector, and the ongoing stalemate in the Stormont negotiations is explained.
One fluent Irish speaker offered this caustic assessment of the arm-wrestling. Ask the negotiators where Ard Mhic Nasca is and see how many of them answer Holywood, Co Down.
Two - pinch me, you can't be serious - implausibles:
A sensitive point in negotiations to re-open a power-sharing administration in mothballs for over 1,000 days is a proposal to erect bilingual signage and disagreement over the appointment of Language and Identity Commissioner(s).

The DUP have gone from being a party of protest, outside Stormont government until 2007, to an indispensable faction in Westminster and a consideration in the negotiations to agree the terms of the UK's exit from the European Union.
What would the late Rev Ian Paisley make of it all? He always saw himself as a Eurosceptic. He was the one who berated a visiting Pope in the Strasbourg hemicycle, yet he served for 25 unbroken years in the European Parliament.
After his death in 2014, when the issue of family occupancy of the Manse on Belfast's Cypress Avenue arose, it was made clear that for decades of his life when he faithfully fulfilled his duties as leader of the Free Presbyterian Church, Dr Paisley's main source of income was his salary from politics, the European Parliament included.
When the Common Agricultural Policy was being reformed and when structures for the distribution of EU Peace funds were being established, Rev Paisley frequently joined forces with rivals.
He lobbied alongside the likes of the Ulster Unionist, Jim Nicholson, the SDLP leader John Hume and MEPs from the southern side of the border, including Fine Gael's Joe McCartin and Fianna Fáil's Mark Killilea and Pat the Cope Gallagher.
EU policy decisions taken in the final phase of Rev Paisley's MEP years increased the flow of Brussels funds to the island of Ireland. Sectors that benefited on the northern side of the border included farmers who are now wondering how they will fare after Brexit.
The EU Commissioner who reformed the CAP and often dealt with Ian Paisley was Ray MacSharry. The Commissioner in charge of Regional Policy was a Frenchman called Michel Barnier.
And yes, it was Ian Paisley who said our people may be British but our cows are Irish. But the challenge in Brussels these days is to invent an island of Ireland version of the camel, a horse designed by committee.