Two weeks ago hundreds of parents gathered in a Dublin suburb to protest the lack of a multi-denominational school to serve their area.
The Dublin postal code 8 and 12 parts of the city are home to plenty of Catholic secondary schools, but a growing number of parents in the area don't want that. For their children they don't want religious-run schools at all.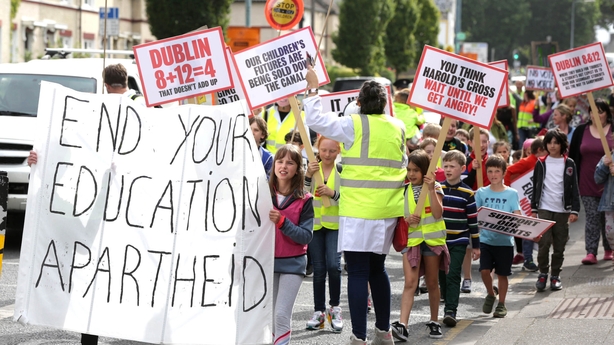 Their demands are mirrored by parents in other parts of the city, Dublin 7 for instance. Among parents whose children are currently attending multi-denominational primary schools, as well as others, there is a growing demand for multi-denominational second-level education.
But in the midst of these two areas, hiding in plain sight in a way, are two schools that may just provide the answer.
Second-level schools change patronage in effort to attract more students
Cabra Community College in Dublin 7 and St Kevin's College in Dublin 12 are currently listed as "inter-denominational" on Department of Education web pages. 
Both run by the local Education and Training Board, they do not espouse the values that parents expect of a multi-denominational school, and they are not alone.
The same could be said of many other ETB post primary schools; including some that are nominally multi-denominational, but for instance hang crucifixes on their walls, and hold masses during school hours. (City of Dublin ETB says this is not the case at St Kevin's or Cabra Community College)
Now City of Dublin ETB has joined forces with another multi-denominational education provider, Educate Together, in an attempt to address this problem.
As of today Educate Together is now joint patron of both schools along with City of Dublin ETB.
The aim is to transform these schools into the kind of modern co-ed multi-denominational school that a huge number of parents want but can't find.
It's about much more than just ethos; they also want that school to offer a wide range of subjects, that can cater for children who are academically inclined as well as not, that offers sports and other extracurricular activities.
In practical terms it means that the growing number of children in these wider areas, who are currently attending Educate Together primary schools, will now be able to continue into second-level under the same ethos.
From the three ET primary schools in the Dublin 8/12 area alone, by 2025 more than 180 children will graduate from sixth class, and they will be looking for a place at second-level.
In their current states both St Kevin's and Cabra Community College are struggling.
Despite the huge demand for non-religious co-ed provision, their numbers have remained stubbornly low.
Neither school has more than 200 students, Cabra has just 120. This makes it impossible to offer a broad choice when it comes to subjects. It makes it impossible to have dedicated classes for Higher and Ordinary level students in all subjects. It makes high quality extra-curricular activities very difficult.
Incredibly, both schools have the physical capacity to accommodate many more students.
Director of Schools at City of Dublin Education and Training Board, Paul Crone, says St Kevin's could accommodate up to 650 students without any extension. Cabra could go to 450, he says.
The size of their grounds means both schools with additional buildings could easily grow to accommodate 1,000 students each. And that is the ultimate aim.
The big challenge now for these schools is to change their ethos, and to communicate that change convincingly to prospective parents.
Just as importantly, parents will need to be convinced, and feel confident, that the schools can deliver for their children in terms of wide subject choices and academic prowess.
The Department of Education has agreed to fund the process. It will pay for a consultant to oversee the transformation. This will involve staff training, a redrafting of school policies etc. The Department has also agreed to fund rebranding. St Kevin's for example will have to change its name.
"This is a direct response to the changing demands of parents," says Paul Crone. "We want to make these schools more attractive to parents living in these areas."
Parents have strongly welcomed today's news.
Anne Frain is a leading member of the local south Dublin campaign for choice in second-level education in the Dublin 8 area.
"We welcome this news 100%," she told RTÉ News. "We think it is absolutely fantastic. If it works out then this is a significant moment not just for us but for the State."
"Everybody needs to work hard now," she adds, "to ensure that this is really a school that will be able to accommodate everyone."
Parents who've been campaigning in Dublin 7 are equally enthusiastic. The Dublin 7 and Ashtown Secondary Options campaign has described the development as "a huge boost for the community". 
If this works out in Dublin, if these two schools can transform and grow to absorb the demand for multi-denominational provision, then this is a model that is likely to spread elsewhere.