There is a section of Massachusetts Avenue in Washington known as Embassy Row.
It's an impressive street; a wide boulevard that leads you out of the city centre as you travel into the north western suburbs and onto Maryland.
It is lined by imposing mansions and modern office blocks owned by embassies from around the world.
One of the most striking buildings is the British Ambassador's residence. It is a redbrick manor house that resembles an English country mansion. It doesn't look like it belongs on the street and now its occupant clearly feels he no longer belongs in Washington either.
The British Ambassador Kim Darroch resigned following what he described as a "difficult few days".
In his resignation letter he said the current situation was making it impossible for him to carry out his role.
His boss in the UK Foreign Office replied saying he was accepting the resignation with regret, adding "you are the best of us".
Ambassador Sir @KimDarroch has decided to resign as British Ambassador to the United States.

Statement from Sir Kim in the thread. pic.twitter.com/R3DHwnEOHy

— British Embassy Washington (@UKinUSA) July 10, 2019
There were also tributes paid in the British parliament with Prime Minister Theresa May saying his resignation was a matter of great regret.
"The whole cabinet rightly gave its full support to Sir Kim on Tuesday. Sir Kim has given a lifetime of service to the United Kingdom and we owe him an enormous debt of gratitude," she said.
Someone who didn't voice full support was the frontrunner to replace Theresa May, Boris Johnson.
He refused to back Kim Darroch in a TV debate and his opponents have accused him of throwing the ambassador under the bus. It is being viewed by many as the final straw for the ambassador as he made up his mind to resign.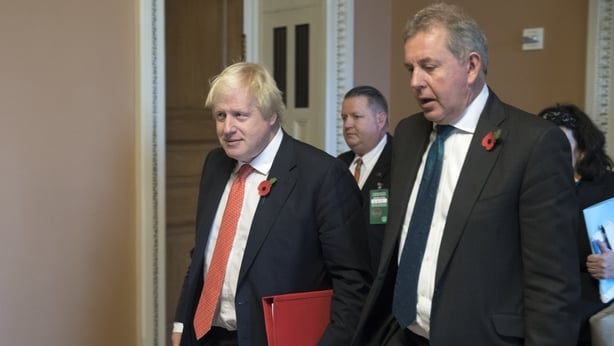 After he had gone, Mr Johnson did offer some praise, telling reporters that Kim Darroch was a superb diplomat.
There was praise too from Ireland with Secretary General of the Department of Foreign Affairs Niall Burgess tweeting best wishes to Kim Darroch on what he described as a sad day for all professional diplomats.
The Irish Ambassador to the US Dan Mulhall said Kim Darroch had been a good colleague and friend adding that he will be sorry to see him leave.
On Sunday, leaked emails were published in which the British ambassador described the Trump administration as "inept", "insecure", "incompetent" and "uniquely dysfunctional".
President Trump replied with a series of tweets attacking the ambassador describing him as "wacky", "very stupid" and a "pompous fool".
He also said he would no longer work with Kim Darroch.
The wacky Ambassador that the U.K. foisted upon the United States is not someone we are thrilled with, a very stupid guy. He should speak to his country, and Prime Minister May, about their failed Brexit negotiation, and not be upset with my criticism of how badly it was...

— Donald J. Trump (@realDonaldTrump) July 9, 2019
With Brexit fast approaching, at a crucial time for US-UK relations, Britain has lost one of its most experienced diplomats.
But this controversy has wider ramifications.
The leaking of sensitive, private cables has sent shockwaves through the diplomatic community in Washington.
Diplomats are expected to report the unvarnished truth from their foreign postings but when you are reporting on a notoriously thin-skinned president, it is becoming increasingly difficult.
How many ambassadors are now worried about communications they have sent home in the past? How many will tone down their language in the future for fear of leaks?
As one resident of Washington's Embassy Row packs his bags to return home, his neighbours are no doubt reflecting on what it all means for the delicate art of diplomacy in Donald Trump's America.