If a definitive history of the modern Irish media landscape is written in the future, the chapter on Independent News and Media (INM) will surely be the longest.
And quite possibly the most compelling to read.
Because ironically for a company whose core business is based on story-telling, the in-house twists and turns of the past decade or so at the firm have all the makings of an epic.
Battles for control, boardroom bust-ups and State watchdog investigations into allegations of poor governance practices, the INM tale reads like a corporate thriller.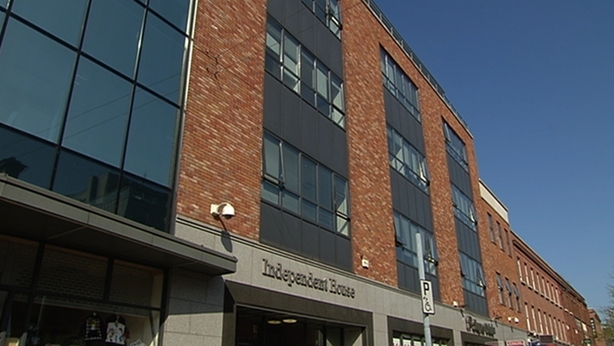 Except this was no fictional tale. This was a real-life story, impacting staff, shareholders, readers and the wider media industry here.
So the collective sighs (of both relief and concern) emanating from upheaval-weary employees at Independent House must have been audible on the busy Talbot Street below when news broke last Tuesday morning that a takeover bid for the company had been recommended by the board.
Mediahuis, a six-year-old Belgian-Dutch media conglomerate built around three publishers who collectively have about 230 years experience, has offered €145.6m for all of INM.
It is a figure many observers say represents great value for a company that is carrying over €80m in cash on its balance sheet, but one that is reflective of a company that has seen many challenges in recent times.
The INM saga dates back to 2006 when the surprising news first emerged that businessman Denis O'Brien had bought a stake in the firm, which at the time was led by long-time Chief Executive, Sir Anthony O'Reilly.
Over the course of several years, Mr O'Brien gradually grew that interest and sought to change the strategic direction of the business.
Just three years later, Mr O'Reilly left, replaced by his son Gavin, who had been Chief Operating Officer.
At the same time, close associates of Mr O'Brien - Lucy Gaffney, Paul Connolly and Leslie Buckley - joined the group's board.
Mr O'Brien continued to grow his stake, eventually becoming INM's largest shareholder and by 2012 he owned almost 30% of the group.
But ongoing acrimony between the O'Reilly and O'Brien camps continued to bubble under.
Mr Buckley was voted off the board in 2011.
Then, a year later, Gavin O'Reilly followed his father out the door, ending his family's long involvement in the company.
Months after that INM Chairman James Osborne and Donal Buggy, the INM Chief Financial Officer were voted off the board, with Leslie Buckley returning to take up the Chairman's role.
He remained there until early last year, when he stepped down in the midst of a growing controversy at the firm.
Because it wasn't just tensions around ownership and strategic direction that were the cause of flux.
In 2016 the then INM chief executive, Robert Pitt, made a protective disclosure to the Office of the Director of Corporate Enforcement (ODCE).
He had a significant dispute with Leslie Buckley about a proposed takeover of Newstalk, which is part of Denis O'Brien's radio group, Communicorp.
The disagreement revolved around how much INM might pay for Newstalk.
Details then subsequently emerged about an alleged data breach in 2014 where the data of 19 journalists and other figures was exported from the jurisdiction and probed by third parties.
That issue is also now being investigated by the Data Protection Commission.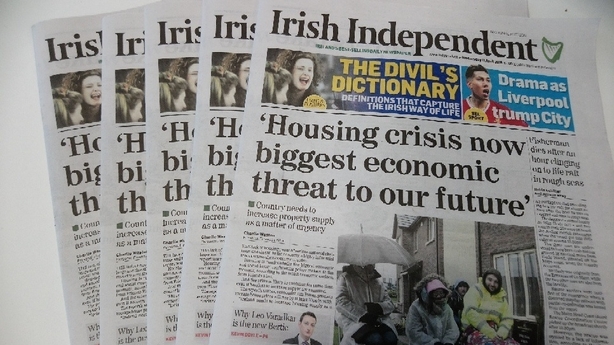 A proposed payment by INM of a €1m "success fee" to Island Capital, which is also controlled by Mr O'Brien, after the sale of shares in Australian media group APN, also came to light.
The issues culminated in an application last year by the ODCE for the appointment of High Court Inspectors to INM - a request that was subsequently granted by the court.
Amid all those goings on, the company had to contend with the fallout from a collapsed advertising market during the years of the financial crash and a large debt burden.
As well as selling APN, assets in South Africa were also disposed of, a deal was done with the company's banks to reduce its debt by €140m, and cuts were made to staffing and pension schemes, in an effort to get a €420m debt mountain under control.
There was also the significant challenge posed by the ever morphing media landscape.
It may be the owner of leading titles such as the Irish and Sunday Independent, The Herald, the Sunday World and Belfast Telegraph.
But INM's now primarily Irish newspaper based model, which had proven so successful for so many years, has like its peers come under increasing pressure from falling circulation.
At the same time, efforts to transform itself into a free-to-access digital first outfit somewhat struggled.
As the former Sunday Independent editor, Anne Harris, wrote in The Irish Times last week: "INM opted for click-based journalism, thereby bringing it downmarket. The idea of click-based journalism is already redundant."
"And you don't need to be a marketing genius to know that when you bring a product downmarket it is almost impossible to bring it back up. Added to that, the market is always reluctant to pay for what was once given free."
Not surprisingly then, this perfect storm of in-fighting, controversy, financial challenges and a changing market combined to depress the firm's share price.
When Mr O'Brien first bought into INM in 2006 it was trading around the €2.50 a share mark. But this had fallen to 6c a share by the start of this year.
Inevitably speculation grew that INM was ripe for the picking and at the beginning of April it confirmed it was the subject of a possible takeover approach.
The potential suitor remained a mystery until Tuesday when it emerged that Mediahuis had made an offer and the board had recommended accepting it.
Within hours, as shareholders gathered for the INM AGM in Dublin, the deal seemed to be sewn up.
Denis O'Brien and INM's other big shareholder, Dermot Desmond, who had already given undertakings to sell their combined 45% stake, went further and immediately sold a chunk representing 26% of the company to Mediahuis.
This makes it near impossible for a rival to come in and acquire the 75% stake they would need to beat the Belgian-Dutch firm to the takeover finishing line.
Shareholders will get documentation within 28 days, there will be an EGM, but barring something unforeseen, this looks like it is a done deal.
What exactly the future holds for INM though, remains less certain.
Assuming the deal goes through, Mediahuis will begin to put their digital stamp on the business, settling nerves and rebuilding damaged morale among INM's loyal staff.
The European company is a little known entity here, but the mood music and reports from its home market are positive.
This, it seems, is a genuine news organisation, interested in quality journalism and story-telling, but with a strong focus and understanding of the future of media.
It has already given reassurances to staff and unions around the maintenance of terms and conditions and editorial independence.
There will undoubtedly be further difficulties ahead though.
The High Court Inspectors' findings, whenever they come, will likely pose challenges for INM.
The media market is also not getting any easier, with INM facing many hard choices and changes when it comes to revamping its business model.
Among the more immediate of those is whether to dispose of its printing operation and introduce a paywall.
INM is also already reportedly a very lean business, so further cutbacks in staffing or resources would likely be problematic.
But at least for the group and its employees the future looks a good deal more certain than it did.
And this extraordinary chapter in the company's history looks like it is gradually nearing an end.