It's a crime happening with embarrassing regularity and to date, with impunity.
The perpetrators appear to be able to strike where and when they want.
They are highly organised and have speed and unpredictability on their side.
Hundreds of thousands of pounds and euro have been stolen.
To date, they have struck in counties Antrim, Cavan, Derry, Down, Fermanagh, Tyrone, Meath and Monaghan.
A botched ATM attempted theft in Craigavon in Co Armagh last week is not on the list because police believe that was the work of a group of amateur opportunists rather than an organised crime gang.
In each successful robbery the modus operandi has been similar, but not identical.
Mechanical diggers have been stolen and used to rip cash machines from walls and load them onto a vehicle to be driven away.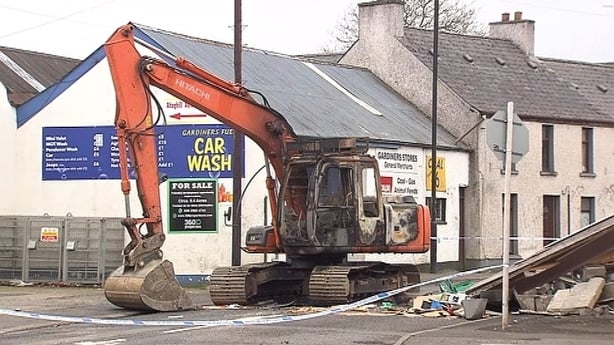 In some cases the transporter has been a trailer, in others a van with a hole cut in the roof. In most, but not all, the digger has been burnt to destroy forensic evidence.
In each case police on both sides of the border have been left with questions they don't yet appear to be able to answer, despite the PSNI setting up a specialist team of detectives and working closely with An Garda Síochána.
Is it the work of one gang? As many as three? Dissident republicans? Loyalist paramilitaries? Non-aligned organised crime gangs, so called ODCs or "Ordinary Decent Criminals"?
When asked earlier this month about whom police believe is responsible, Chief Constable George Hamilton replied that he didn't want "to let the bad guys know what we know."
So what is known about those carrying out these robberies?
Despite much media speculation to the contrary, the PSNI assessment is that dissident republican and loyalist paramilitary organisations are NOT involved.
That does not mean individual members or associates of those groups might not be involved in some way, but the police are confident the robberies are not being directed at an organisational level.
"Given the high levels of penetration of paramilitary groups (by informers), if they were organisationally involved in this activity we would have a lot more intelligence than we currently have," says one senior source.
Alan McQuillan, a former PSNI Assistant Chief Constable and head of the Assets Recovery Agency, Northern Ireland's equivalent of the Criminal Assets Bureau, agrees.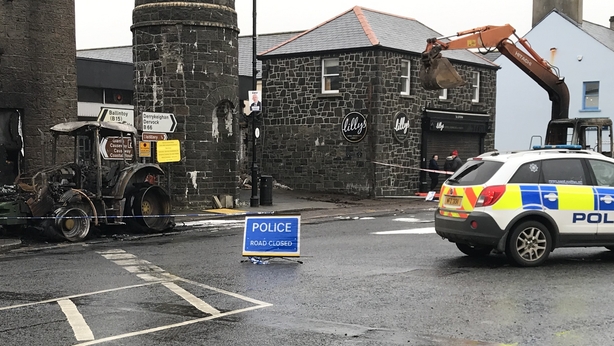 "Dissident republicans are under intense surveillance from the police and MI5 trying to prevent terrorist attacks so I just don't think it is feasible that they could be involved in this activity," he says.
"They are making much more money from other criminal enterprises and, in their terms, these robberies are high risk for relatively low gain."
The PSNI is working on the theory that at least three gangs are involved.
The first has members spanning counties Fermanagh and Tyrone, and is believed to have been responsible for the majority of the thefts.
The second is believed to be based in Co Antrim. This gang is believed to have been responsible for robberies in the village of Ahoghill and the town of Bushmills.
The third is operating in the border counties, Armagh and Cavan. This tallies with the assessment of Garda Commissioner Drew Harris, who last week said he believed the gang responsible for the theft of two cash machines in Kells was based in the south Armagh area.
The fact that the police appear to be operating in an intelligence vacuum about the robberies suggests those responsible are small, tight-knit groups, possibly including family members and friends.
Those groups tend to be extremely loyal and difficult to penetrate.
Some of those involved are clearly experienced in the operation of mechanical equipment, which suggests they have worked in the construction or agricultural sectors.
"This isn't the kind of thing someone down the pub decides to do after a few pints," says a police source.
"Those involved are able to steal the diggers, drive them to their target, and then manoeuvre them with a fair degree of precision and speed to remove the cash machine.
Security camera footage from a garage in Dungiven in Co Derry targeted earlier this month revealed that the ATM was removed and loaded into a van with a hole cut in the roof in less than four minutes.
The owner of a garage targeted in Irvinestown in Co Fermanagh said he believed the same operation took around two minutes.
The gangs have also demonstrated a degree of sophistication in their choice of targets.
By operating in the early hours of the morning and for the most part in areas where there are not regular police or garda patrols, they greatly reduce their risk of being caught.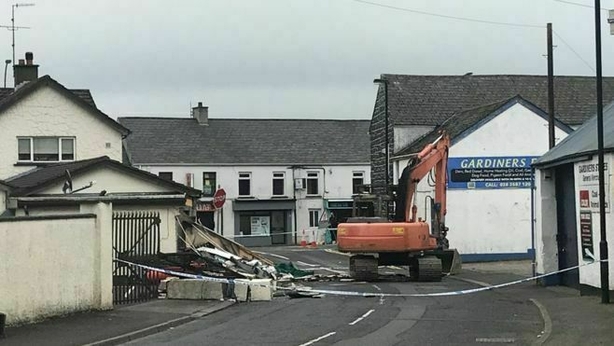 They are also believed to operate with scouts at the target location and in cars in front and behind diggers being driven to the target.
If a police patrol tries to stop them they can simply block the road with the digger and the driver can escape in one of the scout cars.
Even if the alarm is raised by a member of the public while one of the robberies is taking place, unless a passing police patrol is nearby, the likelihood is they will be gone by the time officers arrive at the scene.
Referring to the colour of PSNI uniforms, a police source says "our green line has been getting thinner in recent years and they appear to be factoring that in to their calculations."
The sheer volume of ATMs makes it difficult for police intelligence analysts to predict where the gangs might strike next.
There are more than 1,000 ATM locations in Northern Ireland alone, and hundreds more in the border counties.
Add to that more than 482km of border and over 200 official border crossings.
The theft of two cash machines in the same raid in Kells in Co Meath last week further complicated the picture as that was well outside the previous operational sphere.
"It really is like looking for a needle in a haystack," says a source. "We need to get lucky."
"We are looking at a range of factors to try to assess where these gangs might strike next and to prepare a response for that, but they know we are doing that and they are trying to keep us guessing."
Security experts said the banking and construction industries need to do more to make life difficult for the thieves.
An obvious starting would seem to be defensive measures to protect the ATM, to make it much more difficult to remove.
During his time as Assistant Chief Constable with the PSNI, Alan McQuillan worked with the construction industry to see what could be done.
He says designing an impregnable ATM is impossible.
"We looked at all sorts of possibilities, but none of them would work," he explains.
"The bottom line is that these diggers are so powerful they can rip down walls, they could demolish a building. Any bollards placed in front of the machines could quickly be swept aside.
"So unless you are going to spend a small fortune on military grade armour, which simply wouldn't be cost effective, the impregnable cash machine does not exist."
The difficulty was illustrated by the robbery in Dungiven two weeks ago.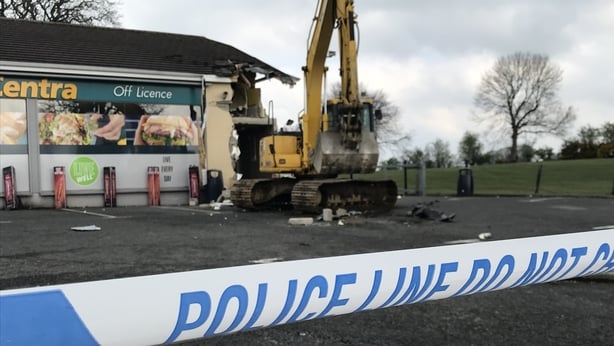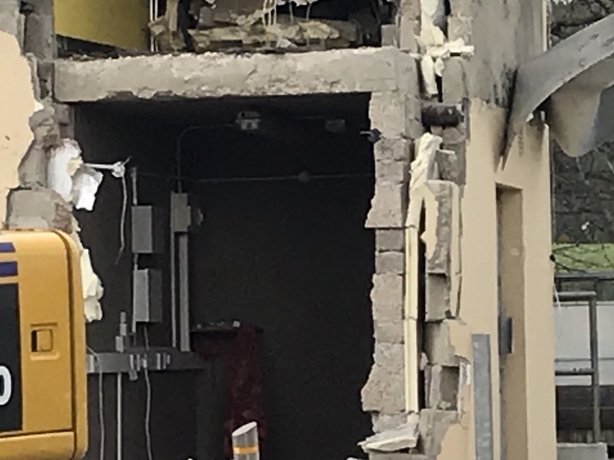 The garage had been robbed a number of times before so the owner installed his ATM in a reinforced concrete surround, knowing that the diggers come at their target from above, through the roof.
His ploy briefly succeeded when the bucket on the digger failed to break through the concrete mantle guarding the ATM from above.
But the driver then simply changed the angle of attack and came in from the side.
John O'Brien, a retired Garda detective superintendent who is now a policing and security specialist, says the banking industry needs to do much more to make it more difficult for the thieves.
The PSNI won't comment on whether any of the stolen ATMs were fitted with GPS tracking devices or what are called "degradation measures" such as ink or smoke to make the notes useless if the ATM is opened.
"In the Republic we have what's called the Voluntary Code of Practice, an agreement between all the stakeholders, the Garda, the banks and the IT companies," he says.
"That has set more or less a voluntary code for physical and electronic security measures. That system does not pertain in the North, and that might in some way explain why most of the attacks have happened there."
But the rewards are high, with many of the machines having the capacity to hold up to €100,000, and the most sophisticated thieves can find ways around such measures.
They have found ways to stop basic GPS trackers operating.
Some are also believed to have devised methods to circumvent security cartridges which are designed to explode and cover all the bank notes in an ATM with ink to make them unusable.
A number of banks have also moved to polymer bank notes made from plastic material, which would not be prone to ink staining.
The police and retailers have also called on the construction industry to do more to secure diggers on building sites to farms close to ATM locations.
Take a drive past any major construction site and it's a safe bet that most digger cabs are not secured with metal plates to make access more difficult.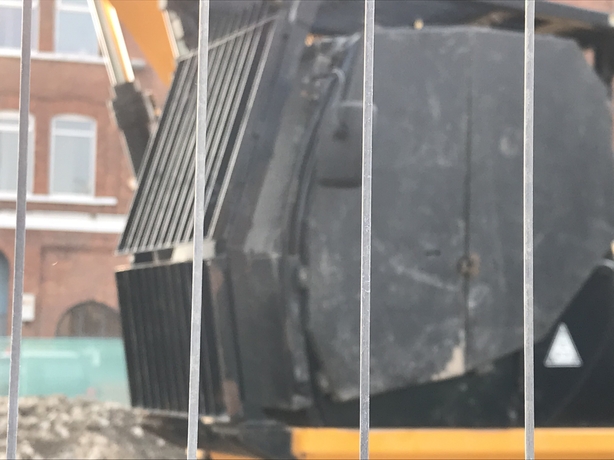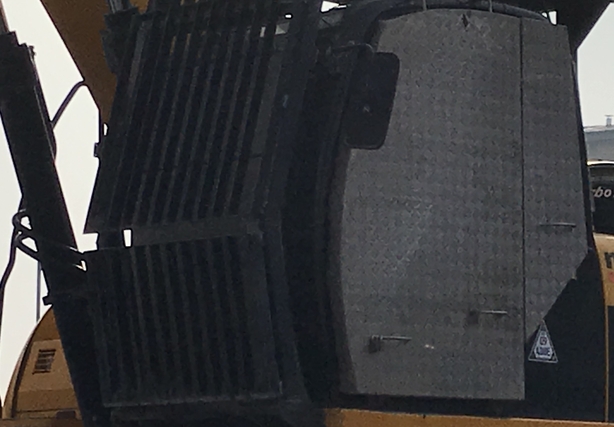 "The problem is that once someone who knows their way around diggers gets inside the cab, that's it," says a Co Antrim farmer who owns a number of the machines.
"Many of the older designed ones can be started with a very basic key that works on more than one machine and even the much more modern ones with electronic chips in their keys can be started manually.
"Stopping people getting into the cab is the only way to stop a digger being stolen, but the vast majority are not secured in any way."
The best hope for police is that they receive advance intelligence about a raid being planned or bout to take place.
The PSNI say they have received a large number of tip offs from members of the public about the movement of diggers late at night and in the early hours of the morning in recent weeks.
But none of the reports that were checked detected any suspicious activity.
In Northern Ireland, every available resource, including uniformed officers, detectives and undercover units in all policing districts are involved in efforts to catch those responsible.
Minister for Justice Charlie Flanagan and the Garda Commissioner have also made it clear that stopping these gangs is a priority.
So far, they remain the Untouchables.