How do you commemorate a conflict which lasted more than 1,500 days and resulted in the deaths and mutilation of tens of millions of men, women and children?
That is the challenge facing as many as 70 world leaders this Sunday, as they gather for a special ceremony at the l'Arc de Triomphe in Paris.
Taoiseach Leo Varadkar will represent Ireland at the commemoration - standing to attention at the eleventh hour, of the eleventh day, of the eleventh month when, precisely 100 years ago, the guns of World War I fell silent.
At that moment, 10am Irish time, bells will ring-out across Europe, and the world, to mark Armistice Day.
This will not be a celebration of victory or an expression of defeat.
Instead, it will be a solemn marking of a monumental military horror, coupled with the fervent desire that such barbarism does not happen again.
The scale of the conflagration... the horrific maelstrom which engulfed a generation... is so great as to make it nearly impossible to fully comprehend.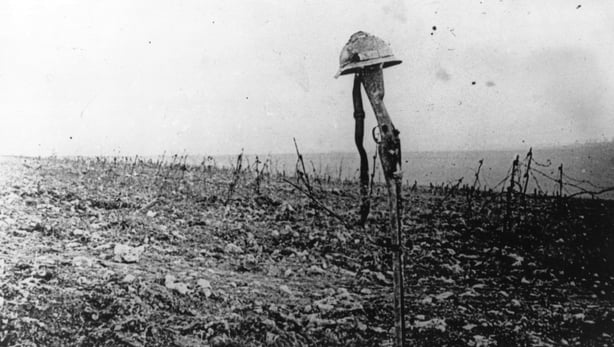 Maybe that is why the individual stories which emerge on anniversaries have such potency.
The story of an individual soldier allows us to engage with their struggle and then, maybe, gain a greater understanding of the wider atrocities.
I will go to Paris this weekend thinking of Charles McAuley, who was born in 1888, in the townland of Ballymacfadden outside of Kilcar in southwest Donegal.
His father died when he was 12-years-old, after contracting pneumonia after getting drenched taking-in turf.
The financial pressure on the family led Charles, the eldest of six children, to emigrate and take the boat from Derry to the United States in 1904.
An uncle expertly trained Charles in skills of the saloon in Asheville, North Carolina, before he moved on to New York. Then came the Great War.
Charles' youngest sister, Brigid, said her brother joined the US Army in 1917 rather than wait for the draft.
However, it is difficult to confirm this as many WW1 records on the US military were destroyed or damaged in a fire in 1973.
What we do know is that Charles McAuley was involved in a US First Army push to take the Saint-Mihiel salient, 50km south of Verdun in northeastern France.
This German fortification was described by US authorities as a "severe thorn in the side of the Allies since 1914".
The core of the mission was to take the impregnable bastion of Montsec.
US military records describe Montsec as being "protected by numerous trenches, machine gun emplacements and intricate barbed wire entanglements.
"The hill was honeycombed with underground shelters and tunnels.
"German artillery fire was controlled from observation posts along its crest." 
The battle date was set for 12 September 1918. Charles was severely wounded just over two weeks later on 29 September.
A machine gun bullet penetrated his shoulder.
The bullet was removed on 5 October, however bronchopneumonia subsequently set-in.
Charles died on 16 October 1918 at Field Hospital 145, near Dijon.
He was buried in a temporary grave outside the town.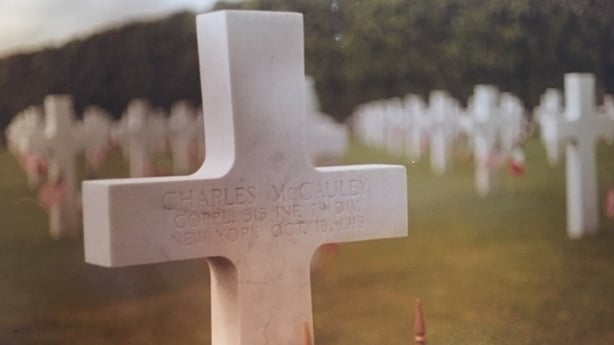 Years later, Charles was reinterred at the Saint-Mihiel American Cemetery.
It is the third largest of eight American WWI cemeteries and contains 4,152 graves.
There are 117 unknown burials.
In each case, the gravestone reads: "Here rests, in honoured glory, an American Soldier known but to God."
Charles was not the only member of his family to fight in World War I. His younger brother, Jimmy, also joined the US Army and ended up fighting in the Somme.
However, unlike Charles, he survived and returned to Ballymacfadden after Armistice Day.
Locals in Kilcar remembered him as a changed man. Once jolly and popular, Jimmy became sullen and withdrawn.
Another brother, Cornelius, also served in the US military in Europe.
He had the good luck to serve behind the front lines as an assistant to some of the top brass. He returned to the US after WWI and regularly visited Donegal over the following decades.
For Charles, however, it all ended on 16 October 1918. Just 26 days later, the war was over.
His gravestone reads: "Charles McCauley Corpl, 315 Infantry 79 Division, New York. If you visit the Saint-Mihiel American Cemetery, he is buried in Grave 11, Row 2, Block A."
Charles McAuley was my grand uncle.
May he, and the millions of others who died in the Great War, rest in peace.
---
There will be special coverage of the Armistice Commemoration tomorrow morning on RTÉ One from 9.45am