Two letters and an apostrophe. That's what it all came down to.
US President Donald Trump caused international uproar and attracted criticism from even his strongest supporters after he "misspoke" at his summit with Russian President Vladimir Putin.
Standing alongside Mr Putin, Mr Trump said he did not see any reason why it "would" be Russia that meddled in the US presidential election.
He clarified it a day later, claiming he should have said he didn't see any reason why it "wouldn't" be Russia that meddled. The difference? Just two letters and an apostrophe.
Two letters got Donald Trump in trouble again later in the week.
This time the letters were 'n' and 'o'.
Asked by reporters if he believed Russia was still trying to interfere in US elections, President Trump was heard to say "no". That contradicted the views of US intelligence agencies so more clarifications had to follow.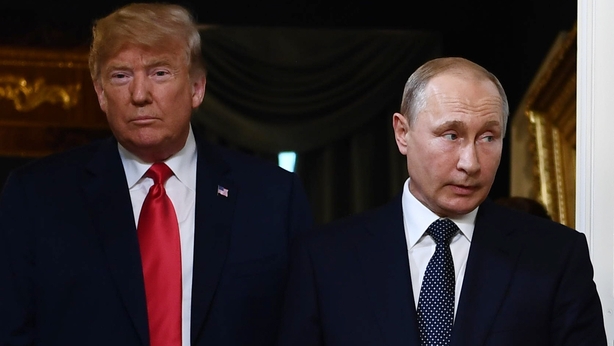 This time they came from the White House Press Secretary Sarah Sanders who claimed that when the President said "no" he was declining to take further questions, not disagreeing with his own intelligence chiefs.
The problem is that President Trump's controversial stance on Russia comes down to more than just a few letters. It wasn't just the words he "misspoke" at the Helsinki summit that sparked criticism.
There was also the fact that he said both countries were to blame for the deterioration in US-Russia relations and the fact that he failed to publicly condemn President Putin while standing alongside him.
After he issued his clarifying statement the following day, reporters asked President Trump if he would take this opportunity to criticise the Russian president. He did not do so.
He did, however, tell CBS News this week that he holds Vladimir Putin responsible for election meddling.
Asked by the interviewer Jeff Glor why he hasn't specifically condemned Vladimir Putin and if he holds him personally responsible, President Trump said: "Well I would, because he's in charge of the country. Just like I consider myself to be responsible for things that happen in this country. So, certainly as the leader of a country you would have to hold him responsible, yes."
Climb-downs and clarifications are rare from President Trump and after a few days of both he returned to form later in the week, blaming the media for its coverage of the summit as opposed to blaming himself for any missteps.
He tweeted that the summit had been a great success but not according to the "fake news" media who are the "real enemy of the people".
However most of the press coverage has just been reporting facts and public statements, even if some of those statements were later corrected.
What's not being covered is what was said between Presidents Trump and Putin. That's because nobody knows what happened during the private two-hour meeting.
President Putin said "useful agreements" had been reached during the summit but we don't know what they are.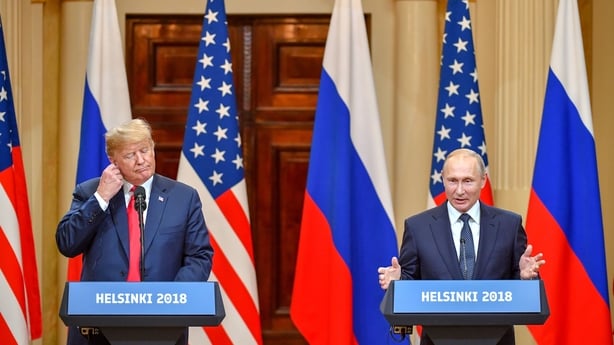 It has prompted calls for the subpoenaing of the notes taken by the US translator who was in the room at the time and even calls for her to testify before a congressional hearing.
Something we know was discussed was an offer from Putin to allow US investigators question Russians in exchange for Moscow being allowed question US citizens, including a former ambassador.
The prospect sparked uproar, with US senators voting to block the move. The White House had to come out and issue another clarification, insisting it would not be happening.
A short time later, the White House made another announcement revealing that President Putin had been invited to visit Washington in the autumn.
The shock disclosure blindsided the US President's intelligence chief Dan Coats who was speaking at a security conference when the news broke and responded with "OK. That is going to be special."
It has been one of the most controversial weeks of Donald Trump's presidency but has it damaged his popularity?
According to recent polls, a high percentage of Americans were unhappy with the Russia summit but among Republican voters, the majority were pleased with how the meeting went.
So right now it looks like a controversy blamed on an apostrophe won't be putting a full stop to President Trump's re-election hopes.