The portaloo toilets in the car park of Castle Buildings were overflowing by midnight on Thursday 9 April, 20 years ago.
But we, the assembled media, were stuck there all night and well into the following day. 
It was a long cold night, waiting to do a programme, waiting for that elusive deal. Despite the overflowing loos, and the freezing temperatures, it was worth it to be there. Sometimes, your job is more than just journalism, you get to be there when something is going down that is truly historic.
We had a programme at 7am. But we didn't know what news that programme would transmit.
Tony Blair, Bertie Ahern, George Mitchell and all the parties bar the DUP were inside Castle Buildings while we waited in the car park.
Deadlines had come and gone but George Mitchell was heading home that weekend. 
Tony and Bertie had hung around for long enough. Bill Clinton's phone calls were done. Finally, in a process that could send trains from stations that should have closed long ago - it was crunch time in the peace process.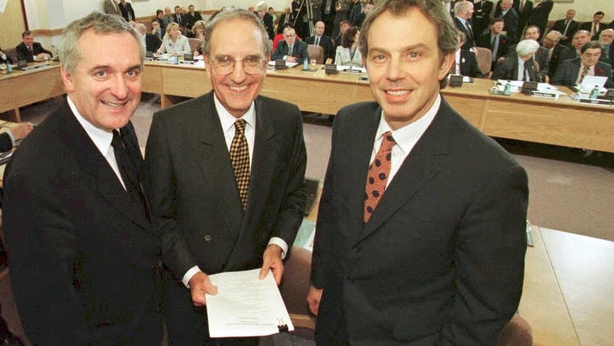 And outside in the car park, on that freezing cold night, the regular hacks from north and south who knew that car park well, were joined by the towers, the cranes, the satellite vans of the world's media.
Many had arrived straight from hotspots like Bosnia - veterans used to wars and big events. This dreary car park outside Castle Buildings, down the hill from Stormont, was suddenly the centre of the world media rat pack. Despite the cold, the overflowing loos, it was exciting to be there - 9 April 1998.
We'd been there all week since Tony Blair arrived, feeling the hand of history on his shoulder. And over the years, I'd been up and down the road North regularly, reporting for Morning Ireland.
We had followed every heartbreaking and tortuous twist that had led us all to this night 20 years ago, as we watched the lights in Castle Buildings, traded rumours and tips from those inside, and tried to figure out what was going on.
About 5am, editor Donal Byrne and myself got going. Coffee and more coffee, phone calls to the Morning Ireland office Dublin. Still no news. Trying to line up guests and script uncertainty. More coffee. The dark turned to dawn, and with the light, more rumours. 6am: There was a deal. Was there?
Going on air at 7am with nothing but more coffee, there was no script for that morning. But underneath, there was the insistent buzz that hope and history were starting to rhyme.
As the programme ticked by the excitement built. Our guests trickled in from Castle Buildings. There was a deal. The news wires were buzzing. The other broadcasters were all in full swing. But how certain? How sure? How signed off?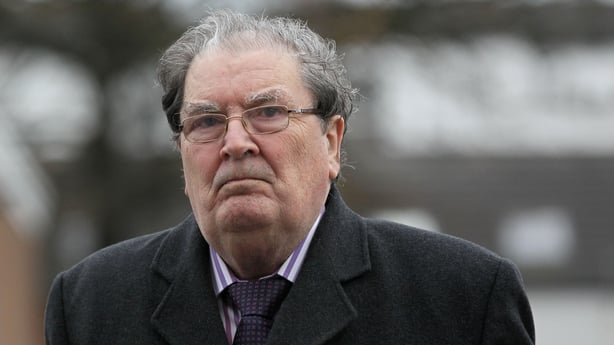 There is one moment I remember amongst all the others that morning. Editor Donal Byrne was on the talkback - SDLP leader and peacemaker John Hume was there.
And suddenly he was right in front of me and the red light was on. We were on air. The sun was up by now, backlighting Hume's tangled hair, softening the lines The Troubles and the long search for peace carved into his face. Lines I know well.
At that stage, we all knew the decades of murder and hopelessness had worn out John Hume from the young civil rights warrior he once was. Through his glasses, his eyes were shining like those of a young man again.
There is a deal. I ask him is this a good Friday. He says this day is truly a good Friday.
I've heard that phrase so many times since. And 20 years on, how certain can we be what that means. With Stormont on ice, and Brexit on the horizon, that car park feels a lot further away than 20 years.
Good Friday did not end with our Morning Ireland programme. By the time we came off air the deal was in trouble. There was Jeffrey Donaldson's walkout to come, was that a spanner that would pull the rest of the Unionist party with him?
David Trimble stayed that day despite Jeffrey, and would carry his party with him over the peace line at the Waterfront meeting a few weeks later.
As the cold grey Good Friday continued and dusk began to gather again in that car park, in the late afternoon the exhausted negotiators finally gathered together around one table and George Mitchell told us it was true. There was a deal.
It was, as John Hume had said that morning, a good Friday after all. The towers, the cranes, the rat pack, they all had their story for the teatime deadlines. And we had the prospect of lasting peace on this island.
But if the old order was over, the old problems didn't change. Despite the peace prizes, the St Andrews Agreement and the remarkable Paisley-McGuinness era, trust did not grow at the grassroots. Why not?
Something changed irrevocably on this island 20 years ago. With the benefit of two decades hindsight, something has also been lost since.