Last week's speech by US President Donald Trump at the World Economic Forum in Davos struck a surprisingly positive tone and many expected last night's State of the Union address to be similarly upbeat.
That was certainly the case when he spoke about the economy and tax cuts.
Through repeated cheers and standing ovations, President Trump declared: "There has never been a better time to start living the American Dream."
The theme of the American Dream appeared again later in the speech, this time in the area of immigration.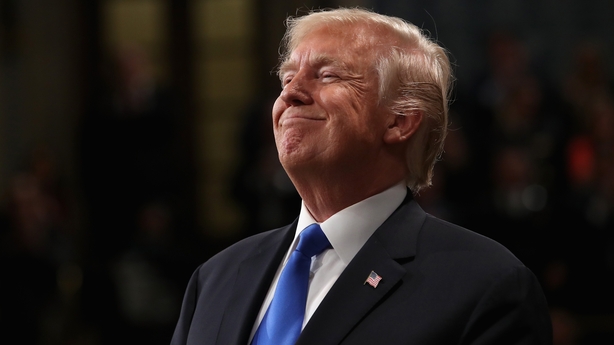 "Dreamers" is the term used to described undocumented immigrants brought to the US as children who are now facing potential deportation.
Last night, President Trump said that "his duty is to defend Americans … because Americans are dreamers too".
Donald Trump did say he's willing to offer a path to citizenship for 1.8 million illegal immigrants if there's funding for a border wall.
He spoke repeatedly about the need for unity and bipartisanship, but many would have expected a bigger olive branch to be offered to Democrats last night in the area of immigration.
---
Read more
Trump calls for unity after turbulent first year
---
Much of the tough talking was reserved for international matters.
China and Russia were described as rivals that "challenge our interests, our economy, and our values".
The North Korean regime was branded a cruel dictatorship and in an attempt to combat terrorism, Guantanamo Bay is to be kept open.
Donald Trump vows to keep the Guantanamo Bay prison open pic.twitter.com/rwCcbLyUz4

— RTÉ News (@rtenews) January 31, 2018
But rather than highlighting enemies abroad, perhaps President Trump should have spent a little more time making friends at home.
Without the support of Democrats he could struggle to achieve many of the plans he outlined last night.
Donald Trump already has low approval ratings. If he fails to keep his promises by the time of the midterm elections in November it could be a big problem for Republicans.