This week's Fianna Fáil frontbench and parliamentary party meetings will be the first opportunity for members to give their reaction to their leader's new position on the Eighth Amendment.
Shortly after 4.30pm last Thursday, Micheál Martin told the Dáil he favoured repealing the Eighth Amendment. Significantly, he also said he favoured the proposal to allow terminations without restriction up to 12 weeks.
For a number of reasons, many in his own party were caught off guard.
Some were not expecting him to publicly articulate his views, as he had not done so the night before during a three-hour meeting of the parliamentary party, which was dominated by this issue.
Most TDs and Senators who attended had voiced their support to retain the amendment in line with motions passed at successive ard fheiseanna over the years, including the last one in October.
One TD at the meeting suggested it suited the party leadership that their health spokesman Billy Kelleher, who favours the liberalisation of our abortion laws, was the public front person on the matter.
But when Micheál Martin stood up in the Dáil the following day, most in his party were taken aback that he favoured terminations without restriction up to 12 weeks. Many had expected him to favour repeal.
As Carlow-Kilkenny TD Bobby Alyward said: "I had a suspicion that he might be in favour of the repeal ... When he went the whole hog and said he supported the 12-week termination period as well, I was completely taken aback and I'm very disappointed."
Mr Alyward is meeting like-minded members of the party this week to ensure their views - the majority view in the party - are promoted.
He has been keen to stress that there is no rift and he is not planning a new party "caucus". But what is evident is that more Fianna Fáil TDs are going to articulate their views in support of retaining the Eighth Amendment in the Dáil this week.
The party's finance spokesperson, Michael McGrath, who is Micheál Martin's constituency colleague, has publicly stated he does not agree with his party leader on this issue. However, he said respected his views.
Significantly, Michael McGrath said he does not intend to be part of any group within the party who are of the same opinion. Senior party figures clearly want to avoid an internal or public acrimony and division.
The outcome of this meeting will give an early indication if that can be achieved.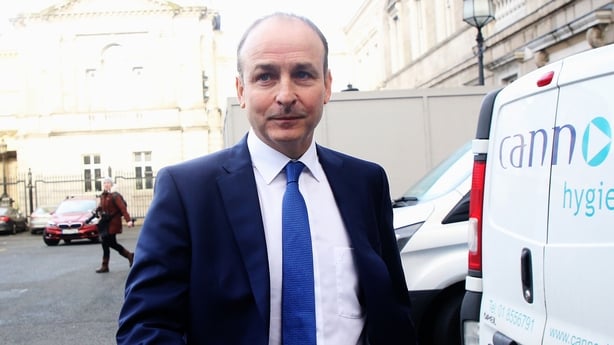 As for the upcoming referendum campaign, Micheál Martin is quoted in the Sunday Times as saying: "If I'm asked my opinion during the campaign, I'll give it, but I don't see myself campaigning."
He also said: "I think it will be a different campaign. Given the personal nature of the issue, I'm not sure people want to take direction from politicians."
But can the leader of the main Opposition party, or any political leader, really adopt such a position? If this was a referendum on an economic or European matter, they would be the leading the charge.
Irrespective of Micheál Martin's views or the views of his party, is it not a key part of his job spec as Opposition leader to lead public debate? This is more so the case given how strongly he now feels about the issue as he articulated in the Dáil.
There are of course political implications. If the Fianna Fáil leader does not actively campaign and the referendum is defeated, he may face criticism from groups that are advocating for change.
Alternatively, if he vigorously campaigns and the amendment is repealed, he also faces the prospect of criticism within his own party.
Irrespective of Micheál Martin's views or the views of the majority of his party, it is difficult to see how any political leader cannot actively campaign for one side or the other in a referendum on one of the biggest social questions, which has dominated political discourse for 35 years.
The same equally applies to Government ministers.