Bobby Aylward has said he will invite all members of the Fianna Fáil parliamentary party to a "get together" tomorrow evening.
The TD for Carlow-Kilkenny said the meeting will focus on ways of getting the voice of like-minded members of the party heard.
Mr Aylward announced his intention to hold the meeting last week after party leader Micheál Martin spoke in favour of repealing the Eighth Amendment during a Dáil debate.
However, Mr Aylward said the meeting is not about questioning Mr Martin's leadership.
He said it was instead about dealing with the fallout from last week and trying to get people's personal views heard.
Earlier, Fianna Fáil's finance spokesperson confirmed he would not be attending this meeting.
Michael McGrath said he would not be able to support the removal of the Eighth Amendment with access to abortion up to 12 weeks, describing it as "a step too far".
Mr McGrath said it was inevitable that there would be a referendum and that he would favour replacing, rather than repealing, the amendment.
He said that he agreed with much of Mr Martin's sentiments but did not agree with the conclusion the party leader had reached.
This matter is likely to be the main topic for discussion at the Fianna Fáil parliamentary meeting on Wednesday evening.
The Dáil will again debate the report of the Oireachtas Committee on the Eighth Amendment tomorrow and on Thursday.
---
Read more
Micheál Martin and Fianna Fáil embroiled in abortion debate
---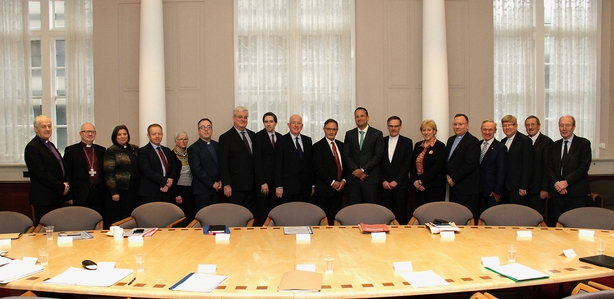 Meanwhile, leaders of the country's main Protestant churches met the Taoiseach and six ministers to discuss the future of abortion legislation.
The group included leaders from the Church of Ireland, Methodist and Presbyterian congregations.
The agenda at the meeting, which was under the church-state dialogue process, also included migration, direct provision, Brexit and homelessness.